K Street is better known for its twilight Amstel specials than for culinary excitement. So the arrival of Alison Swope—the chef best known for her work at the festive DC cantina Andale and Alexandria's Santa Fe East—would seem like a shot of new energy.
She's taken over the sprawling dining room that housed the short-lived steakhouse Jimmy's on K. Though still owned by the McCormick & Schmick's restaurant group, it's now known as Restaurant K by Alison Swope. Gone are the staid photos of Washington landmarks, replaced by colorful patchwork still lifes. There are no linens on the tables, only round bamboo mats. Instead of a bowl of toothpicks by the door, there's a basket of Lemonheads.
The prices aren't exactly homespun—this is still expense-account territory—but the menu does its best to whisk diners to Georgia O'Keeffe country: Green chilies hide in the smoked-corn chowder, prickly-pear margaritas are front and center on the happy-hour roster, and goat's-milk cajeta finishes off a cornbread pudding.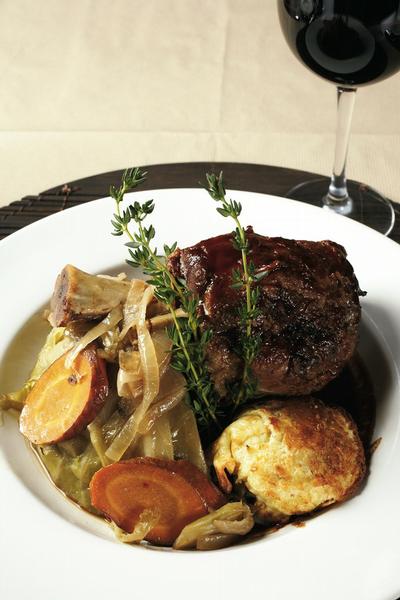 Other dishes reprise the imaginative comfort food Swope once delivered at the Mark. A sherry-dashed lobster-and-crab "shepherd's pie" is topped with a dollop of mashed potatoes; a roasted-mushroom baklava oozes herbed goat cheese and is zigzagged with a balsamic reduction.
Sometimes Swope gets sidetracked. What's a sloppy scattering of sake-marinated scallops doing on this menu? Or a $9 appetizer of oily cheese fritters? (The menu touts the Gruyère as coming from California's Cowgirl Creamery, but the cheese's character gets lost.) And some dishes—such as red snapper in a watery tomato broth with halved bulbs of fennel, or dry ovals of lamb sausage on stiff plantains—are just dull.
But then you get a glimpse of Swope at her best: an osso-buco-style pork shank. There are Mexican pasilla peppers in its red-wine braising liquid and on the side a lemony popover that's both zingy with citrus zest and as comforting as Yorkshire pudding. It's a satisfying plate that attests to Swope's two decades of experience—and shows the restaurant's promise.
Restaurant K by Alison Swope, 1700 K St., NW; 202-974-6545; restaurantkbyalisonswope.com. Open Monday through Friday for lunch, Monday through Saturday for dinner. Dinner entrées $18 to $29.
This appeared in the December, 2007 issue of the magazine.