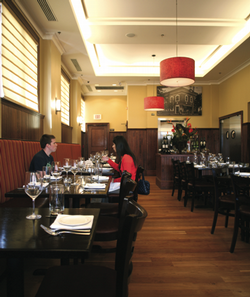 The man barges into the bathroom, slamming the door into my back. His eyes are glassy, his face sweaty below the curved brim of his ball cap: "Sorry, dude."
It's a Wednesday night at the Liberty Tavern in Clarendon. After-hours revelers have commandeered the bar, the drinks are flowing, and the noise rises to the din of a stadium concourse on game day. If I hadn't known better, I'd have sworn it was the start of the weekend.
I'd also have thought twice about going upstairs to eat.
But up the cherry-wood staircase, the raucous bar scene gives way to a handsome, open dining room, and the kitchen—far from slinging the sort of upscale comfort fare you'd expect from a restaurant in the heart of a newly gentrified neighborhood—turns out to be surprisingly ambitious and careful, with a penchant for distinguishing details.
Start with the bread basket. Few restaurants, including many places that command top dollar, make their breads in-house anymore; Liberty does. The gesture matters more than the quality, but the breads are good, especially the anadama, made with molasses and cornmeal—a staple in cookbooks of yore. A tiny crock of soft honey butter comes with it, along with an explanation worthy of a four-star establishment: "On top, a few flakes of fleur de sel," the server says.
The presentation of the salt might seem self-conscious, but in a place that functions as a raucous meet-up spot, it comes across as a welcome bit of conscientiousness, a way of emphasizing that upstairs is not downstairs.
There are other reminders—lots of them. Fish 'n' chips is sided with house-made tartar sauce—fragrant with tarragon—and an extra-sharp malt vinegar. Sliced fresh figs and crumbled bleu cheese perk up a tangle of lightly dressed watercress. The cap for a wonderfully satisfying, saffron-flavored chicken pot pie is a big baking-powder biscuit.
Gnocchi is the bane of many restaurant kitchens, with gluiness more the norm than lightness. These are tiny—more like big spaetzle than gnocchi. But for all their delicacy, they don't lack for chew and heft, and the kitchen refrains from ladling on a sauce full of cream and butter; the dish is made bright and sweet by its succotash of fava beans, pear tomatoes, fresh corn, and shiitake mushrooms. Likewise, a sweet, well-cooked Arctic char is surrounded by a palette's worth of colors and flavors: white beans, salsa verde, braised fennel, and heirloom tomatoes.
The credo of shopping locally and regionally is invoked so often these days among serious-minded restaurants that you could be forgiven for thinking it was the path to gastronomic righteousness. Liberty seems more invested than many. There are nine cheeses on the cheese plate, but among the usual assortment of familiar names is a goat cheese—a Bûche Noir—from Firefly Farms in Maryland. The roast chicken comes from Amish country, and it shows: It's a deliciously juicy bird —a chicken that tastes like chicken.
The chef, Liam LaCivita, cooked previously at Centro in Bethesda, but the only indication of his background in regional Italian cooking is the pizzas. It's a good indication. Places that try their hand at making pies without fully committing to it—which is to say, making pizza their primary mission—typically whiff. But these are solid pies, distinguished by crisp, bubbly crusts and good toppings; a version that combines ripe figs, thinly sliced country ham, and creamy fontina cheese is terrific.
Liberty isn't problem-free. Oversalting is a problem in a number of dishes, among them the mussels, which with a touch more vigilance would be excellent. The smoked-tomato broth is rich and complex, helped along by a generous dusting of fennel pollen.
And desserts aren't as on-message as I'd expected. Instead of a simple, no-frills showcase for first-rate ingredients, I found cutesiness and muddled flavors. Better to finish with a pot of Ambessa, a rich, mellow Ethiopian coffee that, like all the French press served here, comes from nearby Murky Coffee.
Along with the French press, a server deposits an egg timer on the table.
An egg timer?
"To let you know when your coffee's steeped."
Yet another smart, unexpected touch from a smart, unexpected place.
This review appeared in the December, 2007 issue of The Washingtonian.