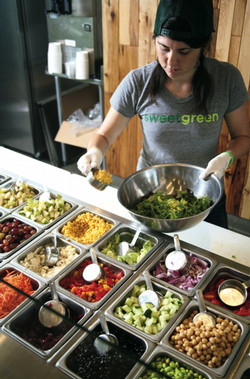 Has Georgetown been totally Manhattanized? Maybe not. Clyde's is still packed, the JFK booth at Billy Martin's Tavern sees plenty of action, and Maureen Dowd is still considered a celebrity sighting. But from boutiques (New York–based Barneys and Intermix) to culinary spots (Barton Seaver's sustainable-seafood dining room, Hook, takes its inspiration from Mario Batali's New York restaurant Esca), the scene is shifting. The latest additions: two fast-casual stops on opposite sides of M Street.
Georgetown undergrads and South Beach Dieters are heading to Sweetgreen, a salad carryout situated in the tiny hut that once housed a branch of the local burger chain Little Tavern. Sweetgreen was opened in August by Nic Jammet, a new Georgetown grad who comes from an old-school restaurant family—his parents owned the Upper East Side landmark La Caravelle.
The place is similar in concept to the choose-your-own greeneries that are the Type-A lunch of choice in Manhattan. (One such New York–based chain, Chop't, just opened in DC's Penn Quarter.) You choose the greens (from arugula, mesclun mix, and romaine, for example), the veggie toppings (cucumbers, beets, and more), the cheese, and the "crunch" (candied walnuts and wheat croutons, among others), and the prepster behind the counter tosses it up, then gathers it in a plastic to-go bucket.
There are preset combos, too, from the too-chunky Cobb to the Bondi, an unexpectedly appealing mess of grilled chicken, avocado, hearts of palm, and wasabi peas (the recommended white-balsamic-and-orange-zest dressing is too sweet for it—go for the subtler Champagne vinaigrette).
The best concoction is a deconstructed play on guacamole, its bed of mesclun jazzed up with avocado, red onion, crushed tortilla chips, and cilantro-lime vinaigrette.
Dessert, ironically enough, might be the best reason to get in line. The tangy "sweetflow" frozen yogurt, which tastes like a frozen lassi (a tub of plain yogurt is added to every batch), is miles better than the super-sweet, fake-vanilla swirls found elsewhere. Instead of jimmies or Oreos to mix in, you'll find chopped mango, shredded coconut, lychee, and granola.
Jammet, who often mans the register, is prone to outbursts of excitement when he sees customers lapping it up: "It's only 18 calories! No fat!"
Click here to read the review of Le Pain Quotidien.
This review appeared in the December, 2007 issue of The Washingtonian.