If, like me, you could care less about Brad and Angelina, but you're star-struck by Anthony Bourdain and Eric Ripert–if Gourmet and Food and Wine are your guilty pleasures, not US Weekly—then the Gourmet Institute is worth a splurge (in both cash and calories). It's an annual weekend-long event in New York put on by Gourmet magazine, featuring seminars with food writers and editors, cooking demos by chefs, and lots of tastes of food and wine—not to mention a meal with VIP treatment at one of three highly acclaimed NYC restaurants.
My mom—a talented cook who turns out some mean executions of Gourmet's recipes—and I, a struggling novice cook who loves magazines and loves to eat—were among the 300-some attendees of the fourth annual Institute in October.
The weekend kicked off with a "gala" at Buddakan, a cavernous Asian-fusion hotspot in the meatpacking district. I was spotting foodie celebs left and right from the minute we entered, like chef and Top Chef judge Tom Colicchio and Gourmet editor-in-chief Ruth Reichl. We indulged in "heavy passed hors d'oeuvres"—including delicious edamame dumplings and standard spring rolls—and a stocked open bar. Grey Goose vodka, a sponsor of the Institute, was flowing throughout the weekend. We each even got a bottle to take home in our Oscar-worthy goodie bags. No wonder I had to wait for my 21st birthday to attend.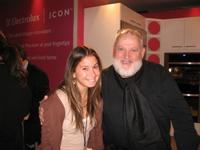 I didn't devote my whole weekend to drinking and chasing celebs (really). We spent all day Saturday and Sunday at the Gourmet offices in the Conde Nast building near Times Square. In the magazine's test kitchens, we talked to food editors about the process of creating and fine tuning the recipes published each month—not without some tastes of staff favorites. A food editor revealed that his awesome pomegranate gelato was made with POM bottled juice—the fruits weren't in season when he had to make pomegranate recipes for an anniversary issue. Bobby Flay, the popular, red-headed Food Network host, showed us the tricks behind his shrimp and grits dish from Bar Americain (cook the shrimp in bacon fat, cook the grits in shrimp stock, and–big surprise–don't hold back on the butter).
In one of our seminars, we heard Ruth Reichl dish about her (fabulous) life and Gourmet's new public television series, Diary of a Foodie, and got a sneak peek of an episode featuring Washington's own Jose Andres and Minibar. For a seminar on food criticism, Ruth was joined by Gael Greene, the long-time food critic for New York magazine. Ever the character, Gael arrived decked out in head-to-toe purple, her signature hat adorned with faux grapes. Michel Richard was the only DC chef present at the event—he gave a cooking demo and promoted his new cookbook, Happy in the Kitchen, with signed copies. Michel gave me a huge hug when I introduced myself and said I was from Washington. My mom told him she loves his food at Citronelle. I wouldn't know…still saving up.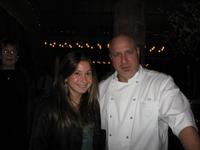 We chose to enjoy Saturday night's dinner at Tom Colicchio's restaurant Craft, though it was a tough call—the other options were Scott Conant's Alto and Eleven Madison Park. Even my non-foodie friends were impressed that I schmoozed with Colicchio. He was super-nice and came into the dining room to discuss each course before it arrived. After an hour of passed hors d'oeuvres came halibut with mushrooms and fried artichoke. Next, was duck served with confit ravioli and a poached duck egg. Tom told us he's really into eggs these days, and that he's even added an entire "egg" section to his ingredient-driven menu at Craft. Then came another entree, a duo of lamb (roasted and braised). For dessert, we had an olive oil cake with pear sorbet that I haven't been able to stop thinking about yet. I can't wait to watch my new buddy Tom ream the contestants on Top Chef next week!