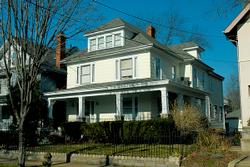 In the District: DC schools chancellor Michelle Rhee bought a five-bedroom, four-bath Victorian on Madison Street in the 16th Street Heights neighborhood for $855,000. The house has a wraparound porch, a master suite with walk-in closet and sitting room, and a two-car garage.
Ambassador Lloyd Hand and his wife, jewelry designer Ann Hand, sold a four-bedroom, six-bath Colonial on Charleston Terrace in Foxhall for $1.8 million. The house has a guest cottage and a two-car garage. Lloyd Hand, US chief of protocol under President Lyndon B. Johnson, is senior counsel at the DC office of law firm King & Spalding. Ann Hand owns two jewelry boutiques in DC.
Former Corcoran Gallery of Art curator Jonathan Binstock sold a six-bedroom, four-bath Federal-style rowhouse on 27th Street in Woodley Park for $1.3 million. Binstock is senior vice president of Citigroup's Art Advisory Service in New York.
IT executive Marc Teren sold a three-bedroom, four-bath Federal-style townhouse on Dumbarton Street in Georgetown for $4 million. Teren has been CEO of several Internet companies, including the Washington Post Company's Internet subsidiary.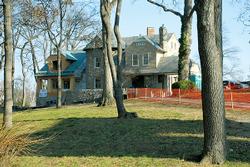 Epidemiologist Devra Lee Davis and her husband, economist Richard Morgenstern, bought a six-bedroom, four-bath Federal-style rowhouse on Maryland Avenue on Capitol Hill for $878,000. Davis, director of the Center for Environmental Oncology at the University of Pittsburgh Cancer Institute, published her second book, The Secret History of the War on Cancer, in October. Morgenstern is a senior fellow at Resources for the Future, a DC-based environmental research group.
Former secretary of the Treasury John Snow sold a two-bedroom, two-bath condo on Connecticut Avenue in Kalorama for $900,000. The condo was renovated in 1978 by Washington architect Hugh Newell Jacobsen. Snow was succeeded by Henry Paulson in July 2006; he is chair of Cerberus Capital Management, a private investment firm based in New York.
Developer Christopher Donatelli bought a house on Gates Road in Forest Hills for $2.7 million. Donatelli is president of Bethesda-based Donatelli Development.
In Virginia: Third-string Redskins quarterback Mark Brunell and his wife, Stacy, bought a home on Nicholas Run Drive in Great Falls for $3.7 million. Built in 2007, the house has five bedrooms and eight baths. The Redskins signed Brunell for $43 million in 2004.
Finance executive Fernando Murias bought a two-bedroom condo in the Wooster and Mercer Lofts, a luxury complex in Arlington's Court House neighborhood, for $1.3 million. Murias is managing partner for the Washington region of accounting firm PricewaterhouseCoopers.