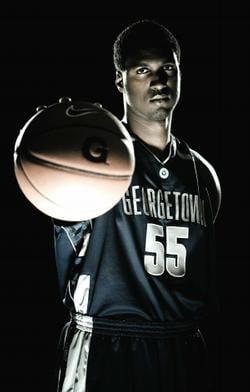 As an eighth-grader playing basketball in Silver Spring, Roy Hibbert was something of a liability for his team. The then-six-foot-eight player kept racking up technical fouls for dunking, which CYO rules forbid. But when the hoop is that close, what's a kid to do?
These days, when he's center for the Georgetown Hoyas, no one minds Hibbert's dunking. Last season he averaged 13 points a game, sometimes offering the performances of which high NBA draft picks are made.
"He has great hands and passing ability, good footwork, and great timing," says Alonzo Mourning, another star center who played for Georgetown and who is now with the Miami Heat.
Hibbert submitted his name for the draft in mid-April alongside fellow junior Jeff Green but pulled it back a few weeks later, deciding to finish his final year at Georgetown. Green was the number-five pick in the draft and went to the Seattle SuperSonics.
"The opportunity will hopefully be there for me next year," says Hibbert. "I'm committed to Georgetown and getting my degree."
That degree will be in government. His interest in politics explains why one former teammate took to calling him "governor"—as in a future governor of Maryland. "Hopefully that's down the line after a basketball career," says Hibbert.
The Adelphi native has been playing on the Hilltop since he was a freshman at Georgetown Prep, scrimmaging with college players. "The older guys knocked me around," Hibbert says. But he kept going back, and those matchups helped improve his coordination and low-post skills enough to earn the attention of Georgetown recruiters.
The NBA waits while Hibbert is enjoying his time being a college senior: getting up for morning classes, playing Xbox, and experiencing the celebrity afforded a Big East champion. Hibbert says he doesn't relish the spotlight.
"People will come up to me and give me high-fives, but I'm just a guy that's real quiet," he says. "I don't like to be the center of attention."
Following in Their Footsteps
How does Hibbert stack up against the Hoyas' two legends at center? He's not in their league yet—but he was well behind Ewing and Mourning when he got to Georgetown, and he's getting stronger and better.
Roy Hibbert
Height: seven-foot-two
Minutes per game: 23
Points per game: 10
Rebounds per game: 6
Blocks per game: 2
Field-goal percentage: 60
Patrick Ewing
Height: seven feet
Minutes per game: 31
Points per game: 15
Rebounds per game: 9
Blocks per game: 3
Field-goal percentage: 62
top pick in 1985 NBA draft
Alonzo Mourning
Height: six-foot-ten
Minutes per game: 30
Points per game: 17
Rebounds per game: 9
Blocks per game: 4
Field-goal percentage: 57
second pick in 1992 NBA draft
This article can be found in the January 2008 issue of The Washingtonian.