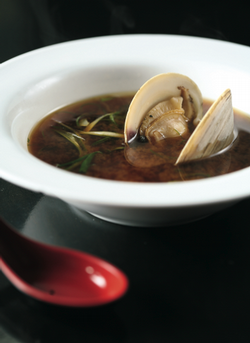 A group of six Japanese women, all chicly dressed in shades of charcoal, grazes at a wooden platter lined with sushi. A few tables back, a young couple who look like they stepped out of a Lexus ad nibble on sashimi against a backdrop of artfully arranged birch branches.
Tucked into the Rockville town center, Sushi Damo—a spinoff of a popular Japanese dining room in midtown Manhattan—has lots of city-slick glamour. But amid the trendy touches—pear saketinis to drink, tempura-fried cheesecake for dessert—there's plenty of tradition thanks to chef Takashi Okamura, who was renowned for his knife skills at DC's Makoto.
To go with the precise cuts of raw mackerel and striped bass, there's regular wasabi but also a much brighter-tasting fresh version that's worth the $4 surcharge. A few entrées seem transported from Makoto's ceremonial kaiseki menus: an earthy miso soup made with red soy paste and served with a giant clam; slabs of orange roughly lightly painted with sake and soy; and a filet of grilled mackerel accented with sea salt. The clarity of these plates makes the kitchen's occasional disappointments all the more surprising—a bland broth lumped with mushy udon noodles, a seaweed salad sodden with the one-note flavor of rice vinegar.
There's not much classicism when it comes to the sushi rolls. Sushi-bar purists might scoff at the colorful, flamboyant creations—our favorite is the Sakura roll, a tightly wrapped combo of shrimp tempura and spicy tuna showered with red and green tobiko—but they're as tasty as they are nontraditional.