What: Preview Night for "Butterflies + Plants: Partners in Evolution"
Where: National Museum of Natural History
When: Thursday, February 14, 7 to 9 PM
Who: This Valentine's Day event celebrating the opening of the museum's new permanent exhibit drew couples and singles alike. The mood was relaxed—no ball gowns spotted. In addition to the mostly after-work professional crowd were a few lucky kids who managed to swing a date with their parents and the butterflies.
Food: Passed appetizers included everything from sesame crab wontons to smoked trout on carrot-pasta chips. The spread on tables throughout the rotunda included a menu inspired by butterfly food. Little cards in front of each tray noted the ingredients in that dish as the food choice for a specific butterfly. The parsley-dill-and-fennel dish was a crowd favorite, and according to the card, those greens are also favorite foods of the Eastern black swallowtail butterfly. At the far end of the room was the most favorite area of all the valentines in attendance: a decadent chocolate spread, complete with chocolate shots.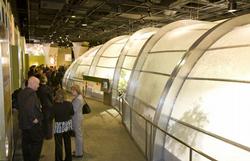 Drink: An open bar with standard cocktails. Martinis were a popular choice, according to the bartenders. Cocktails of mango juice, orange juice, and vodka—fitting the evening's tropical theme—were passed by servers.
Scene: Guests began arriving before 7 and trickled upstairs into the museum's rotunda. By the time NMNH associate director Elizabeth Duggal and Smithsonian Institution acting director Cristian Samper introduced the exhibit at 7:30, there was a full house. The tropical-paradise theme included pink and green lights (some cast on the ceiling in the shape of butterflies), green-leafed trees with paper butterflies wired to the branches, and background music of Asian wind instruments.
After a drink and food, we headed upstairs to check out the exhibit. The highlight of the room was the live-butterfly pavilion, a close-up look at butterflies in their own environment. The line to walk through the pavilion was an impressive 20-minute wait. After we passed through the double doors meant to prevent butterflies from escaping, we entered the habitat. It was warm and humid with bright lights, plants, trees, and of course, butterflies. Kids and adults alike oohed and aahed at the colorful creatures fluttering all around. One landed on my bag for a second, and my heart jumped like a six-year-old's. I guess you're never too old for a fun night out at the museum.
Cost: Admission to the exhibit is free; entering the live-butterfly pavilion is $6 ($5.50 for seniors, $5 ages 2 to 12), but it's free on Tuesdays.

Goody bag: Each guest left with a small pouch filled with paper cutouts of hearts and butterflies. Embedded in each cutout were seeds. When the cutout hearts and butterflies are planted, butterfly-attracting wildflowers will grow and bloom.