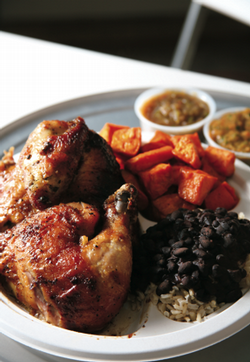 Chicken—Peruvian-style and other ways—gets star billing on the streamlined menu at the two-month-old Chix, an environmentally conscious carryout and restaurant in a brownstone just off bar-happy U Street. It's the brainchild of government workers Lukas Umana and Victoria Garcia. They haven't quit their day jobs, so they wisely have kept the place's focus tight: three varieties of rotisserie chicken, a few vegetable sides, and a handful of fresh salads and wraps.
The chickens, from an all-natural farm in Pennsylvania, are plump, moist, and full of flavor. A Colombian-style bird gets a daylong soak in organic coconut milk and coffee before its turn on the spit. The Peruvian chicken is marinated in a peppery mix of herbs and spices. And the spicy-sweetness of the house blend's dry rub—Garcia is so fiercely protective of her longtime family recipe that she gets up at 5 am to make it herself—infuses not only the skin but also the meat.
Choose from a trio of house-made sauces—the piquant green salsa works best with the chicken, while the curry-mustard sauce is ideal for drizzling over bowls of hacked chicken and cilantro rice—and sides such as roasted sweet potatoes, well-spiced black beans, and a less-inspired casserole made with vermicelli and cheddar.
There's a worthy home-style chicken soup full of shreds of dark meat, but the sleeper is a terrific lentil soup, at once soothing and assertive. It might be the perfect hangover cure—or preventative. Chix is open weekends till 3 am.
This review appeared in the February, 2008 issue of The Washingtonian.