Photographs by Ron Blunt.
In 1991, Michael Marshall unearthed a buried treasure in DC's Forest Hills—literally.
The 79-year-old stone house was covered in kudzu and steeped in sewage gases after a five-year vacancy. It was on the auction block following a foreclosure, but it scared off even the hardiest bargain hunters.
The young architect—he was 34 at the time—saw a diamond in the rough. He says it "wasn't exactly a steal," and he spent considerable money renovating it, but Marshall lucked out with the timing—a market slowdown had freed up contractors, who did most of the work in six months.
The renovation stripped the utilities but left the house's best original features—a fireplace made of stones from the Potomac River, rare chestnut woodwork, and oak floors. "We brought it back to life," says Marshall.
"Transitional" is a style much in vogue, but rarely is it achieved as beautifully as in Marshall's mix of new and old. The wooded cul-de-sac of old homes is a designated historic rural enclave, which means aesthetic regulations. Marshall's architecture practice was contemporary, and he had been living in a modern home he'd renovated in Shepherd Park. But Marshall had been inspired by Old World architecture on his European travels and was happy to restore the home's character.
"It would have been just wrong to erase what was here before," says Marshall, admitting that it was not a purist restoration because he did use some very contemporary elements, such as the lighting. Marshall also mixed English Tudor and French Norman styles, and his globetrotting wife, Lydia, has added stunning finds from far-flung locales such as Africa.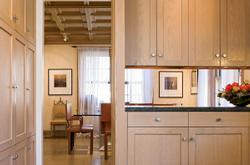 Well-chosen, repeated elements weave the 5,500-square-foot home together. The floors, coffered ceilings, and wood trim, for example, are all washed in the same glowing stain as the kitchen cabinets. Monarch Paint mixed Rutt Custom Cabinetry's standard "Tan Over Red Oak" color with custom hues to achieve the same effect on the different woods.
The walls are all painted with the same light-sepia glaze, a handpainted white base coat with two coats of color and a varnish over all. The coffered ceilings in the living room, dining room, and library are elaborate, but their clean-lined pattern keeps them from feeling oppressively ornate.
Red-veined dark granite echoing the woodwork hue covers the kitchen countertops and walls, and it's used in a custom metal dining-table base and in the fireplaces.
The kitchen is the most modern room in the house, but it moves traditional toward contemporary by hiding all that is functional: The refrigerator disappears into the cabinets, the microwave is sunk into the wall where a window once was, and drawers hidden behind panels complete the streamlined look. Shutter doors provide openness to the space but can also close the kitchen off from the dining room.
As with many an old house, lighting was the biggest challenge. When features like thick outer walls—Marshall's are a formidable 18 inches—and gabled roofs preclude adding windows and skylights, artificial illumination is the only recourse. Technology has improved those options, creating better-quality bulbs with more control for a natural effect.
Maurice Electric created Marshall's custom lighting with halogen heads on tracks along the coffered ceilings. Marshall also lights pieces of his considerable art collection individually rather than illuminating the whole space, for a more subtle effect.
The smallest room is Marshall's favorite. "I love our library," he says of the home office he's lined with bookshelves matching the wood in the ceiling. That too is coffered, but unlike those in the living and dining rooms it is curved.
"The vaulted ceiling makes it feel like a cocoon," he says. "The whole idea of being wrapped by the space is so welcome and cozy."
Expert Tip
Custom-made sounds pricey but can be a money saver. Michael Marshall designed his own coffee- and dining-table bases and gave the drawings to Northeast Iron Works, which manufactured them. The company can work with customers who simply provide a photo of what they want. A simple metal base can run $800 to $3,000—much less than retail; the cost depends on the finishing, the most expensive part of the process. Northeast Iron Works is at 2632 Douglas Street, Northeast DC; 202-529-9440; northeastironworks.com.
Select Resources
Kitchen cabinets: oak cabinets by Rutt Custom Cabinetry, 215 Diller Ave., New Holland, Pa.; 717-351-1700; ruttcabinetry.biz.
Granite countertops: American Mahogany from IGM, 631 S. Pickett St., Alexandria; 703-823-5555; igmcorp.com.
Dining-room chairs: six Arcona armchairs from B&B Italia, designed by Paolo Piva (Arcadia series). Available at Adlon, 1028 33rd St., NW; 202-337-0810; adlondesign.com.
Wall glazing: by Artifice, 1829 N. Quesada St., Arlington; 703-626-7900; artificeinc.com.
Lighting: incandescent halogen tracks by Maurice Electric, 500 Penn St., NE, 202-675-9400, and 981 Rollins Ave., Rockville, 301-468-7300; mauriceelectric.com.
This article is part of the 2008 Great Home Design package. To see the rest of the package, click here.