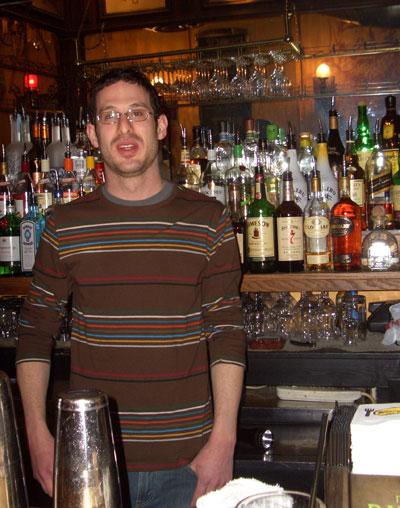 It's 2 PM when bartender Adam Bernbach lets me into Bar Pilar on DC's 14th Street. Patrons won't start filling the bar stools and wooden tables until 5, and Bernbach won't leave until after 3 in the morning. Quiet and humble, he says working at Bar Pilar has allowed him to do what he's passionate about: creating cocktails.
Bernbach is the force behind Bar Pilar's Tuesday Cocktail Sessions—evenings that not only allow him to stretch his creative legs but are also becoming a weekly hit with area bartenders and customers alike. Every Tuesday, five new cocktails of Bernbach's invention are featured, such as the Orange Whip (spiced rum, orange juice, spiced orange syrup, half-and-half, and egg white—shaken) or the Bizzy Lizzy (ancho-chile-infused Gosling's Gold rum, chocolate mole, cream, and soda water shaken, strained, and topped with soda water). All speciality cocktails are $11, and if you enjoy one, he can make it for you anytime if the ingredients are available.
Bernbach is at Bar Pilar (1833 14th St., NW; 202-265-1751; barpilar.com) Tuesday through Saturday. In addition to Tuesday Cocktail Sessions, there are wine tastings once or twice a week.
What's your job title?
Sherpa.
When did you start bartending?
Seven years ago. There was this place called Visions—it was a bar and art-film theater. I roasted coffee beans; from there I got into bartending. I worked at Café Saint-Ex; then I worked at PS7's and then Komi before I came here three months ago. Each place I've worked has been a different experience. Komi was awesome—I loved working there. At Saint-Ex I got into the idea of foods and wines, and at PS7's I got into seriously mixing cocktails. Here I get to sort of explore all that.
What is the best part of your job?
Interacting with people. And making drinks.
And the worst part?
I would say the hours and the possible negative effects of alcohol.
Where do you find the inspiration for your cocktails?
Often just walking through the grocery store. I get really excited about other people's work. Unfortunately, I don't get to go out that often anymore, but on the few occasions that I do, there are a number of talented people in this city.
How many times does it take to get cocktail right?
It's very situational. Sometimes it's the first one out the gate, and sometimes it takes time after time after time. A lot of the ones that end up on the Sessions menus are things that I've been thinking about as ideas for a long period of time and they've made their way in various forms and I just tinker with them. It's a never-ending process—even the ones that do come right out of the gate will soon be changed. It's much more fun that way.
How often do you and Bar Pilar chef Justin Bittner work to connect the food and drink menus?
With the wine menu, significantly. I'm wholly attached to the idea that wine should go with food, and it's important that it does. Also, though, I do function under the idea that this is a bar and people will just have a glass of wine without food. As far as the cocktails, I do take a certain amount of inspiration and influence from Justin, and I try to give him a nod in some of the things that I do.
The craziest moment behind the bar?
Back at Visions, I bartended a porn-and-sex-toy event. That was definitely the most curious. I think it was in relation to a documentary on Ron Jeremy, the porn star.
How can customers act to not piss you off?
Function with kindness and respect—that's all anybody really wants.
Most popular drink?
The most popular drink ordered here is beer. I love beer and I love wine, so it never disappoints me when people order something like that.
What drink would you make for yourself?
Probably a Darkside (Chinato, Plymouth gin, and Peychaud bitters, stirred). I would, just as easily, drink whiskey or sherry or something. I very rarely drink cocktails.
To see more Belly Up bartender interviews, click here.

Do you know a bartender who's great at both mixing drinks and chatting up customers? Let us know about them in the comments, and they could be the subject of our next Belly Up interview.