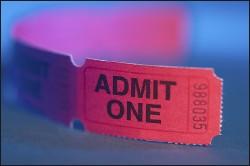 Here's our weekly guide to concerts and other events with tickets going on sale in the days ahead. Read on for this week's lineup.Rocker Sheryl Crow is coming to Merriweather Post Pavilion May 28; tickets ($36 to $76) go on sale this Friday at 10 AM here.
West Coast indie stalwarts Death Cab for Cutie are also at Merriweather Post June 9. Tickets ($25 to $40) go on sale Saturday at 10 AM here.
Crowded House is coming to the 9:30 Club May 2, and tickets go on sale next Thursday, April 3, at 10 AM. The price isn't posted yet, but you can keep an eye out for it at Tickets.com.
If you're a fan of the Cure, you might want to check out She Wants Revenge, playing with beloved-by-hipsters Be Your Own Pet at the 9:30 Club May 30. Tickets will be on sale this Saturday at 10 AM at Tickets.com.
The B-52s are back and playing the 9:30 Club with Eagle Seagull on April 26. Tickets ($40) went on sale this morning and can be purchased here.