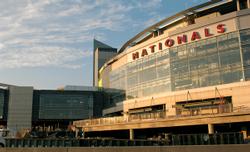 Washington is a two-faced town, swinging between its federal and local identities. Inaugural night for Nationals Stadium showcased local Washington—from the party hosted by the Lerner Family, hometown owners of the baseball team, to the food and the crowd in the stadium.
True, President George Bush threw out the first pitch. And a sprinkling of usual suspects from national Washington made the scene, but the Lerners put a local stamp on the affair, starting with their VIP party.
Many of the "very important people" invited to the spare affair on the unfinished top floor of the Lerners' office building on M Street were lifelong friends of Ted and Annette Lerner. There was much more Chevy Chase and Bethesda than K Street and Capitol Hill.Charlie Brotman, Mr. Baseball, was there, of course. Local financier Mark Ein made the scene. Local developers from the Miller and Kay families were on hand. Local entrepreneur Rick Kay and his wife Becky made the list. Kay is a partner in Lincoln Holdings, Ted Leonisis' group that owns the Washington Capitals. We saw star sports anchor James Brown, a local hero and member of the Nationals minority ownership group. Jeff Fried, attorney for the minority group, was there with his wife, Pat.
TV host Maury Povich, still a local boy, was there with his brother David, a lawyer with Williams & Connolly.
The DC city council was well represented. Jack Evans, who steadfastly championed the return of major league baseball and the ballpark construction, was there. Kwame Brown, Harry Thomas Jr., Carol Schwartz and Chairman Vince Gray sipped and ate and schmoozed.
I asked Gray if the party was a local affair.
"I think it was regional," he said. That means there were Virginia congressmen, like Fairfax's Tom Davis, as well as the DC pols.
But the Lerners went deeper than the current office holders. They invited veteran council member Charlene Drew Jarvis, now president of Southeastern University. She was accompanied by her son, real estate developer Ernie, his wife, Debbi and their son, E.J.
No sightings of Marion Barry, but Kathy Patterson, who lost her bid to become council chair and now advocates for universal pre-kindergarten classes, was on hand.
The national spotlight did shine thanks to CNN's Wolf Blitzer and columnist George Will, both of whom can be counted as local baseball fans.
Overall, the Lerners put on an intimate affair. The same can be said for the stadium. Much will be written about sight lines and suites, but most of all the new stadium had an unpretentious feel. There were plenty of frills and fine appointments for the monied elite, but for the local fans, who ate food from local vendors, the new ball park is simply a fine place to see major league baseball.
Appealing to local Washington is a smart business move, of course. The Lerners know it's the locals who will become fans and fill the stands.