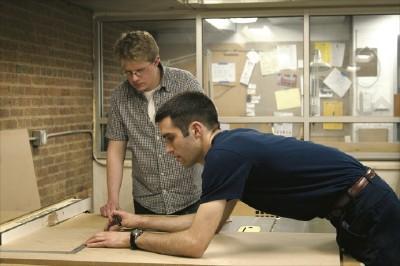 When trying to win new business, an architect lives by the mantra "Know your potential client."
Master's students in architecture at Catholic University had to do just that when they found out Pope Benedict XVI could be a client on his first visit to the United States since assuming the papacy. In January, the Archdiocese of Washington and the university sponsored a contest to design the altar for the Pope's mass at the new Nationals stadium on April 17, a day after he turns 81.
Of the 21 submissions, the one crafted by CUA students John-Paul Mikolajczyk, 23, and Ryan Mullen, 24, was chosen. Randall Ott, dean of architecture and planning at Catholic University, praises the winning design for its combination of respectful Catholic tradition and a modern style that complements the stadium setting.
The altar is a ten-by-four-foot wooden slab supported by a base with a repeated pattern of parabolic arches carved from aluminum. A chair with an eight-foot back, engraved with the papal coat of arms, and a nearly four-foot ambo include the same metalwork.
Archbishop Donald W. Wuerl sees it this way:"The design points to the movement and power of the Holy Spirit. Your eye is caught by the sense of motion."
This article can be found in the April 2008 issue of The Washingtonian.