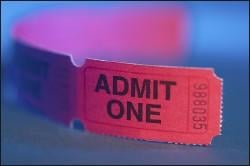 Here's your Hot Ticket, our weekly guide to concerts and other events going on sale in the days ahead. Read on for this week's heads-ups. Yup—we find out the hottest concerts and when they're going on sale so you don't have to do the work. This week, we're letting you know about ticket sales for everything from a Pearl Jam concert to a DC appearance by the Flight of the Conchords fellows.
• Rock icon Pearl Jam is playing the Verizon Center on June 22. Tickets ($69) go on sale Friday, April 11, at 10 AM over here.
• The duo star in the hit HBO show Flight of the Conchords will be bringing their act to Lisner Auditorium on Friday, May 9. Tickets ($35) go on sale Friday, April 11, at 10 AM right here.
• It won't be until August 11 that punk group Rancid hits the 9:30 Club, but tickets go on sale Thursday (today) at 10 AM here.
• Projekt Revolution, the spelling-challenged annual concert tour headlined by Linkin Park, is at the Nissan Pavilion Sunday, July 27. Tickets go on sale this Saturday, April 12, at 10 AM for a variety of prices.
• Lightspeed Champion is making waves in the indie world for his stripped-down but powerfully melodic songs. He'll be at the Black Cat on June 3; we're betting that significant buzz will have built up by then, so make sure to get your tickets for the show Friday at 10 AM right here.
For more posts on nightlife, arts & events, bars and more, click here.