24-HOUR SPOTS
Amphora Diner
Open daily 24 hours
For a town where "late night" can translate to "stays open past 9 PM," Vienna's Amphora Diner is a godsend for night owls, rowdy high-school students, and anybody else looking for a bite before the sun comes up. Though nothing on the menu is remarkable enough to spotlight, desserts are a strong suit, and the lively atmosphere and old-school-style booths make the place stand out.
377 Maple Ave. W., Vienna; 703-938-7877

Annie's Paramount Steakhouse
Open Friday and Saturday 24 hours, Monday 10 AM to 11 PM, Tuesday and Wednesday, 10 AM to midnight, Thursday 10 AM to 1 AM
This 60-year-old Dupont Circle fixture always feels like a neighborhood party, filled with regulars happy to overlook the slow service for heaping plates of steak and eggs or French toast. Bloody marys and mimosas are the drinks of choice.
1609 17th St., NW; 202-232-0395

Bob and Edith's Diner
Open daily 24 hours
There's nothing fancy about this classic 24/7 diner. It's been serving up hotcakes and country-fried steak since 1969, and the menu hasn't seen many changes. The buttery biscuits and steak-and-eggs are just what you crave at 2 AM. Even health nuts can find something to love—turkey sausage and multigrain waffles.
2310 Columbia Pike, Arlington; 703-920-6103; bobandedithsdiner.com

The Diner
Open daily 24 hours
True to its name, this Adams Morgan standby is an updated classic with wood-and-red-vinyl booths. Big breakfasts—from feta-filled omelets to gussied-up Benedicts—are available round the clock, as are riffs like chili-slathered fries and grilled-cheese sandwiches. There are seven variations on the latter, including the rich but fabulous Yorkshire, with cheddar, roast beef, and horseradish.
2453 18th St., NW; 202-232-8800; trystdc.com
IHOP
Hours vary by location
Most locations of this familiar breakfast chain are open 24 hours, including outposts in Alexandria, Arlington, Takoma Park, and Wheaton. There's savory fare, such as burgers and steaks, but stick with the obvious: pancakes. Get 'em studded with chocolate chips, loaded with fruit (a.k.a. corn-syrupy compotes), or with a side of breakfast meats. The wholesome grain-and-nut variety is surprisingly good.
16 locations in Virginia and 17 in Maryland; Click here for locations.

Kramerbooks & Afterwords Cafe
Open Friday and Saturday 24 hours, Sunday through Thursday until 1 AM
This Dupont Circle hangout is like a superhero with a secret identity: It's an eclectic bookstore by day, a fun after-hours drink and food spot by night. Grab a beer, a latte, or a bowl of mussels and then browse the shelves and rub elbows with the late-night literati.
1517 Connecticut Ave., NW; 202-387-1400; kramers.com

Osman & Joe's Steak & Egg Kitchen
Open daily 24 hours
Whether you want breakfast at 3 AM or 3 PM, this seen-better-days counter-and-stool throwback serves it. Malt waffles, biscuits with chopped sausages and gravy, eggs scrambled or fried with steak or hash are all on the 24-hour menu, which covers other diner territory, too. Cheap prices are one draw—this is the home of the $1.99 hot dog—but so is the feeling that they don't make them like this anymore.
4700 Wisconsin Ave., NW; 202-686-1201; osmanandjoes.com

Tastee Diner
Open daily 24 hours
This downtown Bethesda institution (other locations are in Silver Spring and Laurel) is housed in an original "cab" from the 1930s that was renovated after a fire ripped through a few years ago—and it still looks just as wonderfully dingy as it always did. Tastee is known for rowdy high-school crowds on weekends and no-nonsense waitresses. Go for greasy-spoon favorites like eggs and grilled cheese, washed down with a milkshake.
7731 Woodmont Ave., Bethesda, 301-652-3970; 8601 Cameron St., Silver Spring, 301-589-8171; 118 Washington Blvd. S., Laurel, 301-953-7567; tasteediner.com

Yechon
Open daily 24 hours
Just as Georgetown undergrads have Five Guys, young Korean-Americans in Northern Virginia have Yechon. At night this bul-goki-and-sushi house fills with teens and twentysomethings in denim skirts and stocking caps and buzzes like a school cafeteria. Korean barbecue—a grill is inlaid in many tables—is a feast for two. The traditional bul goki—a wild mess of thinly shaved beef, mushrooms, and leeks—is grilled and then bundled into a lettuce leaf with a dollop of nutty soybean paste. Lusher versions are made with short ribs, slices of pork, or spicy squid.
4121 Hummer Rd., Annandale; 703-914-4646; yechonrestaurant.com
OPEN LATE

Amsterdam Falafelshop
Open Sunday and Monday until 12:30 AM, Tuesday and Wednesday until 2:30 AM, Thursday until 3 AM. Friday and Saturday until 4 AM
Smack in the heart of Adams Morgan's bar-hopping strip, this counter-service operation is one of the few nonpizza spots for late-night eats. The menu is simple: Israeli-style falafel and fries. But there's a whole buffet of sauces and toppings to garnish your pita.
2425 18th St., NW; 202-234-1969; falafelshop.com
Ben's Chili Bowl
Open Monday through Thursday until 2 AM; Friday and Saturday until 4 AM
Duke Ellington and Ella Fitzgerald used to hang out at "the Bowl." A former pool hall with Formica tabletops and the original stools from when it opened 50 years ago, Ben's is very much a local fixture. Chili-slathered hot dogs with mustard and chopped onion are everything they should be, and half smokes, bigger and spicier than a regular dog, are one of DC's contributions to the culinary hall of fame. Thick shakes are mighty fine, too.
1213 U St., NW; 202-667-0909; benschilibowl.com
Bistrot du Coin
Open Thursday, Friday, and Saturday until 1 AM
There are a thousand loud, rickety bistros dotting the avenues of Paris, and this Dupont neighborhood hangout feels nearly as authentic. You can get a nice house Champagne for less than ten bucks, and the steak frites, onion soup, and pâté de campagne are always reliable. The shoddy acoustics make for a rollicking din and the servers are brusque and fast, but that's part of the charm.
1738 Connecticut Ave., NW; 202-234-6969; bistrotducoin.com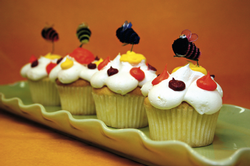 Buzz
Open daily until midnight
Buzz—the wi-fi-friendly bakery/dessert lounge—has fashioned itself into a mecca for cupcake fans. On any given day, the bakery case holds five flavors—such as the chocolate-filled Bumblebee or the terrific vanilla-on-vanilla. Brownies are also winners, especially the espresso-laced Farmhouse Bar and a new, salty-sweet peanut-butter/bacon version (yes, we were skeptical at first, too). After dark, dessert-inspired cocktails are served in addition to the all-day roster of Illy coffee drinks.
901 Slaters La., Alexandria; 703-600-2899; buzzonslaters.com

Capital Q
Open Thursday through Saturday until midnight
You don't have to be a Texan to revel in the barbecue at this sliver of a Chinatown storefront. Brisket slow-smoked for 12 hours is the go-to meat here. Have it in a sandwich or on a platter—and ask for some burnt ends called "brownies." Besides the usual line-up of ribs and chicken, novelties worth seeking out are the smoked turkey and the smoked sausages from Elgin, Texas.
707 H St., NW; 202-347-8396; capitalqbbq.com

Cashion's Eat Place
Open Friday and Saturday until 2 AM
At this Adams Morgan destination dining room, just up the street from the land of the jumbo slice, cook Sam Whittington stays up late to serve a special bar menu. Beginning at midnight, look for plates such as wild-mushroom risotto, Thai curry with chicken, Serrano ham with dates, and pork carnitas.
1819 Columbia Rd., NW; 202-797-1819; cashionseatplace.com

Eamonn's
Open Friday and Saturday until 1 AM
Fast food in a very un-fast-food setting makes Cathal and Meshelle Armstrong's Irish-style chip shop an appealing Old Town stop. The glossy dark wood and mirrors provide a vintage background for enjoying golden-crusted fried cod or skate. Fries —or "chips"—are boardwalk-style thick and floppy, and slaw has a nice snap. A line-up of house-made sauces—great tartar, pink Marie Rose, and warm curry—clinch the deal. If you're feeling extra-indulgent, go for a round of the freshly fried doughnuts.
728 King St., Alexandria; 703-299-8384; eamonnsdublinchipper.com
Full Kee
Open daily until 2 AM
Chinatown might now be awash in chain restaurants and stores, but there are a few Chinese restaurants still holding on, such as this mainstay Cantonese spot. The star of the menu is a big, soothing bowl of Hong Kong shrimp-dumpling soup. Oyster casserole with scallions, clams in black-bean sauce, and stir-fried snow-pea leaves are good bets, too.
509 H St., NW; 202-371-2233; fullkeedc.com

George's King of Falafel
Open Friday and Saturday until 4 AM, Monday through Thursday until 11 PM
Partying at the bars in Georgetown may lead to some hunger pangs. So thank goodness for George's King of Falafel, one of the few late-night eateries in the area. Grab one of its namesake falafel sandwiches or, if you're extra-hungry, a shish-kebab platter.
1205 28th St., NW; 202-342-2278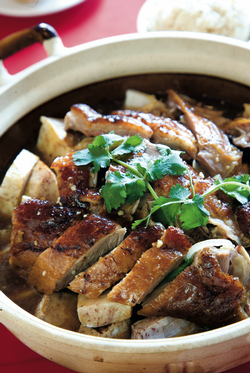 Hollywood East Cafe on the Boulevard
Open Sunday through Thursday until 1 AM, Friday and Saturday until 2 AM
Don't show up after midnight craving dim sum. In keeping with tradition, the nibbles are offered only until 3 PM at this authentic Hong Kong-style spot. You'll still find the 200-dishes-and-counting regular menu, and dim-sum devotees can snack on dumplings, shrimp toast, and spicy shrimp wontons from the roster of appetizers. The complexly flavored casseroles—such as duck with taro, lamb with bean curd, and oyster with roast pork and shiitakes—are robust and warming.
2621 University Blvd. W.; 240-290-9988; hollywoodeastcafe.com

Hudson
Open Sunday until midnight, Monday through Thursday until 2 AM, Friday and Saturday until 2:30 AM
This Technicolor dining room/lounge in the West End caters to night owls with a streamlined late-night menu. You'll find everything from six kinds of brick-oven pizza to red-curry mussels to cheesesteak sliders. Or gear up for the morning with a ham-and-smoked-Gouda omelet.
2030 M St., NW; 202-872-8700; hudson-dc.com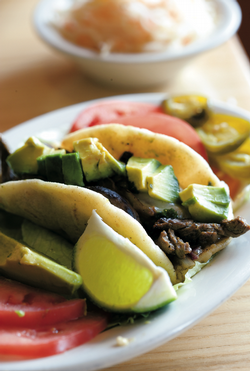 Irene's Pupusas III
Open daily until midnight
Crisp and greaseless outside, oozing queso blanco and beans from within, the thick tortilla pockets at this pupuseria make a satisfying, super-cheap meal. Versions with pork and the squashlike loroco are especially savory. The vinegary slaw adds an appealing tartness. There are also worthy plates beyond pupusas—Honduran open-faced tacos made with small cubes of seasoned beef and baliadas, mounds of spicy beef and refried beans topped with hard-cooked egg and avocado. Latin pop on the jukebox and friendly service keep the mood light.
11300-B Georgia Ave., Wheaton; 301-933-2118

Julia's Empanadas
Open Friday and Saturday until 4 AM
This local chainlet of takeout counters always has hot empanadas on hand, even in the wee hours. Fillings include chorizo with rice and black beans; turkey with spring onions; spinach and ricotta; and our favorite, Chilean-style beef with raisins, egg, and olives. A vegan empanada changes weekly.
1221 Connecticut Ave., NW, 202-861-8828; 1000 Vermont Ave., NW, 202-789-1878; 2452 18th St., NW, 202-328-6232; 1410 U St., NW, 202-387-4100

Les Halles
Open daily until midnight
This mini-chain bistro—made more famous when the chef at its New York branch, Anthony Bourdain, wrote Kitchen Confidential—is known for affordable renditions of Francophile comfort fare: onion soup, frisée salad with bacon, onglet with shallot sauce, and coq au vin. Big pots of mussels and charcuterie and cheese plates make nice shares.
1201 Pennsylvania Ave., NW; 202-347-6848; leshalles.net

Love Cafe
Open Saturday until midnight
Warren Brown, the lawyer-turned-celebrity-baker behind the CakeLove empire, must have had late-night diners in mind when he put a grilled peanut-butter-and-banana sandwich on his cafe's menu. A generous smear of peanut butter and sliced bananas between two honey-kissed slices of sourdough—we can't imagine a better midnight snack. There's also a cupcake bar for mixing and matching cake and buttercream flavors, a glass case full of layer cakes, and oversize savory sandwiches such as old-fashioned pulled-chicken salad and BLT.
1501 U St., NW; 202-265-9800; cakelove.com

Luna Grill and Diner
Open Friday and Saturday until midnight
Andy Shallal's funky, vegetarian-friendly diners in Dupont Circle and Shirlington offer an eclectic mix of burgers, comfort food, pastas, and sandwiches. We like the sweet-potato fries with sour cream for dipping.
1301 Connecticut Ave., NW, 202-835-2280; 4024 28th St., Arlington, 703-379-7173; lunagrillanddiner.com

Matchbox
Open Friday and Saturday until 1 AM
This Chinatown pizza-and-burger spot's late-night menu offers its signature mini-burgers in orders of three, six, or nine as well as a dozen designer pizzas and a handful of salads. As always, you can create your own pizza, and those crazy-long waits for a table ease off after dinner hours.
713 H St., NW; 202-289-4441; matchboxdc.com

Mexicali Blues
Open Friday and Saturday until 4 AM
There's nothing for delicate appetites on the late-night menu at this colorful Clarendon margarita stop. It's stick-to-your-ribs (or soak-up-the-tequila) fare all the way: steak nachos, Salvadoran-style carne asada, breakfast burritos with chorizo, and an ode to Plácido Domingo that involves home fries, fried eggs, and melted cheddar.
2933 Wilson Blvd., Arlington; 703-812-9352; mexicali-blues.com

New Big Wong
Open daily until 4 AM
This subterranean Chinatown kitchen is a favorite postwork hangout for Penn Quarter chefs including Café Atlántico's Katsuya Fukushima and others. Skip the dull American-friendly dishes in favor of anything labeled "Hong Kong style" or "house special." You'll find steaming bowls of noodle soup; crispy roasted duck, juicier and cheaper than the traditional Peking; and Chinese hot pots loaded with chicken, jumbo shrimp, pork, or fish fresh from a tank up front. Everything is eminently sharable.
610 H St. NW; 202-628-0491

Oohhs and Aahhs
Open Wednesday through Saturday midnight to 4 AM
The electric bill at this soul-food kitchen went up last year when co-owner Indiah Wilson added a late-night shift. Wilson, often in "going out" garb and fresh from the dance floor at Lotus Lounge, fills Styrofoam boxes with Frisbee-size waffles and five fried wings for $10.95. Although the waffles have egg whites mixed in to lighten the batter, home fries aren't as guiltless: The Cajun-spiced potatoes join grilled red and green peppers in a sauté of pure butter.
1005 U St. NW; 202-667-7142

Old Ebbitt Grill
Open daily until 1 AM
A hundred yards from the White House, this 152-year-old institution has been a favorite of several Presidents. We hope they ordered the oysters—they're some of the best in town. Multitiered raw-bar platters—with a selection of cool, creamy oysters as well as littleneck clams, jumbo shrimp, crab claws, and lobster—are fun for sharing, even more so during the late-night happy hour when most raw-bar items are half price. The historic saloon is also dependable for its wings, crab-and-artichoke dip, crab-cake sandwich, and cheese plate.
675 15th St., NW; 202-347-4801; ebbitt.com

Proof
Open Thursday through Saturday until 1 AM
If you're starving after a show at the Shakespeare Theatre, head to this wine-centric restaurant. Chef Haidar Karoum's late-night bar menu includes eggs scrambled with foie gras; a Philly cheesesteak gone glam with Wagyu beef, provolone, and jalapeño mayo; and shrimp tempura with Bangkok slaw. Cheese and charcuterie are available, too, along with the extensive wine list, with 40 by-the-glass selections and 1,000 bottles.
775 G St., NW; 202-737-7663; proofdc.com

Where are your favorite late-night spots? Did we miss any? Let us know in the comments.

For more food and dining posts, click here.
For more dining guides, click here.