A block away from the Columbia Heights Metro on increasingly trendy 14th Street, Logan @ the Heights (3115 14th St., NW; 202-797-7227; theheightsdc.com)—more commonly known as "the Heights"—has been buzzing with neighborhood twentysomethings ever since it opened in June. EatWellDC, the restaurant group responsible for Grillfish, Logan Tavern, and Merkado, has tapped into the area's need for a comfy neighborhood joint for something other than pupusas. Nothing against the Salvadoran snack, but if residents are in the mood for something different, they can now find maple-roasted pork loin, grilled tuna, and other Modern American dishes nearby.
Here's how a recent round of diners rated the Heights on a scale of 1 to 10.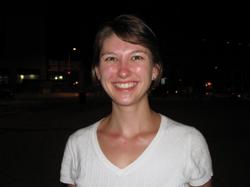 Bridget, urban planner, Columbia Heights.

What she ate: Mixed green salad with jícama and a grilled, stuffed portobello mushroom appetizer.
Impressions: "The food is just a'ight. I would come back for the drinks and ambiance."

Rating: 6.
Marjan, attorney, Capitol Hill, and Matthew, history professor, Mount Pleasant.

What they ate: Shrimp-chorizo-and-caramelized-onion pie ("Tasted like meat. Or maybe turkey tofu? Not good," said Matthew), and a potato-chickpea-and-coconut curry over rice ("Sounded exotic, but very lame," he added).

Impressions: "At first glance, everything on the menu looks perfect—comfort foods that are usually solid," Matthew said. "But what a letdown—I could have produced better in my bachelorhood. They need to kick up the booze in the drinks, too. My cocktail tasted great, but it was all mango purée and no alcohol. The servers didn't even ask how our food was." On a more positive note, he called it a "nice space and great addition to the neighborhood."
Rating: 7. "But as an easy-grading professor," Matthew said, "this might count as grade inflation."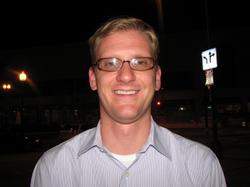 Stephen, online business manager, Columbia Heights

What he ate: Mixed green salad with jícama; fried chicken.

Impressions: "This is my third time, but the first two times were just for drinks. I probably wouldn't come back for the food, but the scene is great. I especially like the big pictures on the wall inside, and the patio is great. You'd think with all the traffic going by on 14th Street, it might be too loud, but it's really laid-back."

Rating: 7.
Cindi, nurse, and Mike, resident at Georgetown Hospital, Columbia Heights.

What they ate: Chicken wings, fried chicken with mashed potatoes ("Really good," Mike said), and a bleu-cheese-stuffed filet mignon (also excellent, they agreed).
Impressions: "We live down the block and have come multiple times already," Mike said. "It's perfect for brunch, especially since you can bring your dog. Ours is 80 pounds, so not a puppy at all, but they even bring out water bowls."

Rating: 8.
Jill, reporter for the Chicago Tribune, Cleveland Park, and Gayle, real-estate investor, Capitol Hill.

What they ate: Rotisserie chicken with lemon and herbs ("Totally safe dish but pretty lemony," said Jill).

Impressions: "Before, you'd come to this neighborhood for the best pupusa you've ever had," Gayle said. "Now you can actually come here and get the best steak salad you've ever had." Jill added: "We really liked our waiter, George, but the outdoor seating fills up fast. Get another friggin' seat out there, guys! I didn't like the wineglasses. I wanted real glasses, and these were weird."

Rating: 7, which to Jill "means it needs improvement but has potential."