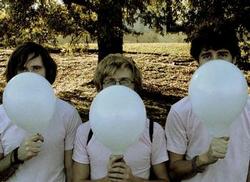 See our map and guide to area record stores | Get a video tour of a DC record store

Jesse Kristin of Jukebox The Ghost
• My favorite store in the area is definitely Orpheus Records in Clarendon, although it was closing down last time I visited and may actually be gone now. It had everything: Stacks upon stacks of used and new vinyl (including unending piles of vinyl on the floor that had yet to be mixed into the stacks), an old, emaciated, bearded, always barefooted owner, and a constant rotation of great background music for browsing records.
• Dookie by Green Day is the first record I got, in third grade.
• Record stores are indeed still relevant, particularly for those who are meticulous/dorky about the quality of sound in music. If you are buying CDs just to upload them into MP3 format, then, yes, you are in a sense wasting your money. However, for those who are frugal and buy everything used, for the audiophiles who love the clarity and fullness of vinyl, and for those who, like me, are always nostalgic for the days when buying a record in a store felt like buying a new Mercedes, the independent record store is as magical and timeless as an amusement park.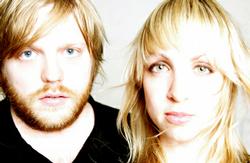 John Davis of Georgie James
• Many of my favorite record stores over the years haven't been in the city proper, but have been out in either Maryland or Virginia. I've got a laundry list of stores I loved/liked that are now shuttered, which is unfortunate. The store that is probably closest to my heart was Yesterday & Today, which was in Rockville and was kind of the hub for the Dischord scene back in the day. I started going there in the early '90s when I got into punk, and I have many good memories. I suppose I actually did go there a few times back in the '80s with my dad when he needed to pick up a few 45s for the radio station he worked at. But like I said, it was in the early '90s that I really started going there regularly to pick up whatever new thing was on Dischord, along with the other favorites of the day from Simple Machines, Teen Beat, Sub Pop, Homestead, or whoever. I remember going there with a friend on the day that Fugazi's In On the Killtaker came out on a beautiful late spring day in 1993 (and fifteen years later I'm sending you these answers from the computer in [that friend's] office in L.A., where we're playing tonight). We had a half day off from school so we got there before Y&T's doors opened, but Skip, the store's owner, opened up and let us in. We were PSYCHED. Y&T shut down a couple years ago, but that was definitely one of my favorite spots. I also loved Vinyl Ink (in Silver Spring), Go! Compact Discs (in Arlington), Record & Tape Exchange (in College Park), and Smash (in Georgetown), among others. All of those spots are gone now. Joe's Record Paradise out in Rockville/Gaithersburg stands atop the list of places still going. If you're a vinyl collector, as I am, it's still the top spot. My ideal visit would probably last all day and I still don't think I could browse through everything. DC's in a good place now, though, 'cause there are actually a bunch of good stores in the District again. The new Smash (in Adams Morgan), Crooked Beat, Red Onion, Som, and, on occasion, CD and Game Exchange in College Park all have good finds. I'm sure I'm forgetting some places, but those are definitely a few worthy spots to try.
• Hard to say [what my first record was] 'cause my Dad was in radio and we used to get free records from his radio station. So I don't remember precisely what the first one was. My first punk/indie record was Let It Be by The Replacements, which I got for Christmas when I was 12 or 13. The first one I went out and bought for myself was the first Dinosaur Jr. record on Homestead.
• Of course [independent record stores] are still relevant. They just need to be good and provide something that people can't easily get elsewhere. I was just in a store in L.A. yesterday that was deeply, insanely stocked with Beatles memorabilia. Even though I wasn't going to pay $3,000 for a limited-edition George Harrison 7-inch or, say, $500 for a loaf of The Supremes white bread (no joke—it's a loaf of white bread from 1966 that has the name and likenesses of The Supremes emblazoned on the bag), that's the kind of store I want to go to. Give me something special. It's always better to go to a store and walk around and see things and pick up the vinyl and be around music. The Internet is great for its convenience and the breadth of what you can find, but it will never, ever be better than a record store. It's the same reason that things like Netflix would never be better than a video store like Video Americain or having your groceries chosen on a website won't be better than prowling the aisles of a Giant realizing you really needed that box of popsicles.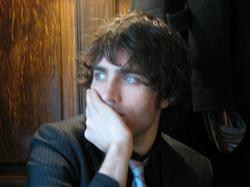 Mark Charles Heidinger of Vandaveer
• Relatively new to DC I am, but I've had good luck, hearty handshakes, and warm smiles from the folks at Crooked Beat in Adams Morgan. Reminds me of an old joint back in my old Kentucky home called Bear's Wax (R.I.P.) where I used to pick up used copies of records as a teenager that I couldn't afford at the damn mall. I dig basement shops; Crooked Beat does it right.
• My very first purchased record was a cassette tape—Michael Jackson's Thriller. Oh, how I loved that record. Oh, Michael! Why hast thou forsaken us?
• I certainly believe record stores are still relevant in my life. I'm a bit of a Luddite, though—I like to peel off the cellophane, feel the thing in my hands, thumb through and sniff the inserts, and so on—so I'll continue to buy the physical product. No question, digital sales are crowding the market, but if anything, that just makes big-box stores that much more irrelevant. Folks who want the fastest, cheapest access to music can go straight to iTunes or Amazon instead of Best Buy and Target, but those of us who still enjoy the whole experience of search-and-discover record shopping will still give our business to the independent shops who specialize in that very service.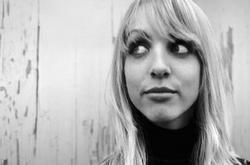 Laura Burhenn of Georgie James
• My very favorite independent record shop growing up was the Intergalactic Garage in Shepherdstown, WV. I grew up about 30 minutes from there in Maryland and would make the trek every couple weeks to see what great new artists and special-edition imports they'd gotten in. It was a sad day when they closed. . . . I used to love to go to DCCD in Adams Morgan before they closed. I was turned on to so many great artists there. Now Crooked Beat's my favorite place to go in DC. The people there are so nice and really know their music—and love it. So you can trust a recommendation from them any day.
• I distinctly remember my first ever independent purchase: Pearl Jam's Vs. It was a huge deal to go into the store on my own and pick something that I knew was going to change me. I was in love with that record. I listened to it on repeat, studying the songwriting, the lyrics, the production. My experience with that record set the tone for how I'd devour all other records.
• Record stores are absolutely still relevant! And going to an independent shop for records is like going to a good vintner to find the perfect bottle of wine. I mean, you could just go to the corner store and pick something at random. But why not have a specialist point you to the best vintage—expand your palate and your mind!
Olivia Mancini of Olivia Mancini & The Housemates
• My favorite record store right now is Red Onion on 18th Street. They have a little something for everyone—all used stuff—and in addition to music, they have some good used books. I've also been frequenting Som Records on 14th to browse and immerse myself in album art. Nothing shows off an album cover like a 12×12 jacket.
• I'm pretty sure the first LP I ever owned was Judy Garland, Live at Carnegie Hall. My parents have some funny stories about me running around as a four-year-old singing "Puttin' on the Ritz." But the first CD I remember buying for myself was Weezer's Blue Album. I listened to it on a headphone listening station at the old Wiz at Connecticut and Porter, and it changed my life.
• Record stores remind us that albums are still tangible things. Even as a musician, I get caught up in the convenience of online music shopping. Doesn't grab me in the first 30 seconds? That's okay, I'll move on to the next album eMusic has to offer. When you go to a record store and purchase a physical CD, you're making a commitment. Especially these days, when you have your choice of so many delivery and format options.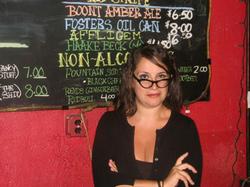 Bartender Lili Montoya of the Black Cat
• Some of my favorite area record stores were the old Smash (I've heard the new one is pretty cool, but I haven't made it over there yet), DCCD, and Yesterday & Today. Nowadays I pop my head into Som Records or Crooked Beat. Right now I'm buying vinyl through Christian Sturgis in Baltimore (in Hampden). He's an antiques guy who has a great listening station set up and vinyl records in amazing condition.
• I can't remember the first record I ever bought, but there are many records that I vividly remember buying. I don't have the same fond memories for records (and CDs) that I've bought online, the same emotional connection to the item.
• I was visiting family in Peru recently, and one of my aunts gave me a bunch of vinyl records she'd had in storage, and we sat around with my mom and listened to a lot of them. We were there for hours, just hanging out, talking. My mom and my aunts were reminiscing about what each record was a reminder of; many old stories I'd never heard before came out that night. So for me, records and record stores are very important as a way to connect with other people in addition to adding to my personal music experience.
• A record store is more than a place to buy stuff: It's part of a community. It's a place to see bands, a place to listen to and discuss music (many of my favorite places have turntables set up so you can listen to records), a good place to find (or order) weird & obscure stuff, and a way to support the local and other independent music scene. Being a regular in a record store can be a similar experience to being a regular at a neighborhood bar. Linda at DCCD and Al Budd at Smash (I think he works at the new one now, and at Som Records as well) are personalities who contributed to the record store experience for me. It's about being an active participant in music: Record stores are a cultural location where music is personalized, contextualized, supported, promoted, and perpetuated. It's about the experience and the process of being actively involved in listening to music, and discussing it with other people. There's something special about walking out of a record store with a bag of vinyl records.
Kyle Gustafson, music blogger at InformationLeafblower.com
• Som Records on U Street. Nothing, and I mean nothing, can replace the experience of flipping through stacks and stacks of vinyl records looking for a rare 12-inch or a good copy of an old Smiths album. I have a few hundred albums at home, and I'm constantly amazed at how much better vinyl sounds compared to a CD or an MP3. Som has a great selection and knowledgeable employees. I've picked up some great stuff there.
• The first tape I ever bought was Pyromania by Def Leppard. The first CD was Eponymous by R.E.M. I can't remember the first piece of vinyl I ever bought but I do remember rocking out to my 7 inch of Queen's "Another One Bites The Dust" on my Fisher-Price record player when I was like 6.
• I was a club DJ in college. I got paid every Tuesday and after collecting my money each week I would walk right across the street to my favorite record store, CD Alley, and spend 75% of my paycheck right there and then. I got to know the owner and the music buyer at the shop, along with all the other employees, and they turned me on to many of my favorite bands today. Used CDs played a huge part in that as well. Taking a chance on a CD for $6 or $7 hurt a lot less than buying an album you ended up not liking for $14. The Smiths, The Wedding Present, Morphine, Luna—the list goes on. I never would have found out about those bands without that record shop. Today it's easier to find out about bands and music because of the Internet, but downloading a leaked album doesn't hold the same thrill for me as walking out of a record store on a Tuesday with a new album you can't wait to listen to in your hands. Most indie record stores are mom-and-pop businesses, people put their lives into what they are doing. You don't get that kind of commitment or service from Best Buy or Wal-Mart. So to answer your question, yes, record stores are still relevant. But only if we keep it that way.
Spencer Ackerman, blogger and reporter at WashingtonIndependent.com and member of local band The Surge
• Favorite record store, far and away, is Crooked Beat on 18th Street in Adams Morgan. As you can tell from the name, that store lives and breathes the Clash, the only band that continues to matter. I've bought at least four extremely rare Clash bootleg LPs from Crooked Beat, and as far as I'm concerned they have a blank check in my name. Also they support local bands with all their heart and soul, and you can find a great assortment of old, rare, cheap vinyl.
• Hmmm, first purchased record? With my own money or my mom's? If it's mom's money, it was probably Apocalypse '91 . . . The Enemy Strikes Black by Public Enemy when I was 10, after seeing Edward Furlong wear a PE t-shirt in Terminator II. If it's my own money, I'm not going to front: it would probably be an Alice in Chains or Pearl Jam or Soundgarden cassette copped thanks to my age-12 dogwalking gig. I did, however, almost lie and tell you it was some NYC punk-rock seven-inch.
• Record stores aren't relevant. There, I said it. Shopping in record stores is an awful experience of anxiety and hipster one-upmanship, and anyone who says otherwise is a liar. The age of MP3s, one hopes, will consign record stores to what they should be: a boutique enterprise for narrow-casted tastes and nostalgia trips. Ironically, that'll make the record store experience all the more insufferable. But I totally love Crooked Beat!
See our map and guide to area record stores | Get a video tour of a DC record store
Want more posts on nightlife, arts & events, and more? Click here.