After two years in a condo in DC's Columbia Heights, Michelle and Steven Swaney are ready for more space.
On the young couple's wish list: three bedrooms, a backyard for their standard poodle, a nice kitchen, and walking distance to Metro.
Their price range—high $600,000s to low $700,000s—has led them to neighborhoods such as American University Park in Northwest DC, Del Ray in Alexandria, and Arlington's Clarendon. But news about the crashing real-estate market has them spooked. The couple nearly made an offer on a three-bedroom Colonial in Del Ray, but the house listed for $750,000—slightly outside their price range—and they decided they might find more for their money elsewhere.
"A house would have to be pretty close to perfect for us to buy right now," says Michelle, 32.
Bombarded with headlines saying that the real-estate market is tanking, many potential buyers are like the Swaneys—sitting on the sidelines, worried that the house they buy today will drop in value tomorrow.
"There's a lot of groupthink," says Long & Foster agent Martin Signore. "The market really is psyche-driven."
But agents and real-estate experts say the Washington market is not as bleak as it's sometimes described, particularly inside the Beltway. According to George Mason University's Center for Regional Analysis, prices were still climbing last year—albeit at modest rates—in the District and Alexandria as well as in Arlington, Fairfax, and Montgomery counties.
Many brand-name neighborhoods posted solid sales figures in 2007. In Bethesda's downtown area, the average house price jumped by 10 percent, to $671,000. The area that includes three upper Northwest DC neighborhoods—Spring Valley, American University Park, and Wesley Heights—saw the 2007 average price grow by 38 percent, from $517,000 to $713,000.
Says Kimberly Cestari of W.C. & A.N. Miller Realtors: "It's important to look at your Zip code and your actual neighborhood, not the national data."
As the spring buying season neared, we analyzed sales numbers and talked to agents, buyers, and sellers in ten popular neighborhoods—Kalorama and American University Park in DC; Sumner, Glen Echo Heights, Garrett Park, and Potomac in Maryland; and McLean, Old Town, Country Club Hills, and Great Falls in Virginia.
A few years ago, open houses in these areas were overrun. Deals were struck within days of a house's hitting the market. "In 2004, whoever could throw the most money at a house would get it," says Cestari. "Houses would sell before signs even went into yards."
After five years of dramatic growth, the market cooled in 2006, with prices growing by only 2 percent areawide. Last year they increased by less than 1 percent.
Economists and real-estate experts disagree about what slowed the go-go market. Some say the torrid pace was unsustainable and due for a self-correction. Some blame the subprime-mortgage crisis. Others say investors panicked and flooded the market with houses for sale.
The exurbs have been hit hardest. Average prices in the Hamilton area of Prince William County fell by 20 percent in 2007. Boyds, in upper Montgomery County, saw a 15-percent drop.
The slowdown hasn't bypassed the most desirable neighborhoods. In many we looked at, sales volume is down and houses are sitting longer than they did three years ago. In Arlington's Country Club Hills neighborhood, houses sat on the market an average of 115 days in 2007—up from 38 days in 2004.
A lot of houses are going for less than the asking price. More than 70 percent of those sold in Potomac in 2007 went for below list price; in Great Falls, the figure was 85 percent.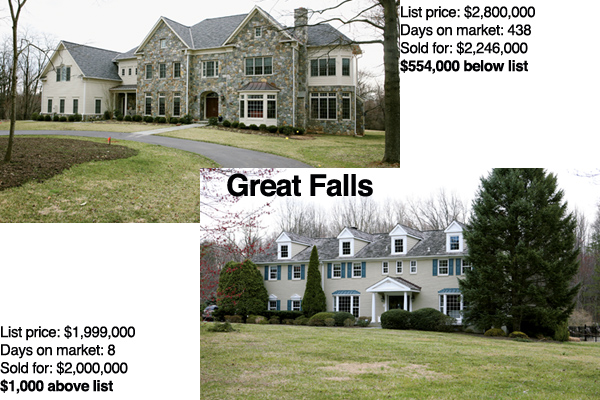 The median sales price in the 22066 Zip code—which includes Great Falls, one of the region's most expensive neighborhoods—dropped by 3 percent last year, from $1.15 million in 2006 to $1.11 million in 2007.
Still, the popularity of brand-name neighborhoods close to DC insulates them from some of the shock waves of the market's downturn, says Kenneth Wenhold, regional director of the real-estate research firm Metrostudy. "If the entire market softened, where would people want to live?" Wenhold says. "The answer is the A-plus locations and the A-plus neighborhoods."
Agents say proximity to downtown DC, Metro, and good school systems is the best selling point today. Judging by the 2007 sales figures, many popular close-in neighborhoods with reasonably priced housing—such as downtown Bethesda, American University Park, and Del Ray—are beating the odds of a tough market.
Says Diana Hart of Sotheby's International Realty: "The closer you are to the city core, the better the market will be."
In a down market, realistic pricing is key to selling a house, say agents. Now that the market frenzy is over, buyers are wary of overpaying. They shop around and study neighborhood sales trends using Web sites such as Trulia and Zillow, which aggregate listings and price data.
A house with a big price tag will move, says Long & Foster agent Marc Fleisher, but the buyer has to see it as a good value. "People can still afford to buy a house," Fleisher says. "They just don't want to be a fool and overpay."
A house's condition is also important in this market. A 20-year-old kitchen might not have been a deal breaker two years ago, but it's going to give pause to buyers today who've seen lots of similarly priced houses with granite countertops.
Many homeowners are setting prices that don't reflect the new market. They remember the bidding war over the house next door two years ago and assume theirs can command top dollar. "It bothers sellers that their neighbor picked the right time to sell and they didn't," says Fleisher.
"Some sellers think that they will be the exception to the rule," says Billy Buck of Buck & Associates Real Estate. "They'll price their house high because they have the luxury of time and they hope to draw in one buyer who will put in a bid in that range."
Agents say sellers also overprice because they expect buyers to negotiate. If they want to sell for $1.2 million, they price it for $1.4 million.
"Agents are often afraid to tell sellers that they are aiming too high," says one agent. "If a seller interviews three agents, they will probably pick the one who says they can sell their home for the highest price."
This agent admits she often goes along with an owner's higher price. Even if the house languishes on the market, she says open houses are a great place to find new clients.
Most neighborhoods have a price range within which houses move quickly. Stacey Romm, an agent who works and lives in Arlington's Country Club Hills, says the "sweet spot" in North Arlington is $600,000 to $900,000 for houses with at least three bedrooms. Those in that range with two full bathrooms on the second floor—a rare find among the old Colonials in North Arlington—sell even faster.
Fleisher says houses priced from $1 million to $1.5 million are selling quickly in Potomac, while those in the $2-million-to-$3-million range are "the most stagnant" thanks to a big inventory.
Many agents say a house's first two weeks on the market are critical. If it's priced right, buyers are less likely to try to negotiate. After two weeks, interest wanes. Buyers wonder why the house hasn't sold and look at it with a critical eye. If they do bid, they often try to low-ball the offer.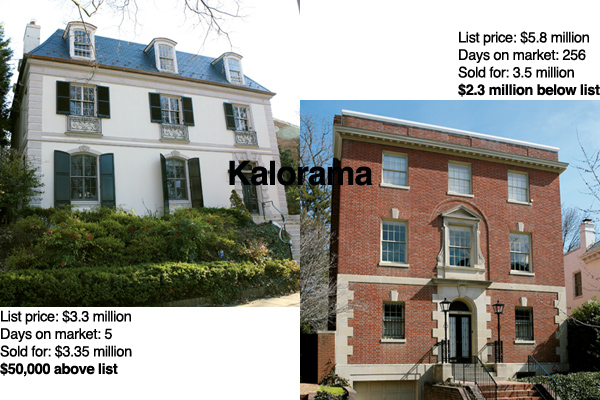 Sotheby's International agent Diana Hart says Kalorama's close-in location and beautiful historic homes have helped insulate the DC neighborhood from the slowdown. The average sales price for single-family homes grew from $1.6 million in 2004 to $2.5 million in 2007, driven in part by international buyers.
Robert Jenets of Stuart & Maury Realtors encourages sellers to bring down the price after about three weeks. Doing so attracts buyers in the lower price range and may grab the attention of someone who liked the house but balked at the original price.
For buyers, the market slump represents a chance to get into high-demand neighborhoods without bidding wars. "Before, few buyers had a prayer to get into those neighborhoods," says Metrostudy's Kenneth Wenhold. "Now there's a chance."
Most agents and real-estate experts say there's a lot of inventory to churn through, particularly in the exurbs, before prices start climbing across the region again. Agents warn against buying in this market if you plan to leave the area soon. Signore tells his buyers to consider renting if they intend to sell within three years.
But there are good values for long-term buyers. Elisabeth and Gordon Fraley just bought their dream home in Clarendon. Itching for more space, the couple wanted to trade their two-bedroom rowhouse in Georgetown for a larger house close to Metro in Arlington.
After six months of visiting more than 30 open houses and scouring the Internet for new listings, they fell in love with a recently remodeled five-bedroom, 3½-bath Craftsman-style house in charming Ashton Heights.
It had been on the market for almost four months before the Fraleys put in an offer that chipped $150,000 off the list price. After weeks of negotiations, they met the seller near the middle and paid $85,000 below list.
"The house probably would have sold very quickly and maybe above the asking price two or three years ago," says Elisabeth. "We're very happy about it."
See the home-sales figures from more than 200 neighborhoods here.
This article appears in the May 2008 issue of Washingtonian. To see more articles in this issue, click here.
More>> Open House Blog | Homes | Real Estate