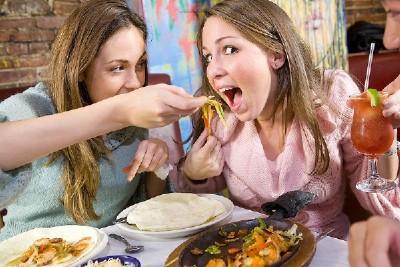 FRIDAY: GIRLS JUST WANNA HAVE FUN!
You've arrived, checked in, and dropped your bags at the hotel. Now what? It's time to party!
5 PM: Happy Hour at Cork Wine Bar
Your first stop is one of DC's newest hotspots, Cork Wine Bar (1720 14th St., NW; 202-265-2675), for predinner wine and appetizers. Cork stocks 35 wines by the glass and more than 130 by the bottle, but don't be intimidated; the knowledgeable waitstaff can help you select the perfect drink. The menu emphasizes food and wine pairings by offering cold and hot small plates to share—such as rosemary chicken liver bruschetta and caramelized sunchokes—and a handful of desserts.
7 PM: Something Fishy for Dinner
On the way to Dupont Circle, where you'll dance the night away, enjoy a laid-back dinner at Hank's Oyster Bar (1624 Q St., NW; 202-462-4265). Meals here always start with a cute touch: a bowl of gratis goldfish crackers. The bright and bustling spot offers a changing roster of well-shucked oysters, fresh fish dishes, and a buttery, generously stuffed lobster roll. The cocktails are fun and seasonal, and though there's no dessert menu, you get another free treat to end the meal: hunks of tasty dark chocolate.
8:30 PM: Dancing at Five Club
Head over to Five Club (1214 18th St., NW; 202-331-7123) for a night of dancing done right. This multilevel club stocks three bars and features a large dance floor, a rooftop deck, couches for lounging, and a wraparound balcony upstairs that's great for people watching. Twentysomethings wanting to see and be seen pack in on the weekends. On Fridays, expect to hear a mix of hip-hop, house, reggae, and dancehall music.
SATURDAY: THE PAMPERED TOURIST
Relax at a spa before heading out to see the sights.
9 AM: Breakfast
For breakfast, head to Teaism (800 Connecticut Ave., NW; 202-835-2233), an Asian-inspired teahouse near the White House, for cilantro scrambled eggs (or tofu) and hearty Irish oatmeal with fruit. Be sure to grab one of the hefty salty oat cookies for the road—they have something of a cult following among Washingtonians.
10:15 AM: Get a Treatment at Nusta Spa
Pronounced "noo-stuh," ecofriendly Nusta Spa (1129 20th St., NW; 202-530-5700) gets its name from the Quechuan word for "royalty"; Washingtonian staffers who've tried the place say they felt like nothing less. Built with nontoxic, recycled materials, the space is sleek and modern, but the white treatment rooms can be color-customized to your taste depending on your mood, thanks to LED lighting. Other ecofriendly elements run throughout, from the product lines and packaging to the paper and ink at the front desk. The treatments are on the pricey side—$95 for a 50-minute facial and $50 for a 45-minute pedicure—but the service is top-notch, so it's worth the splurge.
For other great spas in the area, check out our Find a Spa tool.
Noon: Munch on Lunch
Continue your healthful spa day with lunch at Java Green (1020 19th St., NW; 202 775-8899), an organic, vegetarian cafe. The fresh and tasty grilled panini, salads, and rice bowls (topped with tofu, soy chicken or beef, or just veggies) can win over even skeptical carnivores. The tofu-and-mushroom panini and Korean bul goki rice bowl are favorites. The refreshing smoothies, in flavors including kiwi berry and piña colada, are a perfect postspa treat.
1 PM: Art Meets Girl Power
Take the girls to the National Museum of Women in the Arts (1250 New York Ave., NW; 202-783-5000), the only museum in the world dedicated exclusively to female artists. With art from 28 countries, this museum houses more than 3,000 works by women from the 16th century to the present and includes a range of media such as painting, photography, sculpture, silver, and more. Guided tours are available but must be arranged in advance by calling 202-783-7996. Tickets cost $10 for adults and $8 for students and seniors over age 60; under age 19 free.
2:30 PM: Afternoon Tea
Treat yourself to a midday indulgence at the Willard Intercontinental (1401 Pennsylvania Ave., NW; 202-628-9100). The hotel's afternoon tea includes a selection of loose-leaf teas, fruit, scones, jams, pastries, and finger sandwiches, such as lobster salad with asparagus and caviar on brioche. You'll snack and sip in the hotel's Peacock Alley, a long, richly decorated hallway great for people watching. Afternoon tea costs $35 per person, but for an extra $10 a head you can add a glass of Nicolas Feuillate Brut Champagne. Cheers!
3:30 PM: City Views at the Old Post Office Pavilion and Clock Tower
Skip the lines at the Washington Monument and take in a view of the city from downtown DC's second-highest point: the clock tower at the Old Post Office Pavilion (1100 Pennsylvania Ave., NW; 202-289-4224). This free tour is one of DC's best-kept secrets. The observation deck provides 360-degree views of the city. The tower is home to the Congressional Bells, a gift from Great Britain for our country's 200th birthday; they ring on Thursday evenings and special occasions.

4:15 PM: White House or Bust
It's off to 1600 Pennsylvania Avenue for a look at the President's home sweet home. Because tours of the inside of the White House are hard to come by—they must be booked months in advance, they're reserved for groups of ten or more, and they're available only during certain hours—you'll have to take in the sights from behind the fence. But don't worry, there's still plenty to see.
The White House complex consists of the main building, which is the executive residence space, and the East and West Wings. The East Wing, visible from Pennsylvania Avenue to the left of the executive residence, houses office space for the First Lady and her staff and the White House Social Office. Below it is a secure underground bunker, where the President goes in the event of an emergency. The West Wing is where the business of the White House happens. From the Pennsylvania Avenue side, it extends to the right of the executive residence and houses the Oval Office, the Cabinet Room, the White House Situation Room, and the Press Briefing Room. Outside the West Wing, on the White House lawn, you'll might see camera, sound, and lighting equipment—this is the area from which White House correspondents videotape their reports.
Snap a few photos, and you're off.

5 PM: Happy Hour
Hop in a cab or hoof it eight blocks to Poste Moderne Brasserie (555 Eighth St., NW; 202-783-6060), a restaurant and bar in the central courtyard of the Hotel Monaco in DC's Penn Quarter neighborhood. Feel free to walk through the hotel or enter the bar directly through the old carriage way on Eighth Street, last used when the space was home to the General Post Office in the 1800s. Belly up to bar to watch the bartenders work their magic. In pleasant weather, sit outside on a plush patio chair and sip one of the $10 signature cocktails, including Tango & Cash (rum and cashew juice) or the Chameleon (herbal tea with Bombay Sapphire, lemon juice, and club soda). Or ask the bartender about seasonal cocktails.
6:30 PM: Dinner
For a fun, delicious dinner a short walk from Poste, visit one of superchef José Andrés's lively small-plates spots. His flagship, Jaleo (480 Seventh St., NW; 202-628-7949), features traditional and updated tastes of Spain; Oyamel (401 Seventh St., NW; 202-628-1005) is regional Mexican; and Zaytinya (701 Ninth St., NW; 202-638-0800) offers Mediterranean fare. All have tasty cocktails and a hip vibe. Even better, they've all been recognized among the area's best restaurants on The Washingtonian's most recent 100 Best Restaurants list.
8 PM: To the Theater!
Penn Quarter has a number of options for a night at theater. The Shakespeare Theatre Company performs the Bard's classics as well as works by other playwrights at Sydney Harman Hall (610 F St., NW) and the nearby Lansburgh Theatre (450 Seventh St., NW)—collectively known as the Harman Center for the Arts—almost every night except Monday. Evening shows begin at 7:30 or 8; call 202-547-1122 or check the Web site for more information.
Another option is the Woolly Mammoth Theatre Company (641 D St., NW; 202-393-3939), which has made its name developing, producing, and performing new plays. Some of them are world premieres; others have played recently in other cities but are making their DC debut. Tickets range from $24 to $57, depending on the date and time of the show and where you're sitting. Learn more about this season's plays here. Performances Wednesday through Saturday start at 8, Sunday at 7.
If film is more your style, head to E Street Cinema (555 11th St., NW; 202-452-7672), an eight-screen theater featuring independent and foreign films, documentaries, and classics. Part of the national Landmark Theatre art-house chain, it serves beer and wine, among other concessions, and has an espresso bar. Tickets are $9.75; showtimes vary, so check the Web site before making plans.
SUNDAY: STRETCH AND SHOP
Your day starts off right with a wake-up work-out. Then it's off to Georgetown for the main event—shopping! What could be better?
10:30 AM: Find Balance With Yoga
Grab an apple from your hotel's continental breakfast—don't worry, you'll have brunch later—and start your day with a yoga class at Tranquil Space (2024 P St., NW; 202-223-9642). The Yoga 1 class at this studio is great for beginners who've always wanted to give yoga a try and advanced yogis who want to stay sharp on core positions. You and your girlfriends can also book a private lesson with an instructor (call the studio to learn more). The Yoga 1 class costs $17 plus $2 for towel and mat rental. Advanced reservations through the Tranquil Space Web site are not required but encouraged.
11:45 AM: Brunch
Treat yourself to brunch in Georgetown after a great morning workout. We recommend Leopold's Kafe & Konditorei (3315 Cady's Alley, NW; 202-965-6005) for a German-style Frühstück—that's German for "breakfast." The weekend menu offers house-made knockwurst with eggs and a goat-cheese-and-cured-tomato omelet. Espresso machines churn out strong shots of caffeine, and fresh-squeezed grapefruit juice is available.
For more brunch ideas, check out our guide to the best in the area.

1 PM: Shopping in Georgetown
What girls' weekend would be complete without a little shopping? It's time to hit the boutiques! Wisconsin Avenue and M Street are the neighborhood's two main arteries. Retail chains such as H&M, Urban Outfitters, and J. Crew have found homes here along with smaller boutiques such as A Mano (for leather goods), and Wink (known for carrying designer jeans).
Georgetown University begins at 37th Street. Take time to tour the campus, where you'll see Gothic-inspired architecture, views of the Potomac River, and, during the school year, students bustling between classes. You might even catch the Hoya spirit.
For more ideas of fun, food, and shopping in Georgetown, check out our neighborhood guide.
3:30 PM: Dumbarton Oaks
Before heading home, save time to check out one of DC's loveliest attractions: Dumbarton Oaks (1703 32nd St, NW; 202-339-6401). One mile north of Georgetown sits this 19th-century Federal-style mansion and terraced gardens. The site is home to the Dumbarton Oaks Research Library and Collection, a place for scholars interested in Byzantine, Pre-Columbian, and garden-and-landscape studies. The biggest draw is the gardens, which were designed by Beatrix Jones Farrand in the mid-1900s. It's best to see them mid-March to early October, when they come alive with lilacs, clematis, roses, peonies, magnolia, cherry trees, forsythia, and much more. Admission is $8 March 15 through October 31, free the rest of the year. Guided tours are available but must be arranged in advance.
Looking for more great things to do? Check out our other itineraries in our Plan a Visit section.
This article is part of Washingtonian's Visitors' Guide. For more articles like it, click here.