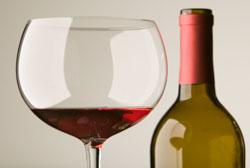 Looking to drink good wine on the cheap? Discount wine nights are great for oenophiles, novices who want to learn about new wines without breaking the bank, and anyone just looking to enjoy an inexpensive bottle or two with dinner. Restaurateurs tend to offer wine deals early in the week to increase business on slower nights—most promotions are on Sunday and Monday. So when the weekend's over and it's time to get back to the grind, you can kick off your week on a fun note with wine and dinner at one of these restaurants.
Have a favorite half-price wine night that we missed? Please leave it in the comment section—we'd love to know about it!Check out our Google Map of the restaurants that do half-priced wine nights throughout the week.
Sunday
Lia's, 4445 Willard Ave., Chevy Chase; 240-223-5427. At Geoff Tracy's Italian spot in Chevy Chase, all wines on the list are half price all night in both the dining room and the bar.
Viridian, 1515 14th St., NW; 202-234-1400. This modern Logan Circle dining room offers all wines on the list for half price. On Tuesdays, the popular happy hour extends all night—glasses of house wines are $5.
Clyde's in Georgetown (3236 M St., NW; 202-333-9180), Reston (11905 Market St., Reston; 703-787-6601), and Tysons Corner (8332 Leesburg Pk., Vienna; 703-734-1901). At the classic American restaurants in this local chain, all wines except "cellar selections"—the most expensive bottles on the list—are half price.

Sonoma (223 Pennsylvania Ave., SE; 202-544-8088) and Mendocino Grille (2917 M St., NW; 202-333-2912). These wine-focused sister restaurants in Capitol Hill and Georgetown offer a half-price discount on almost every bottle on their reserve lists and about half the wines on the full lists. So if you're yearning to try that $150 Super Tuscan, this is the time.
Sunday and Monday
Dino, 3435 Connecticut Ave., NW; 202-686-2966. This wine-centric neighborhood Italian spot in Cleveland Park offers "wine madness"—one-third off all wines more than $50—all night on Sunday and Monday. Tuesday and Thursday, there's no corkage fee for those who bring their own bottle.
Monday
Clyde's in Chevy Chase (5441 Wisconsin Ave.; 301-951-9600), Tower Oaks Lodge (2 Preserve Pkwy., Rockville; 301-294-0200), and Willow Creek Farm (42920 Broadlands Blvd., Broadlands, Va.; 571-209-1200). These Clyde's locations offer the same deal on Monday as their siblings do on Sunday. All bottles except "cellar selections" are half off.
Cafe Deluxe in Bethesda (4910 Elm St.; 301-656-3131), Tysons Corner (1800 International Dr., Vienna; 703-761-0600), and Cleveland Park (3228 Wisconsin Ave., NW; 202-686-2233). All bottles on this local chain's list are half off.

Chef Geoff's, 3201 New Mexico Ave., NW, 202-237-7800; 1301 Pennsylvania Ave., NW, 202-464-4461. At both locations of this lively American bistro, all bottles on the list are half price.

Olazzo, 7921 Norfolk Ave., Bethesda; 301-654-9496. At this homey Italian spot, all bottles on the list are half off if you purchase entrées.

Indique Heights, 2 Wisconsin Cir., Chevy Chase; 301-656-4822. All wines offered by the glass are available for half price by the bottle on Mondays at this stylish Indian destination. There are usually 15 to 20 selections to choose from.

Black Market Bistro, 4600 Waverly Ave., Garrett Park; 301-933-3000. Jeff and Barbara Black's cozy restaurant, in a historic Victorian house, offers any bottle on the list for half price.

Heritage India, 2400 Wisconsin Ave., NW; 202-333-3120. All bottles on the list are half off at the original Glover Park location of this elegant Indian restaurant.
Monday and Tuesday
Famoso, 5471 Wisconsin Ave., Chevy Chase; 301-986-8785. Any bottle on this luxe dining room's all-Italian list is half off all evening.
Tuesday
Cava, 9713 Traville Gateway Dr., Rockville; 301-309-9090. This family-friendly spot for Greek mezze offers the run of its wine list for half price on Tuesday—and $5 martinis on Monday.
Town Hall, 2218 Wisconsin Ave., NW; 202-333-5640. This relaxed neighborhood tavern and bistro in DC's Glover Park offers half-price wine—any bottle on the list—from 5 pm to closing.
Wednesday
Little Fountain Cafe, 2339 18th St., NW; 202-462-8100. At this cozy spot in Adams Morgan, all wine is half off when you order food.
Other Sweet Sips
Monday through Friday from 5:30 to 6:30 pm, Vidalia (1990 M St., NW; 202-659-1990) offers free wine tastings and Southern-accented canapés in its recently renovated wine bar. Sommelier Doug Mohr pours a themed selection of three wines each evening.

Evening Star Cafe (2000 Mount Vernon Ave., Alexandria; 703-549-5051) and sister restaurant Tallula (2761 Washington Blvd., Arlington; 703-778-5051) don't offer special wine nights, but they're great places for deal-seeking wine drinkers any night of the week. Owner Michael Babin's Neighborhood Restaurant Group also owns the Planet Wine store next door to Evening Star, so all bottles more than $40 are priced at about half what they would cost at most other restaurants.