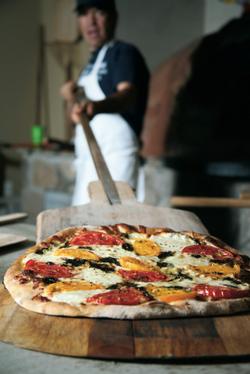 Why go: "Flatbread" is a fancy term for pizza, but the restaurant hews to an admirable all-local philosophy in procuring cheeses and vegetables, and the crisp crusts prove the merit of an artisanal approach. If ever a pizza was worthy of being called dinner, this is the one.
What to get: Salads are top-notch; flatbread toppings include the likes of maple-fennel sausage, country ham and apples, smoked mozzarella from Blueridge Dairy, as well as the more conventional olives, peppers, and onions. You won't get the sweet sauces often found on American pizza. Ordinary-sounding strawberry pie is made memorable by the sandstone hearth and generous helpings of fresh berries.
Best for: Diners who understand that a really good pizza can call for a crisp Chardonnay as easily as it does a beer—though the beer is good.
Insider tip: Originally open only for dinner, the restaurant recently added lunchtime service on weekdays.
See all Cheap Eats 2008 restaurants