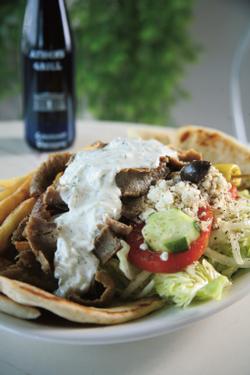 Why go: For hefty portions of home-style Greek cooking and hardwood-charcoal grilling delivered with the warmth and good cheer of a family-run restaurant.
What to get: The irresistible Big Fat Gyro, stuffed with French fries as well as the usual lamb, onion, and tzatziki; grilled pork and lamb kebabs and spicy Greek-style hamburger; kota plaki, tender chicken braised with onions and tomatoes over pilaf; a homespun stew of orzo with lamb; vegetable dishes such as tender eggplant and potatoes with olive oil and garlic; ultralight baklava.
Best for: A casual lunch or dinner with kids when you want to feed many for little and for weeknight dinner takeout.
Insider tip: The tangy Angeli Gourmet Greek Dressing used as a marinade, dip, and condiment is for sale by the bottle.
See all Cheap Eats 2008 restaurants