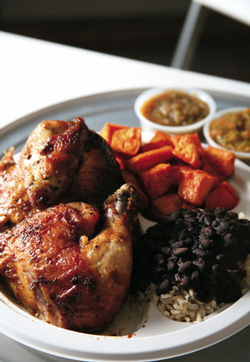 Why go: The suburbs are rife with good spit-roasted-chicken joints. Now DC has one, too, as the free-range birds coming out of this ecominded brownstone rotisserie prove.
What to get: Chickens in whole, half, or quarter sizes (of the three marinades, we like the sweetly piquant house blend and the aromatic Peruvian-style best); caramelized sweet potatoes; chickpea salad; lentil soup; Mexican Chop, a bowl of hacked chicken with shredded cheddar, tomatoes, and rice; fruit-infused waters.
Best for: A bite before hitting the U Street bars; easy carryout; a healthy family dinner.
Insider tip: This is a carryout at heart, but the upstairs dining room is cute, comfy, and has free wi-fi.
See all Cheap Eats 2008 restaurants