In a town where eating well can be an expensive proposition, dosas are some of the cheapest, tastiest, and most filling snacks around. At the Langley Park location of Woodlands, a colorful South Indian restaurant, the footwide crepes are the most popular items on the vegetarian menu. The paper-thin pastry, typically eaten for breakfast in Mysore, takes only about a minute and a half to make on the griddle. But the process begins long before that.
Owner Anand Poojary's batter recipe is traditional, taken from his brother's restaurant in Mumbai. Armed with his brother's recipes—and an eye toward the successful Udupi Palace nearby—Poojary opened the Langley Park Woodlands a decade ago.
To make one of the few hundred dosas sold each day, a cook starts by separately soaking basmati rice and the black lentils known as urad, the same beans used to make dal. Once the starches are removed, he grinds them, then combines them with salt and lets the mixture ferment up to eight hours. The longer the batter sits, the more sour it becomes.
When an order comes in, the cook spoons some of the bubbling white liquid onto the hot griddle. He swirls it outward, then splatters it with vegetable oil. If he's making the fabulous paper dosa, he doubles the diameter to two feet and scrapes off the top layer, making it gossamer-delicate. When the crepe is just beyond golden, it's rolled up, set on a plate, and filled with anything from potatoes with cumin and mustard seed to house-made cheese. At the table, you tear into the dosa either as a meal for one or as a communal appetizer, dipping the warm pieces of dough into cool coconut chutney or a purée of okra, tamarind, lentils, and other vegetables.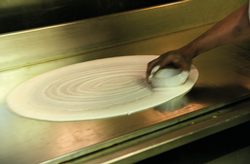 The only concessions to the American palate, says Poojary, are a little less spice in the filling and less cholesterol-heavy coconut in the chutney. Otherwise, the dosa you get at the Woodlands in Langley Park is the same dosa you'll find at the Woodlands in Mumbai.
Related:
The Pupusa Queen
Mama Knows Best at Etete
This article appeared as part of the 100 Best Bargain Restaurants package in the June, 2008 issue of The Washingtonian.
More>> Best Bites Blog | Food & Dining | Restaurant Finder