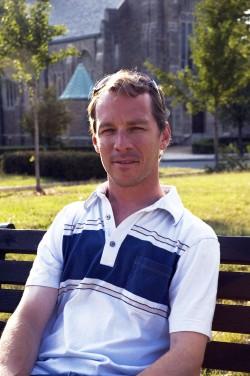 Blogger Dan Silverman—better known as the Prince of Petworth—moved to DC from New York in 1997. The 33-year-old, who works full-time as a government consultant, says he got a steal on his Petworth house when he bought it in February 2003—the first bidder, a journalist, had to move to Iraq to cover the invasion. But there is a downside to home ownership, he says: "Three months after I bought it, a pipe burst."
Much of Silverman's Petworth-focused blog, which he started almost two years ago, covers real estate, home design, and development in the neighborhood. The blog attracts more than 2,000 visitors a day, and Silverman spends about 25 hours a week updating it.
The blogger's best accessory: his camera. He's always snapping photos and offering observations on what's great about his neighborhood—and what's not.
By e-mail, Silverman answered our burning questions about the best places to wine, dine, live, and shop in Petworth.
Favorite sit-down restaurant: El Limeño on Upshur Street. It's superb. You'd never know it from the outside, but it's a very welcoming spot. The owners are fantastic, and so is the very reasonably priced food.
Favorite coffee spot: Columbia Heights Coffee has by far the greatest-quality coffee. The owners, too, are especially nice.
Favorite intersection: The intersection of Illinois Avenue and Upshur Street is one of my favorites. In front of you is Grant Circle, behind you is the old soldiers' home, and in between are classic Petworth rowhouses.
Best place for takeout: Sweet Mango Café has the greatest takeout Jamaican-style jerk chicken in the city. Every morning I catch a whiff of the most delicious smell you could possibly imagine. I also enjoy their sign: two chefs with the caption "Home of the World's Famous Jerk." It makes me laugh every time.
Best place for a view of the city: The Old Soldiers' Home [officially, the Armed Forces Retirement Home]—if you're lucky enough to get in. It has views of the National Cathedral, and on clear days you can see for miles.
Favorite Petworth green space: I'm a huge fan of Grant Circle. It has the most incredible tree in the middle, maybe the greatest tree in the entire city. I'm also a huge fan of President Grant and feel that he has never received the recognition he deserved. No, wait a second—I'm thinking of President Harrison. But the tree really is great.
Favorite DC neighborhood other than Petworth: I love the homes of Mount Pleasant and Columbia Heights and the nightlife on U Street. I'm like an old-school New Yorker who spends his whole life within a two-mile radius of where he lives.
Favorite place to shop: The bodega at Fifth and Shepherd streets is the best. I convinced the owner to carry 2-percent milk. Unfortunately, I realized that I don't really drink that much milk, so now even when I don't need it, I go there to show my appreciation.
Best running route through Petworth: After the ice-cream truck.
Favorite spot for a drink after work: Looking Glass Lounge (formerly Temperance Hall). They have a really nice setup with an outdoor patio area in the back. Nine times out of ten, you'll bump into someone you know from the neighborhood. The place is really all about good drinks, good food, and good people.
Favorite fixer-upper currently on the market: Well, it's not on the market yet, but there was a great fixer-upper on the corner of Upshur and New Hampshire. Sadly, the owner seems to be planning to divide it up into condos, and it is now one of the biggest eyesores in the neighborhood. If I win the lottery, I want to purchase it and return it to its former glory.
Best place for dessert: Beveragemania, despite its name, has some great ice cream.
Best spot for a date: Domku. It has a nice lounge feel, and the music they play is terrific. There's also a pool table in the back, which is nice for after dinner. I've had quite a few first dates there; sadly, not so many second dates.
Best reason to live in Petworth: The people, for sure. I think this is one of the few DC neighborhoods with a strong sense of community. People really do say hello and spend time on each other's porches. It's what I imagine life in the 1950s was like.
Favorite DC blog besides your own: I'm a huge fan of Intangible Arts. He is a phenomenal photographer and a true master at telling a story. I liked his stuff so much that I've begged him to contribute the occasional post to the Prince of Petworth that is called Intangible Tales.
Have a favorite local blogger you'd like to hear from? Send an e-mail to eleaman@washingtonian.com.
Related:
Diary of a Fixer Upper: Heather blogs about renovating a house in Columbia Heights
Washington Personalities
More>> Capital Comment Blog | News & Politics | Society Photos