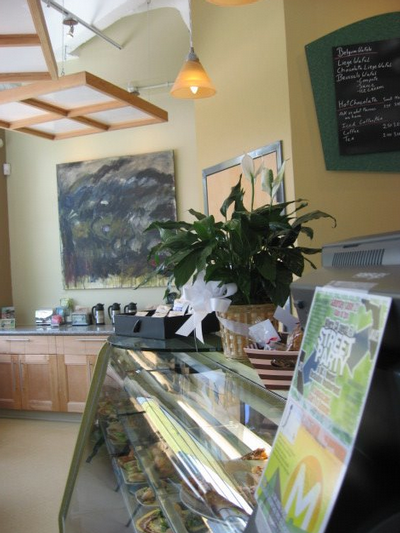 Future generations very well might dub 2008 the Year of the Chocolate, since it seems as if everywhere you turn there's a new way to pay homage to this delicious vice. Or maybe it will be the Year of Belgian Food and Drink. But really, who cares? Neither one of these is a bad thing in my book. And lucky for us, a new Belgian chocolate house called Locolat marries both trends in its tiny bonbon of a space in Adams Morgan.
Co-owner and pastry chef Niel Piferoen, a native of Belgium whose resume includes stints at Citronelle and Restaurant Eve, thankfully takes a few risks, such as putting a steak tartare sandwich on the menu. "You know how Americans are about raw meat," Piferoen admits. But this slightly zesty blend that includes raw beef, capers, Tabasco, and mustard on a mini baguette will convert anyone who gives it a go.
Although the sandwiches—which also include ham and cheese on croissant, and Chimay cheese and mixed greens on mini ciabatta—are a picture of European-bistro beauty, they are teeny. An average person would need at least two to fill up for lunch.
More room for dessert, right? To the rescue is a case full of Belgian chocolates. Some are fancy with airbrushed colors giving hints to their flavors, and some are rustic truffles that actually come close to looking like the mushrooms that inspired them. It also holds cakes, truffle-filled chocolate hearts, and, of course, the ubiquitous cupcake.
The chocolates are very sweet, and their flavorings are subtle. Highlights were the banana with its soft, fresh banana filling; the gorgeous feuilletine, dusted with edible gold and evocative of a Kit Kat bar; and the cappuccino, which had an assertive coffee flavor and a hint of hazelnut. I could have done without the white chocolates, which had a strange, soapy flavor.
The Belgian waffles are another specialty, so I dutifully tried the chocolate chip Liege waffle. Piferoen created this waffle, based on the traditional Liege waffle with its caramelized, crispy exterior, especially for his customers. "Anything with chocolate chips sells," he jokes. A plain Liege waffle is also available, as is a Brussels waffle, topped with compote, whipped cream, and powdered sugar.
In a few months, Piferoen and wife Li-Tang Ada Wang hope to add patio seating. In the meantime, sit inside and enjoy the giggles of Piferoen and Wang's other recent achievement—their 10-month-old daughter, Yuli.