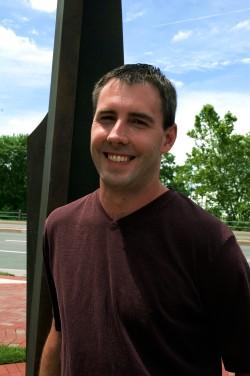 An eight-year Washington transplant from Christiansburg, Virginia, Eric Legg of the Northern Virginia blog What's Up Arlington has lived and worked all over the Washington area, with stints in Fairfax, Arlington, DC, Springfield, Alexandria, and Silver Spring.
By day, Legg works for Arlington Sports & Recreation running sports leagues and maintaining an online newsletter called What's Up Arlington. He started the blog of the same name more than two years ago to supplement the newsletter, and it's become a go-to destination for all things Arlington. He posts about upcoming events, new restaurants, neighborhood development, the art scene, and more.
Over e-mail, we quizzed this Arlington aficionado about the best places to eat, drink, and have fun in his neck of the woods.Favorite sit-down restaurant: I love Thai food. Bangkok 54 is one of my favorites, but there are so many good restaurants in Arlington that it's hard to choose.
Favorite coffee spot: Caribou Coffee in Shirlington. I like Murky Coffee, too, but I work near Caribou, and the staff there is great. When I want to splurge, I get Caribou's Mint Condition coffee.
Favorite intersection: Glebe and Fairfax. I always get confused when I'm getting on I-66 there, but I love the funky public art at that intersection. Maybe that's why I always get on I-66 going the wrong direction!
Best place for takeout: Barbecue at Weenie Beanie. The place looks kind of scary, but I'm a barbecue junkie, and the first time I had it there, I was hooked. Plus, it's the best melting pot in Arlington. You see all types of people—men in three-piece suits, day laborers, white, black, Hispanic. I love it!
Best place for a view of Washington: Mount Vernon Trail. The Netherlands Carillon is great, too, but you can bike down Mount Vernon, so for me that trumps it.
Favorite local leader: I work for the county, so I wouldn't touch this one with a ten-foot pole!
Favorite park: A tossup: Bluemont because it's so spacious and has easy access to the trails; Jennie Dean because I like to take my BBQ from Weenie Beanie and eat my lunch there; and Quincy because it's so central.

Court House or Clarendon? Clarendon, hands down—so many more choices for places to go.
Best reason to live in Arlington: The parks, the trails, the sports programs, the libraries, Arts Al Fresco, PlanetArlington. So much fun stuff to do!
Best running route through Arlington: There are so many great trails where you can feel a world away. I especially like the trails near Lubber Run and Barcroft parks. You run through the woods and by the stream. That's nice.
Favorite spot for a drink after work: In memory—Dr. Dremo's.
Best spot for a date: Ah, so many great places in Arlington. In the summer, I'd say Lubber Run Amphitheatre. Pick up a picnic and then head over for one of the nightly Arts Al Fresco events.
Favorite up-and-coming neighborhood: Columbia Pike—lots of Thai food, some hidden gems, and unique flavor. I love Clarendon but worry that it's losing some of its uniqueness.

Favorite place to catch some art: There's so much great performing art in Arlington. Signature is the one everybody knows, but there is also the PlanetArlington series, Arts Al Fresco, and Theatre on the Run. I'm also big fan of American Century Theater. For visual art, I love all the public art in Arlington. So often I'm not even totally aware it's around me, but I like it. I also like the Ellipse Art Center in Ballston. It's small and doesn't have great hours, but it's a fun place to go.
Favorite outdoor cafe: Mexicali Blues in Clarendon.
Favorite local blog besides your own: The Green Miles for environmental information with a local flavor. DCist for more metro-DC stuff, and I really enjoy the writing. In my dream world, What's Up Arlington would be "Arlingtonist."
Next week in the Blogger Beat: The DC Goodwill Fashionista—a.k.a. Em Hall—talks fashion, shopping, bargain hunting, and more. Check back next Wednesday for the interview!
Earlier Blogger Beat interviews:
Velvet in Dupont
Why I Hate DC
Prince of Petworth
Have a favorite local blogger you'd like to hear from? Send an e-mail to eleaman@washingtonian.com.
More>> Capital Comment Blog | News & Politics | Society Photos