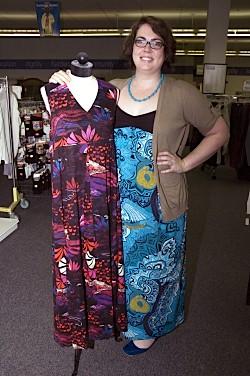 Em Hall, better known as the DC Goodwill Fashionista, came to Washington three years ago after migrating from the Midwest. She says she had one suitcase and no job but a dream of making an impact on the nonprofit community. Her first stop was Goodwill, where she volunteered before being hired full-time.
The DC Goodwill Fashion Blog, which started nearly a year ago, is run as part of Goodwill of Greater Washington. Its goal is to reach an audience of young, style-conscious blog readers and get them involved in the work and mission of Goodwill. So far, about 1,500 readers each week visit the Fashionista's site for vintage- and contemporary-shopping tips and trend alerts.
The DCGF—as she's known—is 28 and works full-time as the retail marketing manager at Goodwill. We caught up with her by e-mail to find out her favorite—and least favorite—summer-fashion trends, the best tips for thrift-shop virgins, and whether she prefers heels or flats (hint: it's neither!).
Best season for fashion in Washington—fall, winter, spring, or summer? Because it doesn't get that cold around here and I'm a gal who loves to layer different types of fabrics, I have to go with winter. Give me velvet and corduroy any day of the week! Or at least for those ten days when it's actually cold enough to wear them.
Best local fashion trendsetter: This is a tough one, but I'm going to have to go with the mannequins in the window of the Barneys Co-op on M Street. Not much personality, but gosh, they have the best new clothes.
Best summer-fashion tip: Use sunscreen every day. It might sound lame now, but trust me, you'll look great in sleeveless and chest-revealing tops and dresses 20 years from now, which is a gift to yourself that keeps on giving!
Best summer-fashion trend: Definitely the maxi-dress. I featured three on the DC Goodwill Fashion Blog a couple of weeks ago and received lots of comments from gals who didn't like them before but are now converts. They're fashionable, comfortable, and feminine. Plus they come in so many colors and patterns at a variety of price points. Can't beat it!
Worst summer-fashion trend: Let me scream this from the mountaintops: FLIP-FLOPS! It's not so much a trend as a pervasive cultural miasma, the likes of which we haven't seen since the Black Death of 1348.
Best way to take a work outfit to a date outfit: Higher heels (preferably in patent leather) and bigger earrings. And if there's a button-down blouse involved, unbutton one more than you would at the office.

Finish this sentence: "If I could splurge on one fashion item, it would be . . ." A Chloé Saskia tote in turquoise. Bags always fit perfectly.
Best spot for men's clothes at a bargain: For new clothes, Filene's Basement. The one near the Farragut North Metro seems to have consistently good-quality items in a variety of sizes. Plus they merchandise the men's section so that a guy could go in there and put together an outfit himself—ha!

Best spot for women's clothes at a bargain: Saks Fifth Avenue. Kidding! The only stuff I buy from there are the pieces that make their way to Goodwill, which is obviously my go-to source for all things bargainy. Otherwise, I'm a big fan of Loehmann's for new fashions. It seems that they get the best selection of brand names at the lowest prices.
Favorite Washington-area consignment store: I know the service there can be iffy, but I always return to Secondi for my consignment fix.
Best tip for thrift-shopping newbies: The first time in, focus on just one type of thing to look for—i.e., shop for shirts, browse for books, or peruse the pants. Don't try to take on the whole store or you'll be overwhelmed!

Biggest fashion pet peeve: Oh, wow. To pick just one is so hard. . . . I'll go with this: inappropriate footwear. And I'm not just talking about tennis shoes and white socks with your suit. I'm talking square-toed, heavy-soled, unpolished, broken-down, worn-out shoes that have no business being on anyone's feet. Sure, stilettos aren't for every gal, and I don't expect that most men can embrace a narrower toe box. But please, for the love of Ferragamo, at least keep those shoes you do have in good condition. And consider wearing something besides black. Even just one day a week. Do it for me. And for the children.
Best neighborhood for shopping therapy: Definitely the 14th and U Street area. The shops there are almost all locally owned and have some of the most unique household goods, clothing, and accessories (at affordable prices) in the area.
Favorite boutique in DC for a splurge: I honestly don't have one for clothing. In new clothing, I have to wear size talls because of my height (six feet) and mostly buy shoes online because of my size (12). Otherwise I'm shopping at Goodwill, so I limit my splurges to my apartment. My favorite spot is Millennium Decorative Arts on U Street.

Favorite spot for designer looks at bargain prices (besides a thrift store): Well, it's not specific to DC, but I love, love, love the designer collaborations at Payless. I have shoes by Patricia Field, Abaeté, Alice + Olivia, and Lela Rose for a fraction of their high-end counterparts. And they have size 12s!
Total cost of the outfit you're wearing right now—including shoes. Ha! You caught me on a bad day. I'm wearing a T-shirt I got free from Goodwill that advertises one of our sales. The pants were purchased on clearance plus my friend's employee discount, so they were about $18 (marked down from $80). Socks—maybe $2 (I invest only in quality tights, not socks—the latter wear out too quickly and nobody sees them anyway). I bought the running shoes from Pacers in Clarendon with the intent of actually running in them; this has not happened. They cost about $80. And the bag I bought on clearance from the now-defunct Wild Women Wear Red for approximately $40. That makes a grand total of $140, with an estimated retail value of more than $200, not including the Goodwill T-shirt which is, of course, priceless.

Your favorite thrift-store find: Well, it wasn't for me, but I did come across a brand-new pair of Ann Demeulemeester riding boots at Goodwill's South Dakota Avenue store. We sold them on eBay for $356 dollars; they had been marked at $5.99. Oh, the sweet taste of success! Ha.
Heels or flats? The correct answer is platforms. That way you get the height of a heel with the comfort of a flat. I would love to own a pair of Kork Ease!
Skirts or dresses? Dresses, because you only have to put on a single item of clothing and you're ready to walk out the door! I'm sure men are secretly jealous of this option.
Favorite local fashion blog besides your own: I've recently become a big fan of The President Wears Prada because she wears the coolest clothes ever. Ever.
Next week in the Blogger Beat: We dish on all things food with Amanda McClements of Metrocurean. She shares her favorite spots for dates and out-of-towners, the best way to impress a client over lunch, and much more. Check back next Wednesday for the interview!
Earlier Blogger Beat interviews:
What's Up Arlington
Velvet in Dupont
Why I Hate DC
Have a favorite local blogger you'd like to hear from? Send an e-mail to eleaman@washingtonian.com.
More>> Capital Comment Blog | News & Politics | Society Photos