Homes > Home Design > Home Repair
Three years ago, a member of the American Horticultural Society—whose Alexandria headquarters was once George Washington's farm—came across an abandoned set of White House gates. The gates, circa 1819, had greeted guests at the main driveway for more than 100 years. In 1937, they were taken down when the entrance was widened.
Enter Francis Flaherty, owner of Flaherty Iron Works in Alexandria, who has done work for Thomas Jefferson's Monticello and the National Building Museum.
Flaherty sandblasted away the rust and removed 13 layers of paint before straightening the metal, repairing broken joints, and replacing missing finials with hand-forged ones. The 440 hours he spent working on the gates earned him a bronze medal from the National Ornamental and Miscellaneous Metal Association.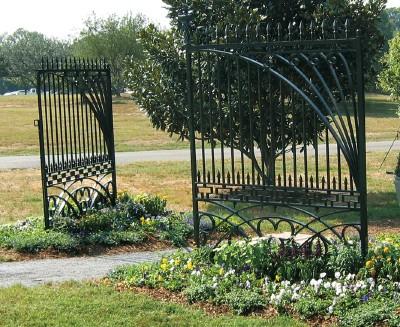 Metalworking is in Flaherty's blood. His great-great-uncle owned an iron sheet-metal shop in DC from 1862 to 1913. In 1976, Francis Flaherty started repairing old gates, stairs, and railings in between shifts as a full-time firefighter.
He was drawn into the trade in high school. While he was working part-time at a gas station, a customer—the owner of an ironworks shop—asked him to come work for him on weekends. Although Flaherty had grown up in a family of mostly carpenters and electricians, he found welding and blacksmithing appealing because they were like creating art.
"You can take a piece of metal," he says, "and make it come alive."
He specializes in restoring larger pieces—such as the two-ton set of gates at Georgetown's Dumbarton Oaks. He also creates original ironwork, including tables he has welded for US embassies in 27 countries.
The White House gates now stand, restored, on view at the American Horticultural Society. While working on them, Flaherty says, "I was thinking about all the people who would have passed through them. More than 20 presidents went through here."