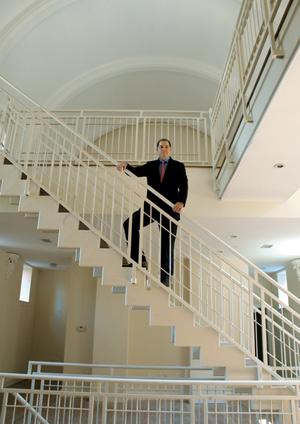 Jim Abdo slowly opens the heavy door to the flagship unit in his new Landmark Lofts condo building in the H Street corridor in Northeast DC. His footsteps echo on the Brazilian-cherry floors as he enters.
Abdo, a real-estate developer, is here to show off what he considers a "luxury" condo. The term is ubiquitous in the condo market, and Abdo thinks it has become watered down.
The 3,276-square-foot unit, which was once a chapel, has soaring ceilings and a catwalk leading from the master suite to the library. The dining room sits where the altar used to be.
"You are not going to find another condo like this in the city," says Abdo, pointing out decorative pillars he restored during construction.
He spent 18 months restoring the 140-year-old building—formerly the Capital Children's Museum and before that a nursing home run by the Little Sisters of the Poor—and converting it into 44 airy lofts.
Although no two condos in the building are the same, each comes with hardwood floors, Wolf and Sub-Zero appliances, and Italian-granite countertops. The penthouses have refurbished 100-year-old bathtubs with Waterworks fixtures and exposed original brick and ductwork.
An amenities building houses a lounge with a pool table and fireplace, a home theater, and a boutique conference center. Residents can use the fitness center and 70-foot rooftop lap pool at Senate Square, an apartment building in the same complex.
Abdo released a handful of units during a private sale to friends and family in March. News quickly spread that buyers included former DC mayor Anthony Williams and BET cofounder Sheila Johnson, who spent more than $2 million on the chapel unit.
Says Abdo: "We were never in the market to draw investors. We want to build something that we would want to live in ourselves."
During the condo craze of the early 2000s, developers could add granite countertops and stainless-steel appliances to almost any condo, call it "luxury," and try to turn it around for a quick profit.
When real estate began cooling in 2006, condos were one of the first segments hit. As units languished on the market, buyers became pickier. And many of the investors who had helped fuel the boom by flipping condos took their money elsewhere.
High-end condo developers say the slowdown has had at least one positive effect: Buyers began to differentiate the true luxury buildings from the impostors.
While sales for most condos have fallen, William Rich of the real-estate research firm Delta Associates says sales for the highest-priced ones have remained steady. "The luxury buyer is not as affected by the downturn," says Rich. "With the lower price point, there is more fluctuation."
Developer Anthony Lanier—whose firm, EastBanc, built Water Street and the Ritz-Carlton Residences in Georgetown—says true luxury units hold their value in the long run.
The luxury-condo experience begins before you walk through the front door. Curb appeal is important. Luxury buyers want their building to be identifiable from the street, whether by a unique design or a top restaurant on the first floor. "Design sells," says Lanier. "Otherwise Picasso would be trading at 50 cents."
Many luxury buildings today feel more like hotels than condos. Buildings have touches such as doormen, valet parking, and fine artwork.
Attention to detail is key. At the Chase Point Condominium in Chevy Chase—where prices for some units exceed $2 million—the grounds have water features and outdoor seating; fresh flowers in the lobby and hallways are replenished weekly; and furniture in the common areas is from the high-end retailer Vastu.
Michelle Giannini, who is with the developer PN Hoffman, says convenience plays a big role. Concierges who can make dinner reservations, run errands, or pick up dry cleaning have become a standard amenity in the luxury market. At a bare minimum, luxury condos offer features including fitness centers, conference rooms, and common areas for entertaining.
Buyers want the convenience of their condo building to extend into the surrounding neighborhood. Within steps of Chase Point are the Friendship Heights shopping district—including the high-end shops of the new Collection at Chevy Chase—a Giant grocery store, several restaurants, and Metro.
Inside the units, there has been a movement away from rectangular floor plans. Luxury condos have fewer walls and confined spaces—the kitchen often flows into the dining and living areas, and the master bedroom has become an open suite that integrates the bedroom, bathroom, closets, and sitting area.
Layouts are geared toward entertaining. Open kitchens designed around an island have replaced the galley kitchens of the past. And private terraces or balconies where owners can host dinner parties have become a sought-after add-on.
Architect Shalom Baranes—whose firm designed the Ritz-Carlton Residences in DC's West End, the sleek new 22 West across the street, and the nearby Columbia Condos (formerly Columbia Hospital for Women)—says buyers are beginning to assess luxury by cubic rather than square feet.
"The biggest challenge in DC is ceiling heights," says Baranes. "It's very hard to find some of the warehouse or loft-style buildings that you see in cities like New York or Chicago." Because they're so rare, two-story units with vaulted ceilings have become popular.
Designer finishes and brand-name appliances are another way to identify luxury buildings. In the bathroom, Waterworks and Kohler fixtures are favorites. Granite countertops no longer set condos apart, but granite imported from Europe has cachet. Buyers look for big-name kitchen appliances like Sub-Zero, Bosch, and Miele as well as cabinetry from high-end custom lines like Poggenpohl and Snaidero.
"If it's not from the US," says Rich, "it's considered luxury."
Whereas most of the condo market lures young professionals buying their first homes, many ultra-high-end condo buyers are coming from large single-family homes. Developers say it's important to make that transition seamless for buyers. More and more luxury buildings—Lionsgate at Woodmont Corner in Bethesda, the Metropole in DC's Logan Circle, Trillium Bethesda—are adding storage units, a popular feature for downsizers.
"Our condos are more like sky homes than apartments," says Jim Cohen, vice president of sales for Turnberry, which is building Turnberry Tower in Arlington, where private elevators open into almost every unit.
"When you walk into your unit and close the door, you want to feel like you are at home," says Lanier. "And sound is one of the key components that create that. You don't want to hear the city outside your window or your neighbor walking above you."
In many buildings, the smell of food lingers in the hallway or kitchen after it's cooked. In luxury condos, high-powered exhaust fans suck air outside rather than recirculating it inside. Details such as double-paned windows, soundproof walls, individually metered heating and cooling systems, and mold-resistant drywall in the bathroom all contribute to the luxury experience.
"It's not just lipstick," says Jim Abdo. "It's what's behind the walls."
With each new generation of luxury condos, developers learn from their mistakes, borrow ideas from competitors, and try to outshine what's already been built. The bar keeps getting higher—which raises a question: Where do they go from here?
Technology is an obvious frontier for new ideas. Developers predict that most luxury condos will be completely wireless in the near future.
Shalom Baranes says Washington buyers are beginning to place more value on the view from their condo than on its layout or square footage. Lanier thinks the size and importance of condo kitchens will diminish and services like concierges will become even more valuable.
More green design is also on the horizon. Buyers are likely to see more Energy Star appliances, water-conserving washing machines, green roofs, and recycled materials in years to come.
Lanier thinks future generations of urban buildings will have more bike racks and fewer parking spaces. As people begin to search for alternatives to oil, Jim Abdo says, we may see electrical outlets in condo parking garages. Says Abdo: "I like to think about these things early."
Where to Find Condo Luxury
Chase Point Condominium, 107 units at 4301 Military Rd., NW; remaining units from $799,000 to $2 million; pnhoffman.com.
Landmark Lofts, 44 units at 215 I St., NE; remaining units from $400,000 to $1.8 million; abdo.com.
Lionsgate at Woodmont Corner, 158 units at 7710 Woodmont Ave., Bethesda; $550,000 to more than $2 million. lionsgatebethesda.com.
Metropole, 90 units at 1515 15th St., NW; $450,000s to $2.5 million; metropolis-dc.com.
Trillium Bethesda, 173 units at 8400 Wisconsin Ave., Bethesda; $500,000 to more than $3 million; trillium-bethesda.com.
Turnberry Tower Arlington, 247 units at Fort Myer Dr. and Key Blvd., Arlington. $700,000s to $7 million; turnberrytowerarlington.com.
22 West, 92 units at 1177 22nd St., NW; mid-$800,000s to $3.9 million; 22west-dc.com.
Waterview, 133 units at 1111 19th St., Arlington; $400,000 to more than $5 million; waterviewresidences.com.
The Wooster and Mercer Lofts, 87 units at 1600 Clarendon Blvd., Arlington; $500,000s to $2.1 million; abdo.com.
Have something to say about this article? Send your thoughts to editorial@washingtonian.com, and your comment could appear in our next issue.
This article appears in the August 2008 issue of Washingtonian. To see more articles in this issue, click here.