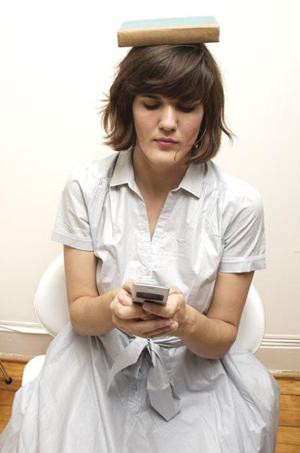 Name: Svetlana Legetic
Age: A freshly turned 28

Occupation: Architect by day, cult leader by other hours (and founding member and editrix of BrightestYoungThings.com)
Hometown: Novi Sad, Yugoslavia

Must have item at all times: A very large purse to carry all the not-so-must-have items in.

Signature drink: My father's homemade plum brandy.

Finish the sentence: When not working, you can find me…
…everywhere.

Washingtonian(s) you admire?
Everyone I know who has ever touched BYT is such a hero to me I may get sentimental here now. Every band, artist, designer, writer, chef, filmmaker, DJ who decided to be here instead of somewhere else and as a result made it as awesome as it is now.
Favorite neighborhood in the city?
I live in Adams Morgan. I still love it during the work week more than anything else. During the weekend evacuating to Capitol Hill is becoming the norm.

Washington insider tip(s)?
Get a bike. Walk more. Be nice. If you just moved here, go to everything you get invited to, you are auditioning for friends and benefits. Grow some thick skin. Work to live don't live to work (repeat this like a mantra) Find a bar you like, a neighborhood you like, people you like…make all that your own. Go to museums more often. Don't eat the jumbo slice. You WILL regret it. DO eat at Lauriol plaza BUT only for brunch. Sunday afternoons at The Tune Inn in Capitol Hill are this city's best kept secret. And I just blew it.

Finish the sentence: Thinking about the metro makes me…
…happy. It is the only time of the day I feel I can be alone while surrounded by others.
Favorite museum:
Hmmm. Tough one, but I am going to say National Building Museum since more people should visit it.

What would you change about DC?
The humidity.

As you answer these questions, what websites are open in your browser?
BrightestYoungThings.com, Flickr, GettyImages, Myspace, Stereogum and Youtube.Those are always on.

What's your daily routine like?

Wake up at 5. Work on my blog. Eat. Drink. Watch MTV Hits. Dance inside my head. Arrive to work around 9. Draw. Interview bands, coordinate press passes, yell at people over email over lunch time. Draw and work some more. Go home. Swear to go to bed early. End up going out to a: show, a movie, a friend's house, happy hour, dance hour…get home, work on my blog, pass out. On repeat.

What's your take on the word "hipster"?

It is a dirty word. We actually said a little while a go that while we approve all BYT comments those that use the words "scene" and "hipster" WILL BE DELETED. I am sticking to it. You can swear on BYT, you can call me names, but you cannot use the word "hipster".

Coolest band or artist you've gotten to interview for BrightestYoungThings?

OK, this is hard. While I am super excited when we discover a band before anyone else (like when we got to be the first publication to preview the Yeasayer album or the fact that we were Le Loup's first ever interview or our quiet, stalking love of Thao Nguyen, and while being able to sit down with someone like Sanjay Gupta was amazing and surreal, I want to say that the day Chuck Brown let us hang out with him for an afternoon was when I knew we were at least sort of cool.

Favorite local music venue?

Its a swing vote, aside from the fact that I am MORTALLY afraid of large venues and giant crowds.
The sound at 930 club is hands down the best. The cat probably brings in the most people I want to see. Iota makes me really happy. Sunday shows at DC9 are the most under appreciated resource in the city, Velvet lounge will never quit, RNR Hotel is the friendliest fan venue and in all honesty, sometimes, someone's living room is sometimes all you need.

What's the origin story behind BrightestYoungThings? How did it get started and how has it grown since?

OK, well, here it goes (again): I moved to DC after college, and after deciding that I like it here (a lot), used to take photos at events and write a myspace blog that somehow became sort of notorious. Then my friend Jason decided that we should take it and unleash it onto the world and bought me a domain for my 26th birthday. Before you knew it Cale joined, scored some interviews for us, Erik was recruited in a bar to design the whole new look, people like Jason and Morgan kicked in with regular columns and a year and a half later here we are a dozen or so regular and hilarious contributors, a handful of AMAZING photographers, a fully functional AV team, an editorial assistant worth her weight in diamonds (I love you Libby!) with 150+ interviews, 400+ show reviews, 45 000+ individual readers a month, and a sleeping patterns that defies all logic. We had a christmas "office" party last year and we had 30 kids show up with home made cookies, great stories, and a few drinks in, it seriously felt like we had a family on our hands. It sounds corny but seriously it is so great, IT HAS TO SOUND CORNY. Dammit.
Next week, we have a chat with News4 Sports reporter Lindsay Czarniak, who's currently in Beijing covering and blogging about the Olympics. Read her blog here and make sure to check back next Thursday to find out about Czarniak's most embarrassing TV moment and her celebrity athlete crush.
More>> Capital Comment Blog | News & Politics | Society Photos