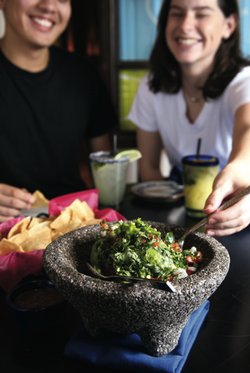 Between the noisy toddlers and the electronica soundtracks, even a short walk through Tysons Corner Center can be an audiovisual assault. There's no respite at La Sandía, a Mexican restaurant and tequila bar where you're greeted by a booming merengue beat and a Frida Kahlo palette of colors on its walls.
This is the second area restaurant from Denver-based chef Richard Sandoval, who owns the flashier—and more ambitious and expensive—Latin-Asian fusion dining room Zengo in DC's Penn Quarter, a favorite of the minidress crowd. Worn-out shoppers and families with small children make up most of La Sandía's customers.
The menu is a traipse through Sandoval's native Mexico and amounts to a sometimes compelling, sometimes dispiriting travelogue. There is a fine rendition of chicken mole, and guacamole, mashed tableside in a molcajete, is full of bright cilantro flavor. A generous serving of shrimp ceviche errs on the soupy side but gets a nice kick from serrano chilies.
But a skillet of queso fundido was more oil than cheese, and tortilla soup, packed with nicely shredded chicken, was oddly punchless. Tacos are uneven. Soft corn tortillas filled with al pastor-style pork were greasy, and a version with shriveled skirt steak needed a heavy squeeze of lime to liven them up. Much better were the fish tacos, nearly overspilling with beer-battered tilapia and slaw.
The bar rarely errs, sending out terrific margaritas made with fresh lime juice and sour mix—and a choice of more than 100 tequilas—plus a selection of aguas frescas and lemonades (we like the version with floating slices of mango). When it comes to sweets, it's a good idea to look to the liquid stuff, too. The cafe de olla, a coffee steeped with orange zest and Mexican brown sugar, or the chocolate abuelita, a cinnamony hot cocoa, are much better than the stiff tres leches cake or the banana empanada.
This review appeared in the August, 2008 issue of The Washingtonian.