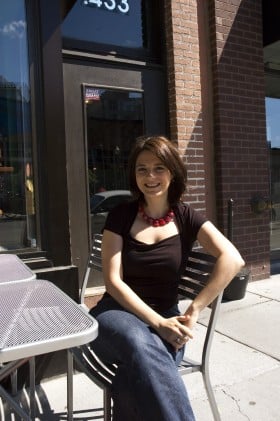 Lemmonex at Stoney's near Logan Circle.
Photograph by Jennifer Molay
DC food blogger Lemmonex, who keeps her real name a mystery, started logging serious hours in the kitchen after college. "I was broke and in a soul-sucking job," she says. "I needed to get creative, distract myself, and eat more than pasta on my paltry salary."
She started her food-and-cooking blog, Culinary Couture, last summer to help push her cooking to new heights. She also wanted an excuse to meet other food lovers in the area and a chance to work on her writing. Plus, she says, "I'm a huge attention whore."
The blog takes a mixed-bag approach to food and life, chronicling how the two come together for this 27-year-old research assistant. It's not always pretty—but it's usually hilarious—as she documents her struggles and victories in the kitchen and in life. Her proudest achievement? Losing 65 pounds 2½ years ago—and keeping it off.
Over e-mail, we caught up with Lemmonex and grilled her on her kitchen favorites. We got the scoop on her favorite specialty food store, the best (simple!) recipe for impressing guests, and her go-to dinner spot for when she doesn't feel like cooking.
Favorite kitchen appliance or utensil: My Henckels five-inch chef knife and my OXO kitchen tongs.
Pantry item you can't live without: Salt. Every chef will tell you it always needs more salt. They are right.
Most comforting comfort food: Thanks to Pizza Hut's Book-It! program, any formerly fat nerd knows the unique comfort of the chain's personal pan pizza.

Recipe that most makes you miss home: My mother makes an awesome, calorie-laden homemade macaroni and cheese. You can hear your arteries slam shut as you eat it. It might kill me, but I will die stuffed and happy.
Most embarrassingly simple recipe to impress guests with: Chicken with 40 Cloves of Garlic. It is like shooting fish in a barrel—it's impossibly easy. In fact, it's so simple, it feels almost dishonest. To make: Salt and pepper a package of various chicken pieces (or cut up the chicken yourself if you feel brave). In a large pan, sear them in about two tablespoons of olive oil for about five minutes on each side. Then add 40 cloves of peeled garlic, 10 sprigs of fresh thyme, and half a cup of olive oil to the pan. Cook in a 350-degree oven for 90 minutes. Serve with a baguette—to smear the garlic cloves on, of course. Or if you are anything like me, just pluck them whole out of the pan.
Favorite specialty food store in the Washington area: I really love La Cheeserie at Calvert Woodley Liquors. They are always helpful with selecting the perfect wine, and they never pressure me to spend more money than I want.
Cookies or cakes? Cake. Carrot cake to be exact. Just leave the coconut off!
Whole Foods or Trader Joe's? Trader Joe's, though seeing as I don't drive, getting there is a pain. They have fantastic potstickers and a great portobello ravioli.
Favorite place for dinner when you don't feel like cooking: Tono Sushi for the double salmon roll. Accept no substitutes.
Best and worst meals you've cooked for a date:
Worst: I was going for homey comfort food on a cold night and decided to try a fancy-pants mac 'n' cheese recipe. (Mistake number one: Mom's is the best. I should have used it.) I got distracted, forgot a step, and it tasted hideous and the texture was rubbery. Screwing up for a date is bad enough, but screwing up mac 'n' cheese was unacceptable. Word to the wise: Cook what you know when trying to impress.
Best: If I like a guy, he will either get my braised short ribs or my filet mignon in Merlot reduction served with homemade bread.
Favorite bakery: Baked and Wired in Georgetown. They are friendly, and the stuff is obscenely good. Their pecan bars are criminal, and all their cupcakes are way better than anything from CakeLove.

Favorite spot for a drink after work: I work near DC Coast, and they treat me quite well. I love the old-school feel. In the winter, I adore the dark, woody lounge at the Tabard Inn.
Best hangover cure: When I was a student at George Washington University, I would get a grilled sesame bagel topped with egg, American cheese, and an inch-thick slab of ham at the GW Deli. That, with an iced coffee and Gatorade, would fix me up good. I haven't found anything quite as perfect since.
Favorite spot for outdoor dining: A few weeks back, I had one of the best meals of my life on the front patio at Cashion's. I don't know if it was the exceptional service, the fantastic company, the perfect weather, the phenomenal sweetbreads, the show-stopping braised rabbit, the nonstop flow of wine, or the stellar cheese plate, but it was one of the best meals I have ever had and one of the best nights of my year so far. For all those people who think food is just sustenance, meals like this make me think you are really missing out on life.
Favorite restaurant for a splurge: My pockets aren't that deep, but I love the shrimp and grits at Vidalia. The charcuterie board at Proof is perfect if you want to feel rich and splurge but still be able to make rent. For a caloric splurge, the Super Grilled Cheese at Stoney's is a very guilty pleasure.
Biggest food weakness: What isn't a weakness? I love pretty much everything with an equal fervor. Cured meat and those Hostess fruit pies at 7-Eleven hold a special place in my heart, though.
Biggest nonfood obsession: Makeup. I would not be me if I didn't have six lip-glosses in my purse at once. If I have a bad day, I buy an eye shadow. I feel an emotional release as I swipe my card through the machine.
Best advice for dieters: Going off the grid for one day doesn't mean the week is lost. Stop being so hard on yourself and get back on the horse. Things got easier for me when I accepted that this would always be work. You have to remain vigilant, but that does not mean you shouldn't allow yourself days where you throw caution to the wind. I don't think I will die wishing I hadn't eaten that third piece of pizza. Practically speaking: Drink your water, get off the couch, and always have an article of clothing that serves as a touch point to trigger a red alert if it gets too tight.

Most disgusting recipe you've ever read—and tried to make: Microwave cake made in a mug. It was shockingly good. I bet if I smoked pot, I would eat it at least once a week. It's total stoner food.
Favorite recipe you have ever created: When I was seven, a friend and I made a cake. When I say 'made,' I mean we dumped everything from the pantry—flour, instant-coffee granules, dried spaghetti, Sprite—in a pan, and threw it in the oven. I dubbed it "Somalian cake," as only a starving Somalian would eat it. Yes, I realize how offensive that is. Yet this story still tickles me as it proves two things: I was wildly inappropriate at a very young age, and I was always willing to take a risk in the kitchen, no matter the outcome.
Favorite local foodie blog besides your own: Food Rockz
Next week in the Blogger Beat, we talk brew with beer activist Chris O'Brien, who blogs about how to drink beer and save the world (seriously!). Check back next Wednesday to find out how!
Previous Blogger Beat interviews:
Capitol Hill Barbie
DC Rock Club
All Blogger Beat interviews
Have a favorite local blogger you'd like to hear from? Send an e-mail to eleaman@washingtonian.com.
More>> Capital Comment Blog | News & Politics | Society Photos