Want more wine? Check out our article, "Raising the Bar: Best Wine Bars in Washington, DC."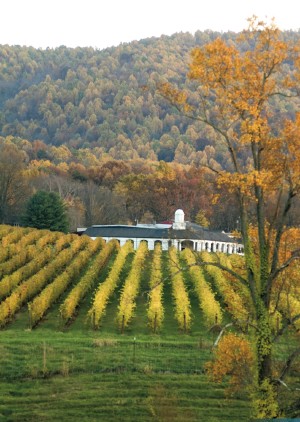 Barboursville—a Disneyland for oenophiles—
is a beautiful property with picnic spots
and a very good restaurant. Photograph of
Barboursville courtesy of Barboursville
On a busy Saturday in a cozy tasting room in Virginia, I set out to become a wine groupie.
A friend and I were sipping a Seyval when a more portly, less twinkly Mr. Big type told us we should try the Seyval at another winery down the road, which he assured us was far drier. That prompted a twentysomething woman behind us to say she couldn't disagree more. A winery two counties away, she swore, made the best Seyval.
It wasn't long before a small group of strangers had gathered to swap best-of, worst-of wine stories. I must have looked puzzled by their passion. The woman laughed and said, "We're wine groupies. Welcome to the club."
By the end of the day, I was, if not a veritable wine groupie, a wannabe. I went home determined to discover the best vineyards to visit in Virginia and Maryland.
I talked to sommeliers, restaurateurs, and winemakers as well as friends who like winetasting. I was looking for good wine but also vineyards that offered visitors a beautiful setting and a fun experience. I wound up with a list of suggestions that spanned from farmland outside Charlottesville to the banks of the Eastern Shore. I visited nearly three dozen.
In the end, I came up with these four itineraries for winetasting.
While the recommended wineries in the itineraries are near one another, in some cases a drive between two can be as much as half an hour. But along the way, you may see other wineries or a charming town or lovely vista that tempts you off the road. That's the idea. These trips—be they for the day or weekend—are meant as an introduction to a wine region and all it offers.
Before you go, bear in mind a few things. Most wineries charge a tasting fee, typically $3 to $10, although many include a souvenir glass. The listings that follow note when fees are higher or lower than the norm.
Most wineries sell cheese and crackers if you're feeling peckish, but you'll do better if you plan ahead and order a picnic from a nearby market. Wineries generally have ample grounds with picnic tables; some provide cozy indoor spots where you can eat on chilly days. All will sell you a bottle of wine, and many now sell wine by the glass to round out your meal.
Because tasting a little wine here and a little wine there can add up, it's a good idea to have a designated driver or to hire a car to take you around. The inns and hotels mentioned here can help you find a driver. For day trips from Washington, contact a sedan or limo service. In Virginia, try Fairfax Limo (703-229-5057; fairfax-limo.com) or Harvest Limousine (703-606-4598; harvestlimo.com); in Maryland, Link Sedan & Limousine (888-325-4668; linksedan.com).
French and Italian Grapes and Fine Fare
Loudoun, Prince William, and Fauquier counties are home to some of the area's best wineries.
Linden Vineyards, a darling of wine critics, lives up to its reputation. Try an herby Petit Verdot aged in oak for 20 months, and the unusual Petit Manseng, a late-harvest wine made from grapes grown on a slope at the top of the vineyard. Daily tastings are free, but only club members—those who buy a case of wine a year—are admitted to the deck and grounds on Saturdays and Sundays. On weekends, all visitors can do the $12 reserve-cellar tastings, conducted every 45 minutes. 3708 Harrels Corner Rd., Linden; 540-364-1997; lindenvineyards.com. April through November, Wednesday through Sunday 11 to 5; December through March, Saturday and Sunday 11 to 5.
Perhaps you've seen the drink naked bumper stickers. The name Naked Mountain Winery may draw people in, but it's the drop-dead view from the foot of the Blue Ridge and the signature Black Label Chardonnay, aged in French oak, that keep them coming back. This small winery has a comfy tasting room with a fireplace, but if the weather's nice, head out to the deck or the edge of the koi pond for fresh mountain air. 2747 Leeds Manor Rd. (Rt. 688), Markham; 540-364-1609; nakedmtnwinery.com. Daily 11 to 5.
Next head to Three Fox Vineyard, a good place to unpack a picnic. There are picnic tables and even hammocks nestled along a creek. Many visitors spend the day on the 50-acre property—wandering the gardens, playing bocce, or sipping wine on the tented terrace. Try the dry Northern Italian–style "Rose," a newcomer, and the Volpe Sangiovese, an award-winning Italian blend. 10100 Three Fox La., Delaplane; 540-364-6073; threefoxvineyards.com. Thursday through Monday 11 to 5.
A day trip to this region is easy from Washington, but consider staying overnight at the country-chic L'Auberge Provençale. You'll dine on French specialties including mussels with Pernod and fennel courtesy of owner/chef Alain Borel, who hails from Avignon. The inn's restaurant has a sophisticated wine list that spans the globe from Bordeaux to Napa to, yes, Virginia, courtesy of Alain's American-born wife, Celeste. White Post; 540- 837-1375; laubergeprovencale.com. Rooms from $195, prix-fixe dinner $90.
More winetasting can be done on your way home. Head east on Route 50, where you can stop at Market Salamander in Middleburg. Grab coffee and a picnic at this epicurean fantasy brought to you by chef Todd Gray of Equinox and Sheila Johnson, cofounder of BET. If you call ahead, the market will design a picnic based on wineries you're visiting. You can't go wrong with selections such as buttermilk-brined and fennel-rubbed rotisserie chicken and duck confit with haricots verts (prices from $6). 200 W. Washington St., Middleburg; 540-687-8011; market-salamander.com/va. Daily 11 to 7.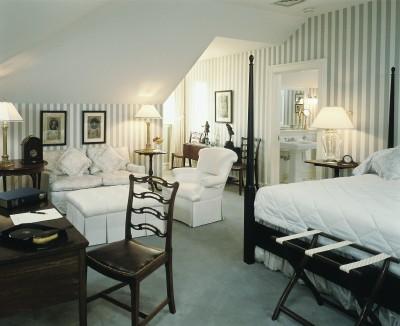 A few minutes outside Middleburg is the family-owned Piedmont Winery, one of the first growers in Virginia. Two spare black barns house the winery and tasting room; tastings are $3. An outdoor deck and tables near the stone fireplace make good resting spots. In addition to a popular Cabernet-and-Merlot mix called "Hunt Country Red," try the tasty dessert wine "Felicita." 2546-D Halfway Rd., The Plains; 540-687-5528; piedmontwines.com. Saturdays, Sundays, and federal holidays 11 to 5.
Wend a few miles along back roads past horse farms, brooks, and stone barns until you come upon the historic brick manor house of the Winery at LaGrange. Opened in 2006, it makes a popular port called "Snort." Picnic tables outside and cozy rooms in the house upstairs make for ideal spots to break open that picnic basket. 4970 Antioch Rd., Haymarket; 703-753-9360; wineryatlagrange.com. Daily 11 to 6.
Jog a bit south of Route 66, where the Shenandoah Mountains hug the land more tightly and you'll come to Marterella Winery, a welcoming perch on a hill. The family's dogs may be resting by a fireplace on the patio. A ten-flight tasting is $10. Don't miss the crisp Vidal Blanc and a dessert wine called "Sweet Nothings" that pairs well with chocolate. 8278 Falcon Glen Rd., Warrenton; 540-347-1119; marterellawines.com. Thursday through Sunday 11 to 6.
A Two-Day Trip to Taste Virginia's Finest Wines
Split-rail fences, vintage plantation homes, grazing horses, and the gentle Blue Ridge Mountains set the backdrop for some of Virginia's best wineries, all in and around Charlottesville.
After the drive down, you might stop for lunch at the Farm Shop at Kluge Vineyards, which serves proper meals such as chicken pot pie and quiche. The winetasting ($10 for five generous portions) is unorthodox, presented in a stylish tray that holds fluted plastic cups. Sample the Blanc de Blanc, a tasty sparkler, and the award-winning "Rose," which benefits from the consultation of a top French Champagne producer and earned a spot on Food + Wine's Best list this year. 3550 Blenheim Rd., Charlottesville; 434-977-3895; klugeestateonline.com. Daily 11 to 6.
Without Thomas Jefferson, there's a good chance Virginia wouldn't have a wine industry at all. See where it all started—before his dreams for world-class American wine were cut short by the Revolutionary War—at Jefferson Vineyard. Try the clean Pinot Gris and the blended Petit Verdot. 1353 Thomas Jefferson Pkwy., Charlottesville; 800-272-3042; jeffersonvineyards.com. Daily 10 to 6 (9 to 5 in summer).
About half an hour outside town, Keswick Winery gives visitors a good sense of what the state has to offer. Grab a bottle of "Chambourcin," an oaked and earthy French-American hybrid and winner of the Gold Medal at the 2007 Governor's Cup. Bottle in hand, retire to the patio, overlooking the 400-acre estate with ponds and swans. This plantation is steeped in Civil War history—it was used as a Confederate campsite. 1575 Keswick Winery Dr., Keswick; 888-244-3341; keswickvineyards.com. Daily 9 to 5.
At the end of the day, you can check into the luxurious Keswick Hall at Monticello. The spa's $460 Keswick Reserve treatment features a Shiraz body scrub, red-wine body mask, and Pinot Noir facial. Afterward, head to Fossett's Bar, a cozy room with chairs clustered around a fireplace. The bar offers tastings of wines from Blenheim Vineyards, owned by indie rocker Dave Matthews. Don't miss the "Cab Franc," which is less tannic than most and popular with area sommeliers. Tastings every Saturday and Sunday noon to 11, weekdays 3 to 11; blenheimvineyards.com. Rooms at Keswick start at $295. 701 Club Dr., Keswick; 434-979-3440; keswick.com.
The next day, stop at Horton Cellars, in a faux medieval château complete with rocky turret. People come for the "Horton Norton" and Viognier as well as Norton Port, the only one made in Virginia from 100 percent Norton grapes. Tastings are free. 6399 Spotswood Trail, Gordonsville; 800-829-4633; hvwine.com. Daily 10 to 5.
End your wine trip at nearby Barboursville, Disneyland for oenophiles. Alongside the vast tasting room—which features a museumlike space dedicated to the history of the winery's best-selling red blend, "Octagon"—is a shop with a nice selection of books on wine. Outside on the 830-acre property, rambling roses line stone paths that cut through a working farm complete with cows. Atop a hill sit the remains of a Thomas Jefferson–designed home created for a former governor. Nearby is a bubbling stream, a perfect place to throw down a blanket and sip wine. You may not want to leave this beautiful property—and you don't have to. Barboursville has converted outbuildings to inn accommodations; rates start at $225. If you must return home, you can reserve a table for lunch at Palladio Restaurant, which features Northern Italian cuisine in honor of the vineyard's Italian owners. A three-course lunch with wine pairings is $55. 17655 Winery Rd., Barboursville; 540-832-3824; barboursvillewine.com. Monday through Saturday 10 to 5, Sunday 11 to 5.
Dandelion Wine and an Ecofriendly Vineyard
The hilly landscape near Frederick is home to several wineries. And the area—just north of Montgomery County—is an easy day trip.
Start at Berrywine Plantations/Linganore Wine Cellar, which, in a word, is big. Don't let this put you off. Visit during the week and you might get personal attention from Anthony Aellen, one of the founders' sons, who delivers impromptu wine lessons. This may be the only place you'll get to taste retro dandelion wine, a weedy concoction, and thick honey mead. Sweet wines are standouts here, so sample the raspberry and peach wines, both of which won the 2007 Governor's Cup. 13601 Glissans Mill Rd., Mount Airy; 301-831-5889, linganorewines.com. Monday through Friday 10 to 5, Saturday 10 to 6, Sunday noon to 6.
For contrast, head to Elk Run, a winery owned by a husband/wife team who take their vinifera seriously. Pioneers in this rocky region, they began planting in 1979. The $2 winetasting is substantial; pours are long and the selection plentiful. Owner Fred Wilson and his chubby cocker spaniel, Billy, will lead you on a tour to see the French barrels that Elk Run has splurged on to make their award winners. The Gewürztraminer could pass as Austrian. The "Lord Baltimore" is an award-winning port. 15113 Liberty Rd., Mount Airy; 410-775-2513; elkrun.com. Tuesday through Saturday 10 to 5, Sunday 1 to 5; April through October, Tuesday through Thursday 10 to 5, Friday 10 to 9, Saturday 10 to 5, Sunday 1 to 5.
For lunch, consider Acacia in the historic town of Frederick. The Cambodian tomato soup is infused with coconut; the wine list is affordable and features several regional offerings. 129 N. Market St., Frederick; 301-694-3015; acacia129.com.
From the restaurant, walk three blocks to Frederick Cellars, housed in a 1904 ice house. Stools surround the tasting bar, and wine-barrel tables make welcome perches to try the signature "Eye of the Oriole," a sweet blush. Co-owner Charlie Denari is most proud of his Cabernet Sauvignon. 221 N. East St., Frederick; 301-668-0311; frederickcellars.com. Sunday and Monday 1 to 6, Tuesday and Wednesday 4 to 9, Thursday through Saturday noon to 9.
A few miles outside town, in Mount Airy, is the new kid on the block, Black Ankle Vineyards. The vineyard is largely organic, and the "green" tasting room is insulated with hay harvested from the fields. Don't miss the Albarino, a Spanish grape rarely grown in this country. 14463 Black Ankle Rd., Mount Airy; 240-464-3280; blackankle.com. Wednesday through Sunday noon to 5.
Waterfront Vineyards and Chocolate Wine
The Eastern Shore hasn't been known for wines, but a few ambitious vineyards are hoping to change that.
Start at St. Michaels Winery, housed in a historic flour mill in the heart of St. Michaels. It opened three years ago and has wasted no time in gaining a following thanks to such innovative concoctions as "Chocolate Zin." Many of the wines pay homage to the Chesapeake Bay—for example, "Gollywobbler," a Concord/Cabernet blend named for a type of log-canoe sail. Tastings cost $6 to $15, although there's a $1 one-sample deal for designated drivers. 605 S. Talbot St., Unit 6, St. Michaels; 410-745-0808; st-michaels-winery.com. Monday through Friday noon to 6, Saturday noon to 7, Sunday noon to 4.
A few doors down is Market House, a hip one-stop shop for affordable gourmet food. Owner Jen Bridges will pack a picnic with imported cheeses, soft-shell crabs, and a baguette with house-made wine butter that you can take to nearby Muskrat Park to eat by the water. 415 S. Talbot St., St. Michaels; 410-745-6626; markethousegourmet.com. Monday through Thursday 8:30 to 6, Friday and Saturday 8:30 to 7:30, Sunday 8:30 to 6.
Next, head about ten miles to Little Ashby Vineyards in Easton. This boutique winery was the first one licensed on the shore, and the Bordeaux blend called "Super Talbot" has won many awards. Little Ashby delivers the quintessential Eastern Shore experience: It's along the banks of the Miles River, where herons, ospreys, and other waterfowl frolic. Tours and tastings are by appointment, but because owners Lynne and Warren Rich live on the property, they welcome the public warmly, even for last-minute visits. 27549 Ashby Dr., Easton; 410-819-8850; littleashbyvineyards.com.
Experience a different side of the Eastern Shore by driving to Tilmon's Island Winery, one of the smallest in Maryland. The vineyard is in the farming community of Sudlersville, and the drive weaves and bobs past pretty corn and soy farms. The winery is about 35 miles from Easton but worth the trip. Owner Don Tilmon is an agricultural economist, and his straightforward Merlot and Cab Franc are fine testaments to his study. Free tastings are offered on the deck of the Tilmons' home, overlooking a pasture and the small Concord-grape vineyard that produces their most popular sweet wine, "Judy's Red Hat Red." 755 Millington Rd., Sudlersville; 443-480-5021; tilmonswine.com. Saturday noon to 5; by appointment other days.
Staying for dinner? Try Restaurant Local in Easton. Groups as small as four people and as large as 16 can dine in the private Decanter Wine Room, where Dick Cheney and Oliver North have been spotted. The glass-enclosed boîte flanked by walls of wine is the perfect ending to a winetasting day. Couples should head outdoors to the patio, where they can dine beside a stone fireplace. 101 E. Dover St., Easton; 410-819-8088; restaurantlocal.com. Entrées $23 to $49.
Planning to stay the night? Consider the Inn at Perry Cabin in St. Michaels, where you'll feel as though you're visiting a wealthy aunt's waterfront estate. Rooms in the historic section are chintz-and-antique-filled, while those in the new wing feature a nautical theme and marble bathrooms. Before bed, tuck into the cozy Purser's Pub and enjoy a glass of wine in front of the fire. 308 Watkins La., St. Michaels; 410-745-2200; perrycabin.com. From $330.
For more information about area wineries, including maps and upcoming festivals, go to marylandwine.com and virginiawines.org.
Tips for Tasting
Laurie Forster, author of The Sipping Point: A Crash Course in Wine and host of a weekly radio show on WBAL called Something to Wine About, offers these tips for making the most of a winetasting tour:
1 Don't be intimidated. Try everything and just have fun.
2 To appreciate wine fully, use all of your senses.
3 Use the pour bucket—the winery won't be offended. You're not expected to drink every drop you're given.
4 Don't buy a "sympathy" bottle of a wine you don't like. A polite way to avoid making an on-the-spot purchase is to ask if wines can be ordered online or are available near your home.
This article first appeared in the September 2008 issue of The Washingtonian. For more articles from that issue, click here.
Get More Fall Weekends
→ The Best Vineyards in Virginia and Maryland
→ Cute Shop, Hon: Great Stores in Baltimore
→ Delicious Day: Dining in Leesburg
→ Getting into New York's Sample Sales