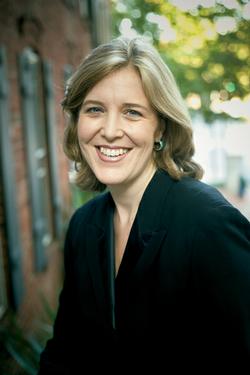 After Leonard Slatkin conducted his last concert as music director of the National Symphony on June 29, Washington Post classical-music critic Anne Midgette called it "a perfectly fine farewell, and less frothy than such things can become."
Because she has seen so many of such things.
Her kicker read: "The biggest problem with Slatkin's tenure is that for whatever reason, America failed to notice."
Ouch! So arch, so true—with a whiff of pretension, as one reader said.
"Why kick him on his way out the door?" another asked.
You might not think a classical-music critic would attract much grief, but the pages of the Post and the Web chats often carry love or hate messages for Midgette.
The fact that Midgette is here and can say what she thinks is a testament to the Post's commitment to covering classical music. Big-city dailies are cutting staff, and critics often are the first to go.
At the Post, Joe McLellan reviewed concerts for decades. He was followed by Tim Page, who won a Pulitzer in 1997. Page took the Post's buyout in May and recommended Midgette, who was then writing for the New York Times.
She started covering concerts for the Post in January on a trial basis and landed the job in June. Like her or not, Midgette is one of the best classical reviewers in the business—and not just because she's one of the last in her field.
"I find the Post very liberating," says Midgette, 43. "I haven't had fun like this in a long time."
Born in Portland, she grew up in Brooklyn. Her father, Willard, was a noted visual artist. At Yale, she majored in classical civilization. She graduated and moved to Germany to write a novel.
"I never ever wanted to be a journalist or a critic," she says. But novel writing was slow, so Midgette made money writing freelance reviews for Opera News, where she became a regular critic in 1992. She also started writing for the Wall Street Journal and other publications.
"I was always a huge opera buff," she says. "Voices are my passion."
The New York Times started publishing her work on Europe in 1998, the same year she returned to New York. She did criticism for the Times in 2001 on a freelance basis and became the paper's first female classical-music critic.
"I was often the only woman in the room," she says. "Being a six-foot-tall blonde made me stand out a bit, too."
At the Post, she writes as if she's seen it or heard it a few dozen times—and probably has. But she also writes about high-culture performances in a down-to-earth style.
"It's everybody's right to fall in love with bad opera," she wrote in her generally positive review of Catholic University's Carmen.
"The best way to be an advocate is to show up, even if you are critical sometimes," she says. "Newspapers need to cover classical music the way they cover sports—a balance of game coverage, the players, and breaking news."
Midgette has shown up for Stageworks opera in Indian Head, Maryland, free concerts at Kennedy Center's Millennium Stage, and choral performances across the region. "Washington's choral groups are unequaled anywhere in the world," she says.
Washington audiences have impressed her with their "politeness, seriousness, and deep knowledge."
Washington National Opera?
"Not as big as it wants to be," she says. "It's hovering."
But at the Post, Midgette has landed.
This article appears in the September 2008 issue of Washingtonian magazine. To see more articles in this issue, click here.
More>> Capital Comment Blog | News & Politics | Society Photos