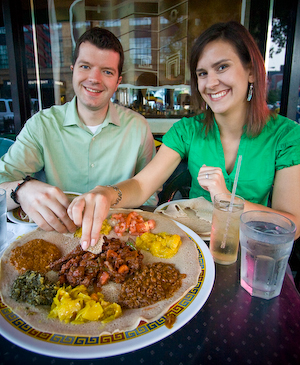 The 14th & You bloggers at Lalibela.
Photograph by Chris Leaman
Christina Barry and Ben Harris, the neighborhood know-it-alls behind the Logan Circle blog 14th & You, started blogging in August 2007. At that time, there were few blogs about their neighborhood, and none that got into the depth they'd hoped for, so they said, "What the heck?"—literally, according to Ben­—and decided to start one themselves. A year later, they're one of the best go-to sites for commentary on everything Logan Circle.
Ben moved to DC in 2004 from Columbus, Ohio, but Christina has lived in the Washington area most of her life. After attending college out of state, Christina moved back to DC—against her instinct that it "was a city overrun by older men in gray suits"—and found an apartment she loved in Logan Circle. Ben moved in with her in 2006, when the couple got married.
Together, they've explored the neighborhood and uncovered many of the shopping, eating, and drinking gems it has to offer. We picked their brains about just that and got an insider's scoop on the best coffee shops, dessert spots, date ideas, and much more.
Favorite sit-down restaurant:
Christina: "Lalibela at 14th and P. I stumbled in there the day I moved to Logan, just minutes after unpacking the moving truck, and I've been dining there frequently ever since. I grew up eating family dinners at Red Sea in Adams Morgan, so I was thrilled to come back to DC and discover so many Ethiopian restaurants within blocks of my home. On the east side of Logan, I also like Veranda. Most of the time, we just sit at the bar and relax. After visiting a few times, I think what I like the most is the friendly neighborhood environment."
Ben: "For quick service and cheaper food, I love Lalibela. We go there at least once a week. I also love Coppi's on U Street."
Favorite coffee spot:
Christina: "I'm a tea gal, so I go to Teaism in Dupont. I highly recommend the Zhenzhou pearls, a bubble tea."
Ben: "Not technically in Logan, but I'm a particular fan of the Java House near 17th and Q."
Favorite intersection:
Christina: "Logan Circle. I geek out on the residential architecture there. I'm not much of an art historian, but the surviving homes dating from the late 19th century through the early 20th century resonate with my aesthetic preferences."
Ben: "13th and R streets. The houses on each corner there are just stunningly beautiful. When you look at the architecture of many of the homes in the neighborhood, it's hard to imagine there was a time when people thought Victorian rowhouses were ugly and should be demolished."

Best place for takeout:
Christina: "I'm in love with ethnic food, particularly Thai, Mediterranean, and Ethiopian. In Logan, I like Thai Tanic on 14th for takeout."
Ben: "Pasha Bistro on 17th Street makes a mean gyro sandwich, and Lalibela also offers good takeout. But I'd be remiss if I didn't mention Ben's Chili Bowl. Christina doesn't do chili dogs, but I'm game every once in a while."

Favorite spot for people-watching:
Christina: "Sitting on the patios or near the front windows of the restaurants on the 1400 block of P Street is a great place to catch a slice of Logan life. I gawk at the high drama, high fashion, and highly flirty traffic in and out of Halo."
Ben: "In our immediate neighborhood, I'd sit in front of the Mocha Hut or Maggie Moo's on U Street on a weekend evening. There's a certain energy in the neighborhood, and those spots are great places to take it in. For sheer weirdness, I'd have to say Dupont Circle. Once we saw a man in his thirties performing a majorette routine in the middle of the circle, complete with marching-band music blaring out of his portable stereo. He was really into it."

Favorite new real-estate development:
Christina: "I like the newish but not spanking-new Bogden Builders condos that came from gut rehabs of rowhouses at 13th and R streets. Yet I find the Logan Station condos around the corner to be a whole lot of hideous."
Ben: "It's funny, but I'm not really a fan of most of the new condo towers that have been springing up in the neighborhood. I just don't find them to be very architecturally interesting, and some of them are downright unattractive and try too hard to be 'trendy.' A perfect example is the Metropole, which for some strange reason markets its condos as 'Drop. Dead. Sexy.' Or the Floridian, which comes right out and says that their condos are 'hip.' I like the Urban Row Development up at 14th and V; the building itself isn't all that interesting, but the overall design is pleasant and the grounds are nicely maintained."

Favorite place to shop:
Christina: "Sweet Magnolia. It appeals to my frilly, girly side, and I like examining all of the little knick-knacks woven into the floor displays. Unfortunately, the storefront is for lease and Sweet Magnolia will soon relocate."
Ben: "Shopping is really Christina's thing. But if I had to pick a place, I'd have to say Pulp on 14th Street, simply because they have such a fantastic collection of bizarre greeting cards."
Best reason to live in Logan Circle:
Christina: "All the other kids are doing it."
Ben: "It's a great combination of residential beauty and urban enjoyment. You can sit in the park in Logan Circle, stroll past some gorgeous Victorian mansions, then go have a beer at Stoney's or Bar Pilar. Also, you're convenient to pretty much everything in DC."

Favorite neighbor:
Christina: "Does the Spa at Mint count? I had not been in until this week, and now I'm in love. Shirin worked her facial magic, and Angela is the only masseuse who's been able to work the semipermanent cord of knots out of my back. If I didn't have a limited budget for such self-indulgence, I would be at Mint once a week."
Ben: "A lot of people may be surprised by this, but the Central Union Mission has been a great neighbor. Not only are they providing a much-needed service to the community; they're doing an excellent job of keeping their area clean and safe. Unfortunately, the real estate is simply getting too valuable for the shelter to be maintained where it is, and we'll be sorry to see them leave the neighborhood. We've got nothing but positive things to say about them."

Best running route through the neighborhood:
Christina: "Logan is a small area, so you'd have to do a lot of laps to run through just this neighborhood. When we take our walk/jogs (don't judge our cardio weakness), I like to go south toward the White House. I can't imagine getting bored of the gorgeous buildings downtown. I also like jogging west on R Street toward Sheridan Circle. The route is relatively flat, and I almost always see something new and beautiful among the residential architecture, shops, and embassies along the way."
Ben: "I like to jog down 13th Street through Logan Circle, on into downtown, then loop back up 14th Street through Thomas Circle. It's a very aesthetically pleasing route."

Favorite spot for a drink after work:
Christina: "I like Bar Pilar because it's an interesting place that's not overrun on weeknights. We always go with the intent of having one well-mixed cocktail. But inevitably, the low lights, casual atmosphere, and great music draw us in, and we end up staying for a cheese-and-charcuterie plate with a second cocktail."
Ben: "I love Bar Pilar. The food's a bit pricey for what it is, but the beer selection is good, it's rarely overcrowded, and the scene is pretty laid-back. I'm past the days of elbowing my way up to a crowded bar or screaming at my friends just to be heard over the noise. This is a big city with a lot of good places to go."

Best place for dessert:
Christina: "ACKC has become a favorite place. If I had less than a year to live, I would spend as much of it as possible eating their chocolates."
Ben: "In the winter, nothing tops a cup of Charro hot chocolate from ACKC. Also, the Nutella calzone at Coppi's is surprisingly tasty."
Best spot for a date:
Christina: "A picnic or evening stroll through almost any of DC's parks makes for a great date. Ben and I spent the better part of our third date sitting on a bench on the Mall chatting into the wee hours."
Ben: "I love Bohemian Caverns. The cave decor, candlelight, and quality jazz acts they attract on weekends make a great date spot. Close runners-up are HR-57 and Utopia."
Favorite place to see rt:
Christina: "It all depends on one's preferences. On 14th Street, I find that shows at Plan B interest me the most, but I haven't yet come close to buying anything there. Fortunately, we live in a great neighborhood for lovers of architecture, public art, retail galleries, and performing arts."
Ben: "I'm the wrong person to ask! I'm the type of person who sees that a new play or show is coming to a venue in the neighborhood, comments that it looks fun or interesting, and then never gets around to going."
Best furniture shop on 14th Street:
Christina: "Reincarnations! I love the mix of colors, textures, and styles. It's just a fun place­—bright, cheerful, eclectic. I also really enjoy their Christmas displays—the most elaborate and whimsical store holiday decorations I've ever seen in DC. A close second is Timothy Paul Bedding and Home. The store feels so tranquil that some days I just want to live in the window display."
Ben: "Though most of the pieces are out of our price range, the furniture at Good Wood on U Street is frequently gorgeous."
Business you most wish would come to your neighborhood:
Christina: "Inexpensive but good eats. I would love a New York-style deli with really good bagels. I would award bonus points to such an establishment if they kept prices out of the stratosphere and stayed open late. We might get something like this from a couple of currently-in-the-works restaurants. Stay tuned to our blog for more."
Ben: "Two things, actually: a good deli/sandwich shop and a true bookstore. I've been known to peruse the shelves at Busboys and Poets, but they have a rather singular focus. I would love to have a Kramerbooks or Politics and Prose in the neighborhood. I read a lot, so I'd probably be there every night."
Favorite DC neighborhood other than Logan Circle:
Christina: "Capitol Hill. It's walkable, has attractive and diverse residential architecture, and offers an array of dining and shopping options without being a hipster scene. I really like that you can still find cozy neighborhood shops and restaurants. I recommend Tunicliff's for an afternoon drink, Woven History & Silk Road for Asian crafts (and history lessons from owner and staff), and Capitol Hill Books for an unbelievable assortment of used books."
Ben: "This one is tough, but I really do love Capitol Hill. It's a great combination of a true residential neighborhood and a viable commercial center. It's also so quintessential DC—Victorian rowhouses, parks with statues, and occasional glimpses of the Capitol building and other DC landmarks."

Favorite neighborhood blog other than your own:
Christina: "It's not quite about a specific neighborhood, but the Home Improvement Ninja captures the humor of life in residential areas of DC. I was hooked in by his widely linked Mac Attack post, and I almost always laugh out loud reading his musings."
Ben: "Bloomingdale (for now), Off Seventh, and Renewshaw all do a great job keeping track of things a little bit east of Logan. I'm also particularly fond of Inked's Frozen Tropics blog over in Trinidad."
Next week in the Blogger Beat, we talk all-things pop culture with Whitney Matheson from Pop Candy. We get the lowdown on her favorite podcast, the best local spot for a pop-culture fix, and where she goes to get away from it all. Check back next Wednesday for the interview!
Earlier interviews:
The Beer Activist
Culinary Couture
All Blogger Beat interviews
Have a favorite local blogger you'd like to hear from? Send an e-mail to eleaman@washingtonian.com.
More>> Capital Comment Blog | News & Politics | Society Photos