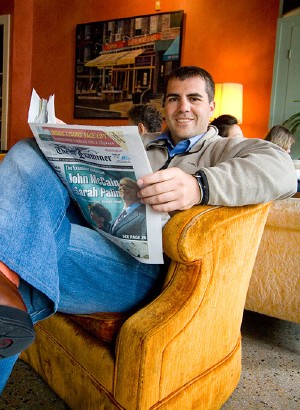 Patrick Gavin at Tryst in Adams Morgan.
Photograph by Chris Leaman
Patrick Gavin has been tracking Washington's media scene for nearly three years on FishbowlDC. Why? "I'm clearly a glutton for punishment," he says. "No, but seriously. Like Representative Robert Wexler and cocaine, 'It seemed like a fun thing to do.' "
Gavin uses the blog to offer insight into Washington's media culture. But what makes FishbowlDC interesting is that Gavin talks about it all as an insider: He's a columnist at the Washington Examiner.
The 30-year-old was born in New York City but has lived in Massachusetts, Florida, California, Indiana, Pennsylvania, and New Jersey. (No, he says, his parents weren't in the military, and they weren't criminals.) Gavin came to DC five years ago to woo an ex-girlfriend. He didn't win her back but says it was for the best—it gave him the perfect excuse to start a career in Washington as a political journalist.
We recently caught up with Gavin to get the scoop on all things media. We talk headlines, sources, and front-page news. Plus, we get his take on the plight of the Washington Post and Election '08 media coverage.
Favorite spot to read the morning paper:
"Besides my patio, I'm a big fan of getting my day started at the Glover Park Whole Foods or at Open City in Woodley Park. Big tables. Mild crowds. No one pressuring you to leave."
Best bar to schmooze with media types:
"I've been around DC's after-hours scene for long enough now to realize that there isn't a set spot to find journalists. Basically, if you want to schmooze with media types, you have to find out that evening's main event, where journalists will most certainly be drinking for free."
Daily with the best front page:
"Design-wise, I have to give some props to my own paper, the Washington Examiner. Since they redesigned the front page a few months back, the lead story pops out at you from news boxes."
Local pub with the best headlines:
"I'm not convinced that any of us do headlines well enough to deserve accolades (à la the New York Post), perhaps because no paper tries to be a paper with double-take headlines. It's just not DC's focus. Each paper has the occasional lightning strike, but not consistently enough."
Favorite thing to do when you're not reading or writing about Washington media:
"When I'm not doing FishbowlDC, I'm doing the Yeas & Nays column for the Washington Examiner. When I'm not doing that, I'm usually roped into one of Washington's various evening events. When I'm not doing that, I'm—hopefully—getting some quality alone time at home. And when I'm not doing that, I'm doing my best to get a good run in."
Your nomination for Fishbowl's Hottest Media Types contest:
"I have a wonderful, lovely girlfriend, so I know better than to weigh in on the hotness of others. That said, I don't think my pick for Hottest Media Types has ever gone on to win the contest."
Best thing Katharine Weymouth could do to integrate the Post and Post.com:
"Putting the two under one roof would go a long way to blunt the divisions that exist between them. I can speak from experience: The Examiner has lots of paginators and editors in Virginia, so communication between the DC office and the Virginia office can be tedious."
Juiciest piece of media gossip you've blogged about so far this year:
"It may not have been 'juicy' but it was endlessly nutritious: the Washington Post's recent round of buyouts, which not only hammered home the difficulties news organizations face but also resulted in the redistribution of some of the Post's most familiar bylines."
Favorite source for media gossip:
"FishbowlDC readers are great about keeping us posted through our anonymous tips box, and we've got great sources to help us confirm tips and learn about the latest juice. Being around journalists—either at night or during the day—almost always provides a nugget or two."
Presidential candidate with the most members of the media eating out of his hand:
"Well, journalists are biased toward a good story, and up until recently that was the historic candidacy of senator Barack Obama. But with Alaska governor Sarah Palin now stirring up the waters, you might see journalists more eager to follow the McCain campaign around."
Top reason the Washington media are so self-absorbed:
"For better or for worse, it's easier to succeed in Washington than most anywhere else. You can be dorky, socially awkward, cheesy, and annoying and still become at least a B-list celebrity here if you try hard enough, and plenty do. That lower bar, I think, entices a lot of people to want to make a name for themselves."
Finish this sentence: "If I started a DC pub, it would be called . . ."
"The Bankruptcy Beagle. Anyone launching a paper in this environment has either incredibly deep pockets or serious cojones."
Most essential Web site or blog for DC journalists besides FishbowlDC:
"If you really want to know what other journalists are reading, just check out the Drudge Report. It is where every television producer gets their cue."
Next week, we talk real-estate with James Hickman from DC Metrocentric. Check back next Wednesday to find out his picks for the best and worst neighborhoods to buy in, his dream address, and an upcoming development project that's got him grinning from ear to ear.
Earlier interviews:
DC Sports Bog
Pop Candy
All Blogger Beat interviews
Have a favorite local blogger you'd like to hear from? Send an e-mail to eleaman@washingtonian.com.
More>> Capital Comment Blog | News & Politics | Society Photos