What: The National Italian-American Foundation 33rd Anniversary Awards Dinner.
Where: Hilton Washington & Towers
When: October 18, 7 to 11 PM
Who: While the most famous award recipient, Leonardo DiCaprio, canceled at the last minute due to pneumonia and laryngitis (his father, George DiCaprio, accepted on his behalf), other honorees—including Aetna president Mark T. Berloini; Joseph DePinto, president and CEO of 7-Eleven; actress Gina Lollobrigida; Wayne Pacelle, president and CEO of the Humane Society; and Gianmario Tondato da Ruos, CEO of Autogrill—were in attendance. The event also attracted a slew of high-profile guests including Supreme Court justice Samuel Alito Jr.; New York Yankees legend Yogi Berra; former NFL player Vince Ferragamo; CART and Formula 1 Driver Michael Andretti; former New York City mayor Rudy Giuliani; former NFL player and Pro Football Hall-of-Famer Franco Harris; Italian minister of defense Ignazio La Russa; former boxing champion Ray "Boom Boom" Mancini; speaker of the House Nancy Pelosi; Deana Martin, singer and daughter of Dean Martin; and Barbara Sinatra, Frank Sinatra's widow.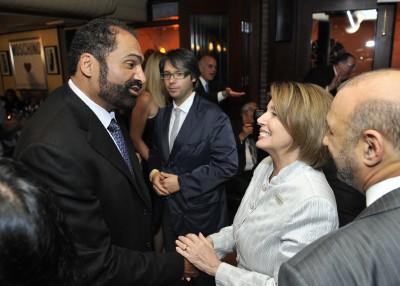 Scene: A VIP reception in the Jefferson Room attracted a crowd that enjoyed cocktails and showed off designer gowns and tuxedos before parading to the International Ballroom. Guests were seated at tables decorated with red-rose centerpieces, bottles of red and white wines, and a delicious antipasto selection. Sergeant First Class Antonio Giuliano and Christina Carlucci sang the national anthems of Italy and the United States, respectively, followed by an invocation by Cardinal Justin Rigali, archbishop of Philadelphia.
Narrated videos showcasing the honorees' accomplishments led to introductions by notable guests before the award winners made brief acceptance speeches. Some were straightforward, while others were sprinkled with humor. Ignazio La Russa joked that he'd rather speak in Italian but he might lose his job because he'd promised the Italian president he could speak perfect English. No one minded as many guests chose to speak Italian.
Food: Endless amounts of food often come to mind when thinking of Italian culture—and the gala was no exception. Just as in a typical dinner in Italy, appetizers, then a pasta dish, and finally entrées were served. Cookies, tea, and coffee were offered during the awards, but the official dessert was served in the Crystal Ballroom.
Food highlight: An antipasto plate (prosciutto, mozzarella, and grilled vegetables) was followed by a serving of pasta (Vesuvius of pasta in a light tomato sauce topped with peas) before the main course.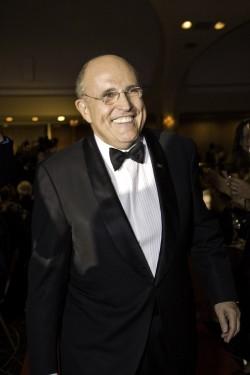 Main course: Grilled veal chop with Mediterranean herbs, roasted potatoes, and spinach in extra-virgin olive oil and garlic.
Beverage of choice: Italian wines.
Gift-bag contents: Women received a T-shirt packaged in a pizza box, a makeup bag with Conair hair products, and a magnet of Andy Warhol's "Vesuvius." Men received a book of the leading hotels of the world, a CD sampler, a recipe booklet, a sample of olive oil, Nutella, Ferrero Rocher chocolates, and a glossy event program.
Ratings (see our ratings explanation here):
Boldface names: 4 out of 5
Swankiness: 4 out of 5
Food and drink: 4 out of 5
Overall exclusivity: 4 out of 5
Total score: 16 out of 20