Photo of Thomas Circle in 1922 from Flickr user NCinDC
"I've been told that the traffic circles, most with statues, in Washington were purposefully placed two cannon ranges apart so the city would be defensible from any point. Is this true, in whole or part?"—Kay Larson
As far as we can tell from our research, Kay, that wasn't quite the case—though the traffic circles did have something to do with defending the city. While the circles throughout the District may now seem like a nuisance, they were originally meant to do more than frustrate drivers. Read on for the explanation.
In 1791, President George Washington commissioned Pierre Charles L'Enfant to design the new capital city in a ten-mile square of federal territory—which L'Enfant actually planned to call Washingtonople. Part of his design (now famous for its broad avenues and grid layout) included several grand traffic circles.
Though L'Enfant envisioned the circles to contain inspiring statues and monuments, he didn't design them with only aesthetics in mind. They were also to be used as defensive emplacements so that soldiers armed with cannons could stop invaders, according the book Washington, D.C. by Dan Elish. The streets emanating from the circles created an artillery sightline, which meant that the military could have set up cannons to protect against an attack on the capital in what's known as enfilade—a military movement where a line of soldiers can be fired on from the side instead of from the front, as in this highly complex graphic we'll show you here: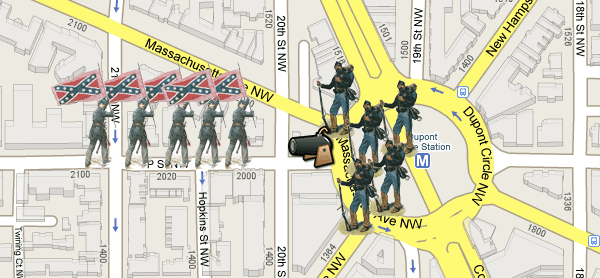 Graphic by Tom Hnatow
.
L'Enfant was eventually fired, but that's another story. In 1901, architects recruited by a joint committee completed the city's original layout (as envisioned by L'Enfant), including constructing monuments, the Capitol grounds, and the Mall—and, yes, traffic circles.
As for the original question about the circles being placed two cannon ranges apart—well, unfortunately our sleuthing skills have fallen slightly short. We can neither confirm nor deny that allegation. Any readers want to chime in in the comments below?
Have a question about the Washington area? Send an email along with your name and place of residence to eleaman@washingtonian.com. We'll try to answer your question in an upcoming column.
Previous Washingtonianas:
The McMillan Reservoir
What's Under Dupont Circle?
What's Up With Those Horse Statues?

More>> Capital Comment Blog | News & Politics | Society Photos