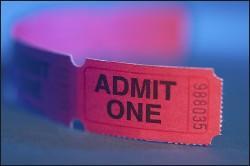 The Chicago-based band Wilco is scheduled to play at Baltimore's Lyric Opera House on Sunday, December 14. Tickets ($37) go on sale Friday, October 31, at 10 AM, but you can purchase presale tickets today until 10 PM with the password "skyhigh." The band is currently working on a new album to follow up 2007's Sky Blue Sky, but if you need a temporary Wilco fix, check out the group on Comedy Central's Colbert Report tonight at 11:30.
The Killers are gearing up for the release of their third album, Day & Age, on November 25. They've lined up a show at George Mason University's Patriot Center (where the band performed last year) on Wednesday, January 28. Tickets ($45) go on sale Saturday, November 1, at 10 AM, and there are also presale tickets available tonight until 10. The password is "human."
These United States continue to show Washington love; the group will be back in the area for a new show after playing at the Rock and Roll Hotel earlier this month. This time around, the group plays at the Black Cat, its last show this year, on Saturday, November 22. Tickets ($10) go on sale Friday.
Folk-rock singer/songwriter Joan Osborne just released her tenth album, Little Wild One, last month, and she's lined up a spring show at the Birchmere in Alexandria on Sunday, April 5. Tickets go on sale Friday at noon.
The Raveonettes are performing at the Black Cat on Saturday, January 17, but you can get a preview of what you might hear by downloading their latest EP, The Raveonettes Remixed, for free from vicerecords.com. Tickets ($15) to the show go on sale Friday.
Pop singer Colbie Caillat will perform with opener Jon McLaughlin at the 9:30 Club on Tuesday, December 16. Tickets go on sale Saturday at 10 AM.
More>> After Hours Blog | Arts & Events | Happy Hour Finder | Calendar of Events