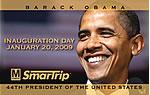 Run, don't walk, to this Web page—Metro's Barack Obama commemorative farecards are officially on sale.
There are three options. For $10, you can purchase a rechargeable SmarTrip card with Obama's face and "January 20, 2009, Inauguration Day" printed on the front; this card has no fare preloaded. Twenty dollars will get you the same plastic SmarTrip card with $10 in Metro fare preloaded. SmarTrip cards can be used on trains and buses.
A one-day paper pass is also available for $10. Printed with a black-and-white image of the President-elect, the pass gives you unlimited subway travel starting at 9:30 AM. You can use the pass any day of the week, including Inauguration Day, but it expires at midnight Sunday through Thursday and at 3 AM Friday and Saturday.
By comparison, a regularly priced SmarTrip card costs $30 and comes with $25 in Metro fare preloaded. A one-day rail pass costs $7.80.
>> All Washingtonian.com inauguration coverage
More>> Capital Comment Blog | News & Politics | Society Photos