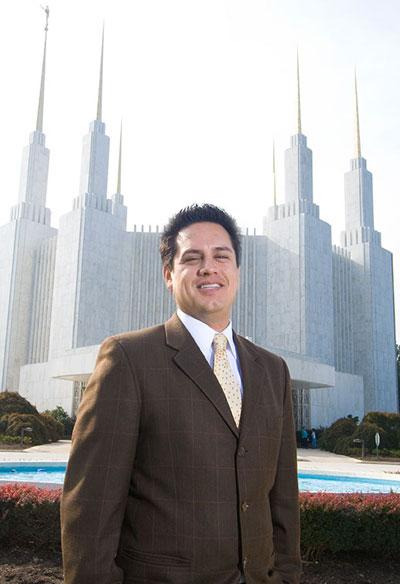 Michael Amesquita, 33
Lives in: Old Town Alexandria
Makes a living: Working in the hospitality industry.
Background: I was born and raised in Illinois. My parents have been married for over 35 years. I have an identical twin brother and a younger sister who is 31. She's married and has two kids. I moved to Las Vegas when I was 18 and served in a mission. Then I served at a mission for my church in the Dominican Republic for two years. Did I mention I am a Mormon? I went to college later in life and have a degree in education. I taught high school government prior to moving to DC. I moved here one year ago and am planning to start grad school in January.
Dating history: I started dating in high school. I didn't date a lot in high school, but always seemed to have a girlfriend. I moved to Vegas and had a four-year relationship that lasted before and after my mission to the Dominican Republic. I dated around in college – nothing serious. After college I had a semi-serious girlfriend. We broke up in January. I had moved to DC and the long distance thing didn't work out. We tried for a little bit, but we're very much people who need to see each other. Since then I've been going out on dates. I've found dating out here is easy, but finding a relationship is hard. Going on one or two dates is fine. I haven't really wanted to call anyone for a third. I like going out with people and just having fun. I am 33 and I don't want to date around forever. I do want to get married and have kids. I'm having fun, but at some point I want to settle down.
First ever date: Homecoming, freshman year in high school.
Your type: Someone who is funny. Semi-athletic, who would enjoy running, tennis or biking. They don't have to have a degree, but they have to be driven. They have to know where they're going to go in life. I want someone who dresses well and has style. But, also someone who could just as easily toss on jeans, a sweatshirt and a baseball cap and go to Eastern Market. I don't want someone who has to be Barbie all the time. They have to know when the difference between those two. Someone like Anne Hathaway in Devil Wears Prada who could dress up, but when she gets home she tosses it all off, puts a sweatshirt on and eats ice cream with her boyfriend. Preferably, I'd like to date somebody who is Mormon. I would have to date a Christian. I am dating to enter into a relationship and eventually find someone to marry. I couldn't marry someone who wasn't a Christian.
Celebrity crush: Angelina Jolie
Things that sweep you off your feet: Someone who can play the piano.
Finish these sentences:
"Happily ever after" is … being able to grow old with my wife and participate in the lives of my children and grandchildren.
Romeo & Juliet is … a fairy tale.
A dealbreaker is … she can't smoke or have cats.
Sarah Palin is … a right wing fanatic.
Hillary Clinton is … calculating.
FAVORITES:
Tunes: Pop. I listen to everything, but rap, heavy metal and grunge.
TV: CSI: Las Vegas
Movies: Braveheart, The Color Purple and The Patriot
Books: Love reading, just finished the Twilight series in 3 weeks. I also love James Patterson, Dan Brown, and church books. I am trying to get into biographies since there are so many amazing people who have lived or are living. My mother instilled my passion for reading when I was in grade school (remember scholastic books?!)…..thanks mom.
Restaurant: O'Connell's, a pub in Old Town
Drink: I don't drink. I always order Shirley Temples.
Sport: To do, volleyball. To watch, college basketball.
Previous daters:
Kate Searby
Mark Drapeau
Check back tomorrow at washingtonian.com/datingdiaries to meet more of our daters.