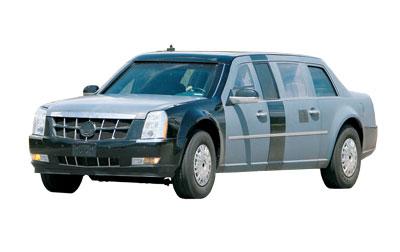 President-elect Obama made hay on the campaign trail about ecofriendly vehicles. After criticism of his personal car, a gas-guzzling Chrysler 300, he traded it in for a hybrid Ford Escape. But after he takes office, the new president, code-named Renegade, will ride in a vehicle that gets only slightly better mileage than the M1A1 battle tank's half mile to the gallon.
Spy photos show the secret testing of a new Cadillac-based presidential limo, presumably to be rolled out around the inaugural—as was the current version of the presidential limo, which first carried President Bush at his 2005 inaugural.
Presidents once rode around in unarmored vehicles that were mostly identical to regular luxury cars. Then in 1933 Giuseppe Zangara tried to shoot Franklin Roosevelt in Miami, and the Secret Service began to armor the presidential limos.
Under Harry Truman, the contract for limos went to Lincoln after General Motors reportedly snubbed the President during his 1948 reelection bid. The Secret Service stayed with Lincoln for some 35 years.
Since Ronald Reagan, the cars have come from GM's Cadillac brand, leading to the unofficial moniker Cadillac One, although each new vehicle has resembled a car less and a tank more.
GM won't confirm that a new presidential limo is under development. Retired limos seem to quietly disappear without a trace, although one hint comes from a State Department memo indicating that its preferred method of destroying outdated armored vehicles is burial at sea.
Today's limos likely include armored windows, run-flat tires, and explosion-proof gas tanks, additional air-filtering systems, and armor against explosives—hence the massive weight of the vehicle.
Analysis from car enthusiasts indicates that the new limo is based on GM's Topkick medium-duty truck chassis and has armor as thick as eight inches. The Secret Service typically uses two or more identical limos in a motorcade to confuse potential attackers. The decoy cars provide a second useful purpose: When the President's limo broke down in 2007, coasting to a stop in the streets of Rome with an engine that then failed to start, a decoy limo backed up, and President Bush continued on.
>> See all of Washingtonian.com's inauguration coverage
This article first appeared in the January 2009 issue of The Washingtonian. For more articles from that issue, click here.