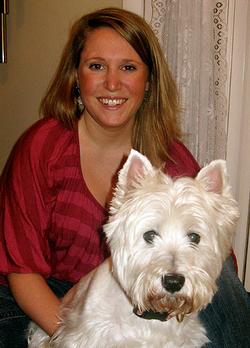 Today we introduce a new member of our Dating Diaries group, Jenn Heilman. Are you interested in being a Dating Diaries participant? We're always looking for new additions. If so, just fill out this questionnaire.
Jenn Heilman, 23.
Lives in: Columbia, MD.
Makes a living: Doing public relations for a nonprofit that deals with health issues.
Background: I grew up in a small town north of Baltimore. My parents have lived there my entire life. I have one younger sister. I went to college in North Carolina and graduated with a degree in journalism in 3½ years. After three internships writing for two different newspapers and a teen magazine, I decided a career in journalism wasn't going to pay my student loans. I practically live in DC between working full-time, graduate school, and my social life, but I shower, sleep, and eat an occasional meal in Columbia.
I'm close with my family and have a close-knit group of friends, but I'm finding myself with more time on my own, which has me exploring the dating scene—a lot. I love Italian food, a good bottle of wine, relaxing outside, visiting museums, spontaneous road trips, cooking extravagant meals that are too good to be enjoyed by only one, Ravens football, and traveling—I've lived in Hawaii and Italy. I'm always up for trying something new. I'm currently taking pole-dancing classes in Bethesda and am on to level three. My condo is neat and organized, and I love cleaning, which is a little weird, I know.
Dating history: I started dating in high school when I was 15. I had a couple of boyfriends, but nothing serious. In college, I dated a guy who was eight years older than me. We dated for 2½ years, and during that time he was diagnosed with non-Hodgkins lymphoma. We got through that, but then my parents caught him with another girl. There's no second chance after cheating. I saw in the paper that he married her this summer. Everything happens for a reason, I guess.
I dated a couple of guys after that, but again nothing serious. Then I started dating this guy when I moved to DC. I actually moved to Columbia because we moved in together. We had been together for a year. He worked in Baltimore and I worked in DC, so Columbia was halfway between. Last spring we went through some tough things, and I had to ask him to leave. That was really hard. It was pretty extreme, but it was the best decision I could've ever made for myself and am happier every day for it.
Since then I've gone on a lot of first dates, not too many second dates. At first I started to just go out with friends and tried to meet people that way. That wasn't working out so well. My friend and I ran an ad on Craigslist to go on double dates together. We went on a few dates.
My best friend lives in Albany. She went on 35 dates in a year. She told me she was on Match.com. She was the last person I thought would be on the site. That convinced me to create a page. I've dated a couple of people from there, but nothing too interesting.
Your type: I don't necessarily think I have a type in terms of how looks are concerned. I do look at if he's a good dresser or not. It's important to me that he puts a little bit of effort into how he looks, because I do. I like someone who's very motivated, someone who has goals in his life. I find that older guys—26 or 27—have those goals. I feel like that's the main thing that's attracted me to older guys: I'm mature for my age. I'm looking more for a serious relationship, not casual dating that leads nowhere.
Celebrity crush: Justin Timberlake. He's got the looks. He can move. He can sing. He's got everything in one package.
Things that sweep you off your feet: Small surprises. Once, someone brought me lunch on a Saturday when I was in class all day. That was a nice surprise.
Finish these sentences:
My high school prom was . . .
. . . actually my 18th birthday. I took one of my guy friends so I could look back on it and have good memories, instead of just some guy I was probably never going to see again. He actually bought me 18 pink roses. We're still good friends.
"Happily ever after" is . . .
. . . growing old with your best friend. Having a fulfilling, balanced life with friends and family.
Romeo and Juliet is . . .
. . . a movie with Leonardo DiCaprio and Clare Danes. It's also summer high-school reading.
A dealbreaker is . . .
. . . a smoker, having kids, and wearing really bad shoes. Shoes are the first thing I look at on a guy. Tevas are the worst—there's nothing fashionable about them.
FAVORITES:
Music: Justin Timberlake, Dave Matthews, Eric Hutchinson, Kanye West. I love '80s music. I like Journey for karaoke with my girlfriends.
TV: Desperate Housewives, Dirty Sexy Money, and Grey's Anatomy. I hate to admit it, but I still watch The Hills.
Movies: The Notebook, Wedding Crashers, Sex and the City. I tend to go for the romance and the comedy.
Books: Sophie Kinsella's Confessions of . . . series. Yesterday I sat down and read My Horizontal Life by Chelsea Handler in one sitting. I found that really funny.
Drink: That's a hard one. I was a bartender in college. If I go for a beer, it's Yuengling or Blue Moon. If it's wine, I usually drink Cabernet. For mixed drinks, I like Bloody Marys in the morning and a dirty martini at night.
Bar: Poste. It has a lavender margarita, which is good. And I like the atmosphere.
Restaurant: I like Sequoia in Georgetown for the view and Perry's in the summer for sushi.
More>> Capital Comment Blog | News & Politics | Society Photos