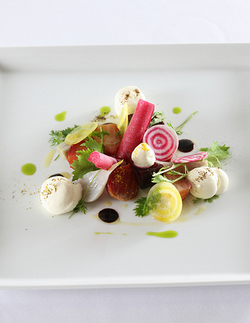 Bryan Voltaggio's new restaurant, Volt, in a historic brownstone in downtown Frederick, is miles away—geographically and philosophically—from his former digs at Charlie Palmer Steak, in the shadow of the Capitol.
At Volt, it's all about intimate dining rooms and restrained portions rather than steakhouse-size plates and visual grandeur. Voltaggio has gone for Italian-style minimalism in the city he grew up in, with walls of white and chandeliers that have the look of paper sculptures. The restaurant co-opts the best aspects of big-city dining, but it does so against the backdrop of a charming small town.
At the same time, Voltaggio and his staff have created a restaurant that may be a model for the future, full of statements about what fine dining can and should be.
Water, for one. Volt goes bottled-versus-tap one better by purifying both sparkling and still water in-house. The filtered H2O has a clearer, brighter taste than Frederick tap, and the sparkler has more effervescence than Perrier. Maybe it ought to be free—there's a $1 charge per person for unlimited pours—but it's still a worthy, ecoconscious move.
If you're after something with more kick, there are modern takes on cocktails such as the Manhattan, worth getting for the muddled cherries alone and sophisticated enough to make James Bond give up his shaken-not-stirred martini.
Sommelier Aaron Schifferle's enthusiasm for the glasses and bottles on Volt's wine list is infectious. He's also adept at sussing out wines that work with more than one course.
The menu is set up to allow diners to eat the way they want to. You might make a meal of a first and second course or skip both in favor of a main course and dessert. Servers seem used to the mixing and matching, and they make up in attentiveness what they occasionally lack in knowledge about a dish—though they are quick to head to the kitchen to check.
One of the most engaging plates is the foie gras, silken cubes on platforms of compressed local melon with balsamic gel. The placement of each cube seems random until you notice how painterly the whole thing is. The flavors are well thought out, the sweetness and grainy texture of the melon countering the smoothness of the foie gras and the vinegar adding a tart note. Yellow-corn ravioli is another artful take, stacked squares filled with corn purée set atop a luscious corn froth. Corn nuts add crunch, garlic chives subtle flavor.
Lobster poached in butter and perfumed with kaffir lime is tender down to the tip—it may not be the biggest of crustaceans, but it is one of the most delicious I've had. A more wintry turn is the perfectly fried quail with sautéed hen-of-the-woods mushrooms. Volt has relationships with a local fungi forager named Louis Buntz as well as other local purveyors such as Cherry Glen Farm in Boyds and Dublin Roasters Coffee in New Market.
As good as the lobster and quail are, it's the meat dishes that wow—a marvelous reminder of Voltaggio's stint at Charlie Palmer.
The rabbit brings together three small tastings: a mini-cassoulet with savory braised meat; a tiny, rosy-centered rib rack; and a tender loin. Pink medallions of lamb with merguez sausage, eggplant, and white-bean purée get a jolt of flavor from a marvelously intense reduction of lamb jus. Many restaurants feel obliged to put a steak on the menu, but it's often a throwaway dish. At Volt, the steak is a formidable entrée—an aged Angus-beef strip loin in a salty-sweet soy-balsamic glaze.
Snapper with spinach, though flaky and moist, pales next to these meatier plates, and roast chicken is curiously dry.
Voltaggio doubles as pastry chef, and his breads are across-the-board wonderful—the scallion biscuits sublime. Desserts have their moments, too, namely the dense hazelnut-chocolate pavé, the tangy goat-cheese cake with vanilla poached figs, and the bonbons that appear with the check.
If getting there from the District or Virginia sounds like a hike, the antiques shops and galleries of downtown Frederick are worth making a day of it. For many Maryland residents, the drive is akin to going to downtown DC, and Volt's food is plenty good enough to head north instead of south.
This review appeared in the December, 2008 issue of The Washingtonian.