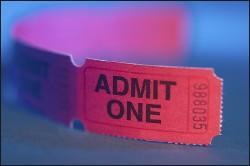 Signs of winter are everywhere you look—snow, freezing rain, etc.—but the outdoor Merriweather Post Pavilion posted the first show of its 2009 schedule this week. Woo! That means warm weather can't be too far off, right? Anyhow, the act for that first show is Fall Out Boy, and the show is Saturday, April 25. Tickets ($36) go on sale Saturday, January 31 at 10 AM.
Etta James, who was recently played by Beyoncé in the film Cadillac Records, and the Roots Band will play several shows together this May, one of which is at the Birchmere on Saturday, May 16. Tickets go on sale Friday, January 30, at noon (prices not yet available).
Bruce Springsteen, has lined up a show at the Verizon Center with the E Street Band for Monday, May 18. Tickets ($68 to $98) go on sale Monday, February 2, at 10 AM.
Mos Def's Monday, February 23, show at 9:30 Club is already sold out, so he'll return to the stage that same night for a late show, the tickets for which ($35) went on sale this morning.
Tom Jones released a new album, 24 Hours, last year, but you probably recognize him most easily from hits like "She's a Lady" and "It's Not Unusual." After playing a slew of shows in Las Vegas this month, he'll perform at 9:30 Club on Wednesday, February 25. Tickets ($55) went on sale this morning.
Brooklyn-based electronica duo Ratatat returns to Washington after performing at the Black Cat last October. This time the show is at the 9:30 Club on Thursday, April 16. Tickets ($20) went on sale this morning.
Pop-rock band New Found Glory has scheduled a tour in support of its upcoming album, Not Without a Fight. The band comes to Sonar on Wednesday, April 8. Tickets ($17) go on sale Friday at 10 AM.
DJ Rekha, who mixed hip-hop and bhangra beats at the Black Cat last Halloween, returns to the venue for another show on Friday, March 20. Tickets ($13) go on sale Friday at 5 PM.
More>> After Hours Blog | Arts & Events | Happy Hour Finder | Calendar of Events