No. 4: CityZen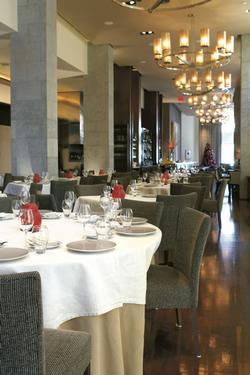 Cuisine: Jaded foodies meet their match at this forward-thinking hotel restaurant, where astonishing discoveries (a slice of monkfish liver impersonating foie gras) and beguiling takes on regional American (an haute version of beef on weck) and classical French cooking are dreamed up daily by chef Eric Ziebold and executed by his well-drilled battalion of cooks.
Mood: The dining room, in the Mandarin Oriental hotel, looks like someone opened an opulent restaurant in the hallway of a palace. Soft lighting creates a sense of intimacy, and the servers—given to long disquisitions on cheese and elaborate explanations of appetizers—are adept at reading diners' needs.
Best for: Palates looking for the excitement—and shock—of the new.
Best dishes: The menu changes frequently (too frequently—stellar dishes are typically retired and never brought back), but Ziebold, raised in Iowa and trained at the French Laundry in California, excels with preparations of beef, game, and pork. Soups are superb, as are his signature miniature Parker House rolls presented in a hand-stained wooden box. Desserts are precise and light, and the well-kept cheeses make a fine finish, too.
Insider tips: Eating a two-hour dinner while you're perched on a stool might not sound like a great night out, but Ziebold's $50 three-course tasting menu at the bar is a steal.
Service: ***½ (three and a half stars).
Open Tuesday through Saturday for dinner.