No. 12: Kinkead's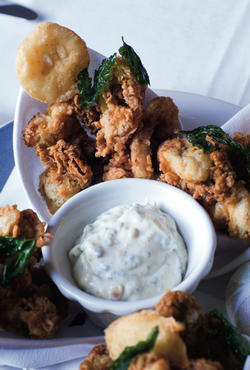 Cuisine: The area's premier seafood restaurant—and one of the last bastions for classic local and regional cooking. Having outlasted several administrations, this Foggy Bottom institution looks well prepared to survive the onslaught of gastrobistros, wine bars, and high-minded fusion restaurants, too.
Mood: In or around the bar is the place to be: the ice-mounded platters of pristine oysters and clams, the salty talk from the bartenders, the live jazz piano, and the camaraderie of fellow diners who've come to eat, drink, and blow off steam. Upstairs is the opposite: quieter, more sedate, a bit like dining on a cruise ship.
Best for: Happy-hour eating and drinking; a night out with friends or family who disdain culinary trends and long for classic American regional cooking.
Best dishes: Crispy Ipswich clams with tartar sauce and fried lemons; New England clam chowder; one of the city's best crab cakes; pumpkin-filled ravioli with brown butter; roast cod with crab imperial, Virginia ham, and spoonbread; cornmeal-crusted flounder with tasso ham, artichokes, shrimp, and crab; pepper-rimmed tuna, seared and sauced with a Pinot Noir reduction; pear tart; milk-chocolate-and-hazelnut dacquoise.
Insider tips: One of the best restaurants in the area for wine lovers now allows corkage: You can bring a bottle of wine not on the restaurant's list from home for a fee of $25. The bar menu includes such treats as the Maine-style lobster roll with house-made fries.
Service: **½ (two and a half stars).
Open Monday through Friday for lunch and dinner, Saturday and Sunday for dinner.