No. 9: The Oval Room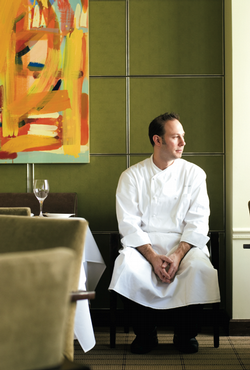 Cuisine: Power diners used to come to the Oval Room for the glad-handing scene. These days the draw is Tony Conte's cooking. Light, bright flavors come together in surprising ways—who knew that beet, passion fruit, and horseradish work so beautifully together? Conte doesn't lean on butter and cream; flavor comes instead from, say, tiny pearls of Bing-cherry juice or dabs of smoked balsamic vinegar.
Mood: It doesn't have the swagger of the Palm, but the lunch crowd in the pretty celadon dining room usually boasts some boldface names. At night the place turns quieter, with couples and foursomes sharing the tasting menu and swirling glasses of wine.
Best for: Impromptu dinners. Despite the inventiveness and relatively low cost—entrées are generally in the low $20s—there's usually no trouble landing a nighttime reservation.
Best dishes: Beet salad with red, yellow, and candy-stripe beets, shaved horseradish, and cubes of passion-fruit gelée; chilled cucumber soup; olive-oil poached shrimp with grapefruit in ginger broth; composed salad of burrata and figs; tuna tartare; Parmesan custard with a riff on Southern pepper jelly; striped bass with toasted almonds and licorice vinaigrette; butter-poached lobster showered in micro-cilantro and young-coconut broth; Granny Smith–apple vacherin that tastes like a candied apple gone glam; hazelnut dacquoise.
Insider tips: A six-course tasting menu is $85, but you'd better be hungry—portions are big.
Service: ** (two stars).
Open Monday through Friday for lunch and dinner, Saturday and Sunday for dinner.